St Margaret's students pledge to support UQ COVID-19 vaccine research
A group of Year 5 students at St Margaret's Anglican Girls School have pledged to support the development of the coronavirus vaccine, which has been highlighted in a heart-warming exchange with a lead University of Queensland COVID-19 vaccine researcher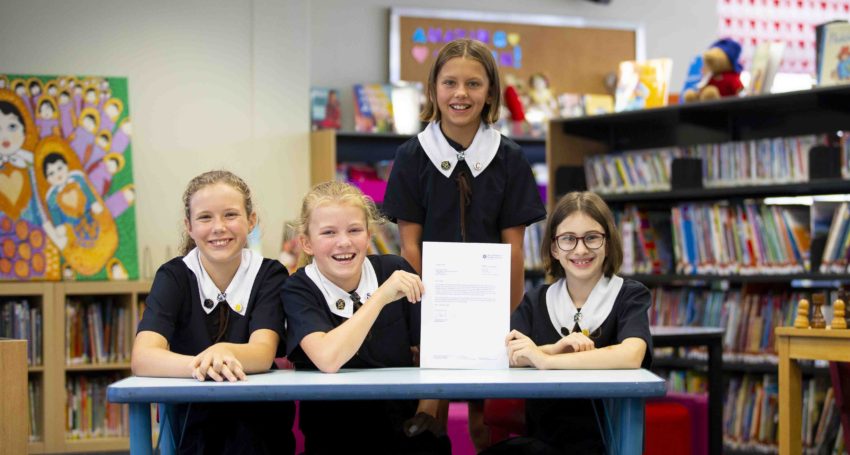 A cohort of Year 5 students at St Margaret's Anglican Girls School has pledged to support the development of the coronavirus vaccine, which has been highlighted in a heart-warming exchange with a lead University of Queensland COVID-19 vaccine researcher.
Since January, the University of Queensland's Professor Paul Young and his team of 20 researchers, from the School of Chemistry and Molecular Biosciences, have been working around the clock to develop the vaccine.
After hearing about the researchers' tireless efforts, Year 5 St Margaret's student Imogen Wren said that the girls felt compelled to contribute positively to the global crisis and support the locally based researchers.
"We wanted to do something for the planet, and we realised the perfect thing would be to help with coronavirus research," Imogen said.
"We needed to know whether any funds we raised would be helpful or not, so we decided to write a letter."
Imogen penned a letter to Professor Paul Young, sharing their plans and pledging their support.
Their letter prompted a heartfelt and encouraging response from Professor Young, who wrote:
"It was extremely touching and humbling to receive your kind letter when I had a brief moment to step out of the laboratory today to check my e-mail.
"The whole team here are working really hard to deliver on this program, and your kind thoughts and donation mean more to us than pretty much anything else that has crossed our desks since we began this journey in early January. It will undoubtedly keep us strong.
"I find it inspiring when young people, such as yourselves, harness the power of philanthropy to solve the world's greatest problems. Please accept this confirmation that your fundraising pledge will be put to good use in helping us fund our vaccine research.
"Now…back to the lab!"
Imogen, who was moved and humbled by Professor Young's response, said that she felt encouraged and empowered by Professor Young's reply.
"I felt like I was really doing something important," she said.
You can watch the moment the girls received the news about Professor Young's reply on YouTube.
Northern Region Bishop Jeremy Greaves, who was the first to let anglican focus know about the St Margaret's girls' initiative, said that he was impressed by the girls' community spirit.
"It is easy to be paralysed by fear at times like this and so it was tremendously inspiring to see these young students from St Margaret's deciding to do something to help," Bishop Jeremy said.
"It certainly gave me a bit of a nudge to work out what I might be able to do, and to give it a go rather than throwing up my hands and saying, 'It's all too hard!'"
While the girls had originally intended on organising a family movie night fundraiser, with the community's move to social distancing, the girls are considering alternative fundraising ideas to help reach their philanthropic goal of at least $100.
The letter exchange has been shared on the school's social media page, prompting an outpouring of support and encouragement from the community.
Jump to next article