'Sharing the Dignity' with women and girls who are homeless in the COVID-19 environment
"The current situation for women and children who are homeless has worsened with the recent coronavirus pandemic announcement, partly due to the associated hoarding or online 'price gouging' of supermarket and pharmacy products," says All Saints Anglican School's Michelle Trainor, who tells us about one way we can help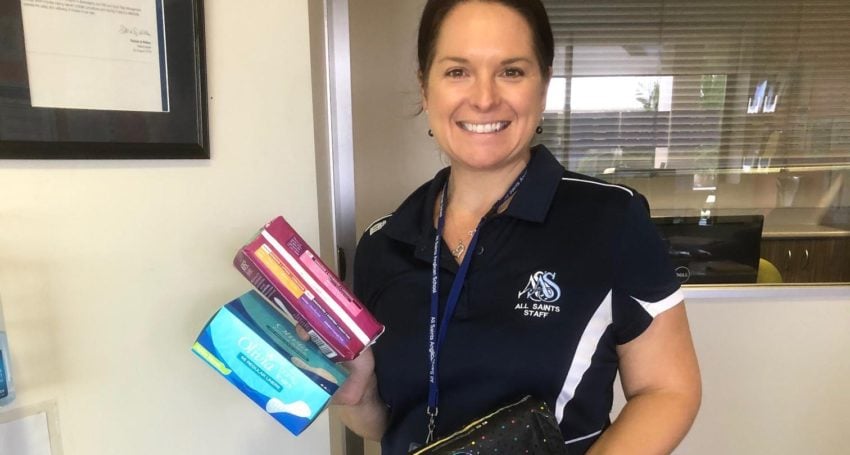 Before working at All Saints Anglican School in 2013, I lived in Calgary, Canada, for 10 years. Calgary has a population of approximately 1.3 million of which almost 6000 people are homeless. Those of you familiar with Canadian winters will know just how bitterly cold they get. I remember one of my first jobs on reception at a large hotel in the city and seeing more and more people who were homeless entering the hotel lobby just to find warmth from the sub-zero temperatures. Like many of you may have experienced, the sight of someone looking dishevelled, unshaven and unclean, sometimes scared me, but it also stirred something within me to want to help.
I now volunteer with a charity called Share the Dignity and have done so for the past four years. Before I started working with this charity, I was pretty naïve about why so many women and their children end up on the streets. The number one cause of homelessness for women and children in Australia is domestic violence. Since a young age, I've always been involved with various appeals, like the Kmart Christmas wishing tree or filling a shoebox of Christmas gifts for a child in Asia, but it wasn't until my good friend and colleague at All Saints, Ms Siegmann, became involved with Share the Dignity that I also got on board. The charity's main initiative is to provide women and girls with free sanitary items, such as pads, tampons, menstrual cups and incontinence products, for those who cannot afford them. Share the Dignity has installed 115 #Pinkbox Dignity Vending Machines in places around Australia, such as community centres and domestic violence hubs, that can be accessed by people in need.
One of my roles as a volunteer is to help collect donations of these items in their twice-yearly sanitary drives, and then distribute them to local charities. On one occasion, there was a callout on our local message board looking for a volunteer on the Gold Coast who might have a few bags to deliver to a woman and her two children who were staying in an Airbnb after escaping from a violent family situation. The accommodation was provided by a local agency and the severity of this woman's case meant that she had to be moved every two to three days to a new location to keep her and her children safe, so I only had the day to make the drop off.
I was only told was that she was a mother with two very small children and that all they had managed to escape with was one small bag each. It was early December and as a fellow mother, my heart broke for them with Christmas just weeks away.
Before I went to the house, I stopped off at Kmart to purchase a gift card with my own money to give to this woman, along with some of the bags that I had brought with me. I told her the gift card was to buy something for her two children for Christmas and that I hoped they were able to find a little peace that year. This woman, whom I will likely never see again, was so overwhelmed that a stranger actually cared about her, that she just held me.
Homelessness doesn't discriminate against class or age. I have seen women in their 50s and 60s, once happily married and in well-to-do homes, one day end up alone and on the streets, isolated from their extended families because of years of emotional, physical and financial abuse.
The current situation for women and children who are homeless has worsened with the recent coronavirus pandemic announcement, partly due to the associated hoarding or online 'price gouging' of supermarket and pharmacy products. I am worried about how they will be able to stay healthy, as well as safe. We all want to see mums and their kids thriving, well and safe. If you would like to help, pads, tampons, menstrual cups and incontinence products can be donated throughout March via the pink bins at all Woolworths supermarkets and ChemPro pharmacies. Monetary donations can also be made through the Share the Dignity website.
Jump to next article