'Utterly orthodox and utterly radical'
"The Anglican Communion honours this 20th century martyr with a stone statue, along with nine other modern-day martyrs, installed above the Great West Door of Westminster Abbey, which was unveiled during the 1998 Lambeth Conference," says The Rev'd Samuel Dow on Oscar Romero, who was assassinated 40 years ago this month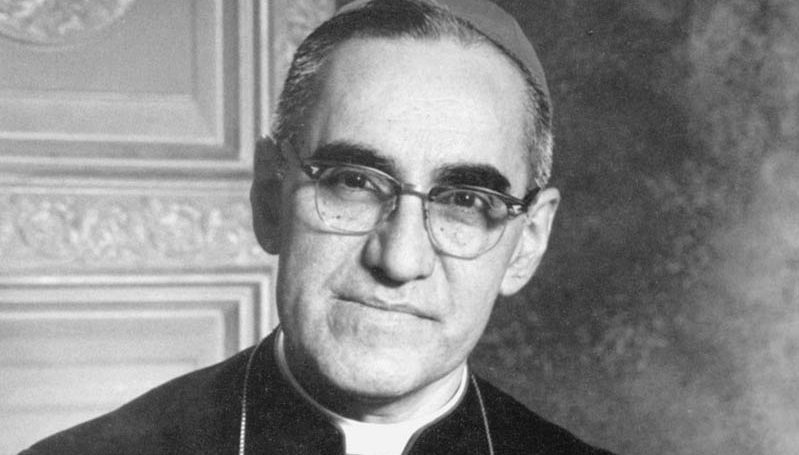 Story Timeline
Saints and martyrs
Shortly after commencing full-time theological studies at St Mark's in Canberra, a group of friends and I watched the 1989 movie Romero, directed by John Duigan.  This was the first time I had heard about the story of Archbishop Oscar Romero and I was deeply moved by the power of his ministry amongst the most vulnerable. In fact, I felt that watching this film so early on in my formation to ordained ministry not only grounded my reality of the sometimes-monumental challenges faced in ministry, but also demonstrated to me what it means to get in amongst the people and standing in solidarity with those who are oppressed.
Born in El Salvador in 1917, Romero recognised a call to ministry in the Catholic Church at an early age and at 14 entered seminary. At 25 Romero was ordained a priest and in 1970 he was consecrated an auxiliary Bishop in San Salvador and later became Bishop of Santiago de Maria.
While his ministry and leadership were praised by the church leadership, he was known to be more apolitical and complacent in his socio-political world views, despite the country of El Salvador descending into what we now know as the Salvadoran Civil War (1979-1992). During this period, El Salvador was fractured by widespread violence between the autocratic military led government and various left-wing guerrilla groups. Romero began recognising the injustices inflicted upon the people, particularly when noticing that children were dying because their parents could no longer afford basic medicines. This prompted Romero to do what he could for the poor through the resources of the church, but recognised that more needed to be done.
In 1977 Romero became Archbishop of San Salvador and many commentators noted that his election was perhaps due to him being a reasonably 'safe' leader and one who would not challenge the government. However, Romero continued to grow increasingly concerned. Three weeks after he took up office as Archbishop, a close friend, Jesuit priest Fr Rutilio Grande, was assassinated by government security forces at the behest of wealthy landowners. The shock and grief of this dramatically affected Romero and he was moved deeply, personally and spiritually. Some suggest that this was the turning point of his ministry towards more intentionally demanding justice and peace throughout the country, which he did through publicly speaking out against the violent regime.
Romero withdrew his attendance from official government occasions and set up a Diocesan legal office which recorded all murders and disappearances, as well as coordinated pastoral support for families and communities. Romero also ordered that all parishes be closed and that a communal Mass be held each week outside the Cathedral, often gathering over 100,000 people. During these Masses, Romero would intertwine biblical catechesis with social commentary, grounding the gospel in the El Salvadorian context – he is described as being "utterly orthodox and utterly radical". He would publicly recall the horrors of the week prior – those who had been murdered and those who had 'disappeared'. He was determined that the truth be told in the face of adversity and evil, which sought to cover up the human rights violations and pretend that nothing was happening.
Throughout the week, Romero would be there amongst the people providing on-the-ground pastoral care and support for individuals and communities. Romero knew that publicly speaking out would jeopardise his life, yet he continued to follow the path of discipleship.
In 1980 when killings had reached over 3,000 people per month, Romero spoke directly to the soldiers and police in the congregation through one of his last homilies, saying:
"No soldier is obliged to obey an order counter to the law of God. No one has to comply with an immoral law. It is the time now that you recover your conscience and obey its dictates rather than the command of sin…Therefore, in the name of God, and in the name of this long-suffering people, whose laments rise to heaven every day more tumultuous, I beseech you, I beg you, I command you! In the name of God: 'Cease the repression!"
The following evening on 24 March 1980, Archbishop Oscar Romero was assassinated, at the hands of a professional killer hired by right-wing military officers, at the altar of a local hospital as he celebrated the Mass. Before his death Romero, almost prophetically, spoke these words (p. 111):
"Those who surrender to the service of the poor through the love of Christ will live like the grain of wheat that dies…the harvest comes because of the grain that dies."
Anglicans have identified with Romero since his leadership in liberation and proclamations of peace amidst war. Prior to becoming Archbishop of Canterbury, The Right Rev'd Dr Robert Runcie, then Bishop of St Albans, sought to support Archbishop Romero and challenge the British Government in their complicity with the Salvadorian government through a speech to the House of Lords.
Sometime later, on the eve of the enthronement of Bishop Runcie as Archbishop of Canterbury, Romero was killed and so the liturgy for the following day at Canterbury Cathedral was adapted to include a moving, yet symbolic, gesture with Archbishop Runcie visiting the Chapel of St Thomas à Becket, who was martyred some 800 years earlier in 1170. In the chapel, Runcie offered prayers for the people of El Salvador and for Archbishop Romero.
The Anglican Communion honours this 20th century martyr with a stone statue, along with nine other modern-day martyrs, installed above the Great West Door of Westminster Abbey, which was unveiled during the 1998 Lambeth Conference.
Oscar Romero was officially canonised by the Catholic Church in 2018 by Pope Francis. The ceremony was attended by a delegation from the Archbishop of Canterbury, including The Right Rev'd Dr Rowan Williams.
To me, the story of Romero is one of power and powerlessness. This is a tension that is held constantly throughout society today, but one that, in Romero's case, led to a sacrificial victim following the way of Jesus.
In Brisbane, many may know of the Romero Centre, based in Dutton Park, whose vision is to 'support people seeking asylum'. A number of ministry groups within our own Diocese support the work of the Romero Centre, and most recently St Francis College has forged a partnership with the centre through 'Baroona Farm'. Our urban farm project at St Francis College seeks to 'grow food and community with and for the nutritionally vulnerable' and so aligns perfectly with the legacy of Romero in seeking justice for all people.
I commend to you the movie Romero and the multitude of books written about this great man, as we could all learn something of proclaiming the gospel imperatives of Jesus in our world yearning for hope, peace and love.
For more on St Oscar Romero, listen to this sermon given by The Right Reverend and Right Honourable The Lord Williams of Oystermouth at Evensong, commemorating the centenary of Romero's birth.
Jump to next article