Anglican crisis centre to the rescue for stranded international visitors
St John's Crisis Centre at Surfers Paradise has never been busier – and rarely has there been a greater need, with hundreds of international students and tourists largely replacing regular local clientele in need of food, support and care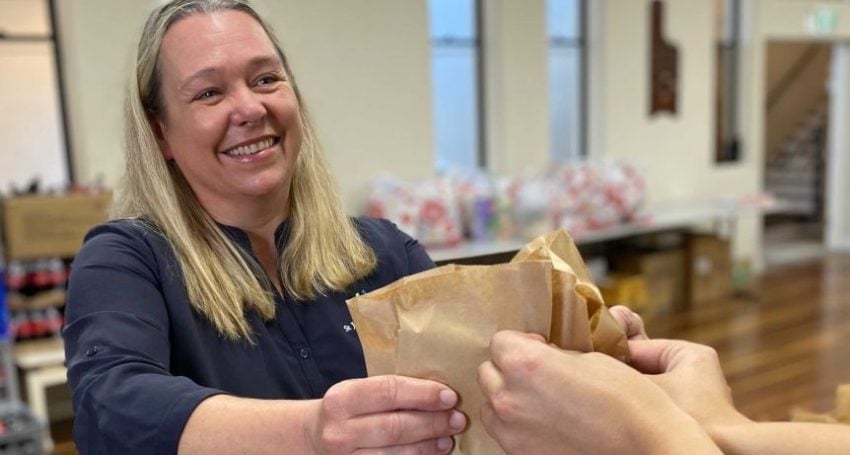 An unexpected bond has been forged out of the fires of COVID-19 between Brazilian students and the devoted and caring staff at St John's Crisis Centre at Surfer's Paradise.
Although, the ties with the hard-hit South American country aren't exclusive,  with Crisis Centre manager Dianne Kozik revealing that they have swung into action in recent months to support students, families and disadvantaged people from several international countries, including India and New Zealand.
The centre is always in demand; however, the need skyrocketed from mid-March as the full consequences of COVID-19 took effect on the Gold Coast when economic ramifications forced thousands of students and tourism and hospitality workers – who normally wouldn't require welfare assistance – to reach out to St John's for help.
Ms Kozik said the centre had been inundated with new clients, with the combination of job losses as a result of coronavirus and gaps in government funding causing a shift in the demographic of people accessing services.
"We have not been seeing our regular clients because they seem to have enough money to feed themselves and pay their utility bills and all that through the increase in JobSeeker funding," she said.
"What we are seeing is a massive increase in families and students, especially young Brazilian students, who have all lost their jobs in food delivery or in cafés and restaurants, due to the hospitality sector closing down.
"I have had so many of them say to me: 'Our parents have told us not to come home, that it is safer in Australia' [Brazil has recorded over 1.5 million cases of coronavirus and more than 60,000 deaths]. They say, 'We might be a little bit hungry, but at least we are safe.'
"So there are many people in their 20s who were self-sufficient and have never had to access these types of services before. Many people are on the brink of poverty and while the demand seems to have plateaued for the moment, we are very concerned that it will ramp up again when JobKeeper finishes in September and if the increase in JobSeeker payments do not stay in place."
Until two months ago, Brazilian Joao Castro was self-sufficient, earning enough money delivering app-based food orders to support himself through his English language studies.
He now needs food and rental assistance to stay afloat.
"So many people lost their jobs so they're doing delivery now. It is very crowded," Mr Castro said.
"Sometimes I would do it for 12 hours and earn maybe $30."
Mr Castro is one of hundreds of people who access the soup kitchen, grocery provision and advocacy services offered by St John's Crisis Centre in Surfers Paradise each week.
Brazil is the third largest source of international students in Queensland, behind China and India. International students are not eligible for the Government's JobKeeper or JobSeeker programmes.
Courtney Wright and her family moved to the Gold Coast from Christchurch seven years ago after their house was damaged and rendered unliveable in the 2011 Christchurch earthquake. As if that wasn't challenging enough, her husband Jason, who works in the FIFO fishing sector in New Zealand, had a work accident last year and shattered his ankle. That was quickly followed by Courtney losing her job as a café chef when the ramifications of COVID-19's restrictions struck the 'Glitter Strip'.
Unfortunately due to their trans-Tasman situation, Courtney, Jason and their 12-year-old son fell through the cracks of the workers compensation and welfare systems of both Australia and New Zealand, leaving them with nothing more than a $250 per fortnight parenting allowance.
"With Jason needing an operation and unable to work and with me losing my job, I really don't know what we would have done if it wasn't for the great care and practical support of Dianne and the team at St John's Crisis Centre," a humble and grateful Courtney said.
"I was embarrassed to ask for help but you do what you have to do to keep your family afloat. St John's helped us with food parcels, pre-prepared meals, food vouchers and petrol vouchers.
"But it's not just the practical help – everyone is so kind and friendly at the centre. They treat you civilly and respectfully and they don't judge you and your situation. It just lifts your spirits for a short while in between the battle to pay the other bills and the struggle to find a job. But I just keep smiling – you can't let life get you down."
Dianne says that since April the St John's Centre has served between 40 and 60 hot meals, and a similar number of cold takeaway meals, daily, while approximately 1500 people (some members of the same family or group) were provided with welfare assistance and support, mostly over the telephone. A big shout-out to Dianne and Anne, who have skilfully fielded so many calls.
"We have a team that works tirelessly, and they never seem to stop their frenzy of preparation, arranging and sorting of meals, with temperature-testing and serving lunches in between, not to mention the all-important checking in with clients as they arrive each day. And of course we have some who ensure that our policies and procedures remain up to date and in line with current regulations."
Jump to next article