Q&A with primary school teacher, musician and mum, Penny Howchin
Meet Penny Howchin from Resource Church St Andrew's, Springfield and find out about her kids' worship ministry, the Christian heroine who inspires her, what book she has given away the most and what she would write on a billboard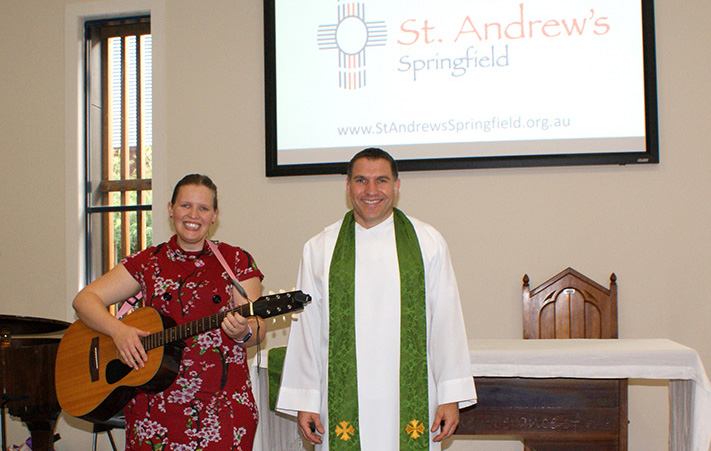 Penny Howchin and her family worship at St Andrew's, Springfield. She lives with her husband, Adrian, and three children aged four, six and eight, on an acre in Greenbank. Penny runs a new children's worship ministry supported by St Andrew's, Springfield. She presents original children's music and makes teaching fun, with the aim of helping kids develop their personal faiths.
Where do you currently live and where do you worship?
I live on a bushy acre in Greenbank with my husband, three children, two cats and five chooks.  We had been living in Darra before that, but moved out this way last September to have more space for the kids to run around, and to enjoy more of God's incredible creation. We attend St Andrew's, Springfield.
How long have you been involved in the Anglican Church and in what role?
I grew up serving in the Uniting Church until my family moved to Kenmore Baptist Church when I was a teenager. I was involved in both Children's Ministry and Worship Ministry there until God brought us to St Andrew's at the start of this year. So I haven't been involved in the Anglican Church for long, but I have been an active member of God's family all my life.
What is your current role, including any voluntary roles, and what does your role involve?
I am launching a new Children's Worship ministry supported by St Andrew's where I will be presenting original songs combined with fun and interactive teaching designed to help kids explore the 'what' and 'why' of worship. Though I'm based as a parishioner at St Andrew's Springfield, I'm keen to present my children's worship programme anywhere and everywhere. I'm so blessed to have such incredible support from the leadership in my church to enable me to do this.
What projects and activities are you currently working on?
I have been busy writing a variety of different programmes to present in children's ministries so that I can best suit the needs of each church I visit. I have also been recording video clips that have been well received by the children at St Andrew's, Springfield. I'm also working hard learning guitar and writing new songs that I hope to record in the future.
What have been the highlights of your St Andrew's, Springfield involvement or other Anglican Church activities so far?
Although we haven't been there long, I always love to hear The Rev'd Charlie's children's talk. My children give the funniest answers to his questions, which leaves the church in stitches!
As a primary school teacher in Christian schools, what have you learnt about the desire and ability of kids to connect with faith?
When I was a Year 1 teacher, I was always amazed at the depth of questions the children would ask me about God. They have a greater hunger for God and understanding of His ways than I think a lot of people realise. Children can understand absolutely any Christian concept with their pure and simple faith, but it has to be broken down and explained to them at their level.
You are currently working in the kids' ministry space: can you tell us a little about your activities?
I recently recorded my first video clip  'God of the Bible' on YouTube which was used by St Andrew's Kids' Church at home. I have also launched my website with links to my other resources.
Why is it so important to provide kids with faith-based content that is fun and engaging and created specifically for them?
Children aren't miniature adults; children have an incredible and unique culture of their own. They are inquisitive, kinaesthetic, love technology and want to be involved in their learning. As the mature ones, we need to be the ones to bridge the culture gap, learning their language and making things relevant to them. Otherwise they will miss the life changing message that is the Gospel.
As an experienced educator and mother of three, what three bits of practical advice do you have for parents as they raise their children in the Christian faith?
Live your faith. Show them by example that your faith is real and making a difference in your life.
Pray. Pray heartfelt and meaningful prayers, both with them and for them.
Read Bible stories together, and then teach your child what that story means for them today.
What are your plans and goals for the next 12 months?
I recently joined St Andrew's music team and am using my new guitar skills. I'm really excited to grow in this area, playing and worshipping with other musicians. I'm also looking forward to doing some worship songs with the kids' ministry following church services after being at home for so long.
Can you tell us a little about your personal faith journey?
I grew up in the Church, and loved God as best I knew from the time I was little. When I was a teenager, however, I experienced the Holy Spirit's presence in worship for the first time. Up until then I had always felt my prayers and songs were just hitting the ceiling. This experience captured my heart for worship as an avenue to connect with God personally.
How does your faith inspire you and shape your outlook, life choices and character?
God is everything to me and there would be no point to my existence without Him. Although I don't always understand His ways, He created me, knows me, loves me as I am, and is always working in me to make me more like Him.
What is your favourite scripture and why?
I'm not always the most confident person (despite how I may come across), so I've always loved the assurance God gives in Isaiah 46.4. In the New Living Translation it says: "I will be your God throughout your lifetime – until your hair is white with age. I made you, and I will care for you. I will carry you along and save you."
What person of faith inspires you the most and why?
In high school I read The Hiding Place by Corrie ten Boom. Corrie and her family became leaders in the Dutch Underground during World War II, hiding Jewish people in their home and aiding their escape from the Nazis before she herself was taken to a concentration camp. The way God cared for her through the atrocities she experienced, and how she praised Him through it all really inspired me.
What are the primary strengths of the Church and what is the best way to make the most of these for the benefit of our communities?
I love how the Anglican Church has an understanding that sometimes life is really hard and complicated! I think it's awesome how we show practical love and offer a listening ear to anyone who needs it regardless of their background. That's Christ's love in action.
What are the primary challenges currently encountered by the Church and what is the best way to overcome these for the benefit of our communities?
The most recent Australian statistics I heard said that two-thirds of children who grow up in the Church leave it when they are older, and half of those who leave abandon their faith altogether. I believe this is the most important challenge we face. It is my prayer that my ministry helps change these statistics.
What is the kindest gesture you have ever received or witnessed?
A few months after my youngest was born, I struggled with some health issues. I was pretty unwell for a while. One of my friends truly cared and understood. She came over, cleaned my house and organised a schedule of all my other friends to take turns practically helping me. That was love in action.
What is the best piece of advice you have ever received and who gave you this advice?
I process things verbally, and many times through my teen years I would spend much time telling my mother all my problems. I would get so overwhelmed, especially in the evening. She would always tell me, "Things will look better in the morning." Though I always doubted, time and again she was proved right. Now I say the same thing to my children.
What do you do in your free time to recharge and relax?
I absolutely love to binge-watch sappy chick flicks on Netflix! I've also been working on knitting a scarf as my 'lockdown project'.  I'm terrible at knitting, but I want to have a tangible accomplishment when this season is over.
If you could have a billboard with any text on it, what would it say and why?
'Children can know Jesus NOW!' So often kids ministries are geared only towards teaching Bible stories to develop a good foundation. These foundations are completely necessary, but we also need to help children apply these concepts and foster a personal relationship with Jesus now.
What book have you given away most as a gift and why?
I absolutely love the Max Lucado children's series about Punchinello and the other Wemmicks series books. I have given away a few of these books! They are such beautiful modern-day parables.
Where do you do your best thinking?
In the shower! That's where I wrote the song 'Unique'. When I came out of the bathroom I called out to my husband, "Please don't talk to me!" as I raced straight to my notebook. I had to pen the lyrics and the melody before I forgot them!
If you are having a bad day, what do you do to cheer yourself up?
Eat chocolate…drink coffee…Seriously, I'm loving playing guitar and taking a moment out to worship Jesus all by myself.
What is the funniest thing that has happened to you recently?
I am a recent chook owner, and they are the funniest creatures. Watching a chook have a tantrum with feet stomping, wings flapping and cranky clucking all because I wouldn't let her out of the chook run is one of the funniest things I've ever seen!
What's your unanswerable question – the question you are always asking yourself?
I would like to ask God just what exactly He has in store for me! But then again, the answer might be too scary!
Jump to next article