Q&A with spouses and former business owners The Rev'd Avriel and Tony Green
Meet spouses Avriel and Tony Green from Resource Church St Laurence's, Caboolture and find out about their faith journeys, their favourite Bible verses, the best advice they have ever received and what they hope to learn and contribute through the Resource Churches Pilot Project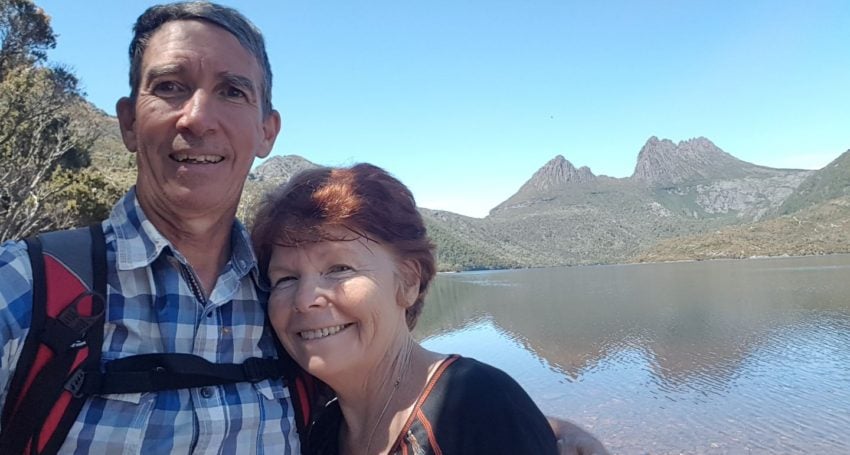 The Rev'd Avriel and Tony Green are based in The Parish of Caboolture, which is a Resource Church. They are long-time Anglicans, former business owners and parents to Lauren and Grace
Where do you currently live and where do you worship?
I live in Caboolture with my husband, Tony, and I worship at St Laurence's, Caboolture.
How long have you been involved in the Anglican Church and in what roles?
Avriel: My first affiliation with the Anglican Church was attending St Margaret's Anglican Girls School in Brisbane in the mid-70s. I then departed the Church to follow my own goals and returned with my first child in 1992. Since then I have been involved in running Sunday School; leading Alpha courses; leading several playgroups; healing ministries; setting up an op shop; running kids' clubs; cleaning toilets; serving as a sacristan; leading Bible studies; and, any other job that I was available for. My roles changed significantly when I was ordained in 2009.
Tony: I have been involved with the Anglican Church since I was a young teenager. I have filled many roles, including Liturgical Assistant; intercessor; youth group leader; Parish Councillor; Synod rep; lay leader in Cursillo; gardener; and, 'handy man', cleaning gutters on roofs and any undertaking other tasks that needed doing.
What is your current role, including any voluntary roles, and what does your role involve?
Avriel: I am currently the Rector of The Parish of Caboolture. My role is immensely diverse ranging from leading services to administrative roles; washing up; visiting sick people; phoning parishioners; assisting the parish bookkeeper; answering phones; discussing leases with Anglicare; and, helping the Sudanese community with local services.
Tony: Currently I am a synod representative, parish councillor, intercessor and all-round 'handy man' at our property.
What sort of work did you do before you were called to serve at St Laurence's?
Avriel: Before serving in the church as a priest, Tony and I ran a small business on the Sunshine Coast repairing cars. We employed about 10 mechanics and various apprentices. It was there that I learnt many skills that translated well into leading churches: dealing with people, setting up systems to enable various activities, managing complex finances and dealing with government regulations, advertising our services, managing a family and understanding customers and serving them well.
Tony: Having run several businesses on the Sunshine Cost, including a car repair workshop and a car parts business, has encouraged the development of skills such as human resource management, understanding changing needs of the marketplace, and managing all the resources needed to run a successful business. In 2010 our family moved to Nanango with the Church and I was employed with the local council. In 2015 we once again moved, and I had the challenge of reinventing myself and I am now working in the Brisbane Catholic Education System as a trainer and assessor in the fields of industrial design and technology. Flexibility in business life has proven a great asset as we have been relocated in the service of the Church.
What projects and activities are you currently working on?
Avriel: Our first item is repaying our current debt. This may sound non-mission minded, but ensuring the church is debt free will enable us to be financially able to accomplish mission with more human resources. Our aim is to engage and be able to pay for others to join and create a team that will not only service our parish's needs but partner with other churches in the use of resources.
We currently encourage Anglicare to use our church – the hall and church have been available for training of staff during the COVID-19 period. As face-to-face worship declined, we became a training space for various Anglicare activities.
The Resource Church project is helping us to consider the needs of others and determine if we can be part of partnering with them. It also encourages us to be flexible and adaptable.
Tony: Supporting my wife is my current project. Being in the background encouraging and completing any tasks that are required.
What have been the highlights of your roles so far?
Avriel: The people I meet. I am always inspired by their faith and their willingness to be committed to doing whatever needs to be done.
Tony: Watching our children, two girls Lauren and Grace, growing up in the church communities that we were involved in.
What have been the key challenges of your roles so far and how have you worked through these?
Avriel: The greatest challenge has been working with people. Their expectations can sometimes be overwhelming, particularly since I have become a priest.
Tony: Changing parishes, developing new friendships, balancing my own work life, family life and church.
The Parish of Caboolture is one of eight ACSQ churches participating in the Resource Churches Pilot Project – what does your church hope to learn throughout this project?
Avriel: My approach in being involved in the Resource Churches Pilot Project was to open myself to participating with other churches within our Diocese. As a church we hope to learn from the experience of others and gain in confidence in our own church outreach, particularly with young people.
Tony: Being involved in growing the church.
What has been your parish community's response to The Parish of Caboolture being a part of the pilot project?
Avriel and Tony: Really the initial reaction was uncertainty about what is involved, balanced with a desire to engage with a project that could grow our mission within our Diocese.
What do you and your church hope to contribute through the Resource Churches Pilot Project?
As a church community our hope is to work with others to share resources, including people, to develop our own church community and the wider Diocese. We believe that this will involve a change of culture of working together with other parishes and other groups such as Anglicare. St Laurence's is a central location with many contacts in our local community and we are being intentional in developing relationships to share our present and future resources.
The Parish of Caboolture has responded in unique ways to keep church flourishing in the COVID-19 environment – what are some of these ways?
Avriel: As with many parishes we have stepped out into online worship. It has been a step into the unknown. The popularity of online worship and the connection we have been able to achieve have been great surprises. The people who engage online are now considered a separate worship community, which is exciting as well as challenging and absorbing of great time and energy. The church has flourished in this season in many unexpected ways.
Tony: Once again, supporting my wife.
What are your plans and goals for the next 12 months?
Avriel: To help support our church community members through their unique COVID-19 challenges. Government requirements seems to change weekly, depending on the level of community transmission risk, and I am uncertain as to what the future may hold. Flexibility in ministry is proving to be a great asset.
Tony: Working with Avriel to re-establish the worship routines of our parishioners and grow the new online ministries.
Can you tell us a little about your personal faith journeys?
Avriel: I have always believed in God, attending Sunday School during the vibrant 60s. I was blessed to be able to attend St Margaret's Anglican Girls School for my secondary education. I have had periods of time away from church community but never abandoned my faith. We were motivated after the birth of my first daughter, Lauren, to once again be involved in a local Anglican church. I have never been unsure of my faith in God. I have not always understood my God and life does not necessarily make sense, but my faith in Christ is the foundation for all my beliefs. It is what makes sense of my life.
Tony: I also attended Sunday School during the 60s and 70s. God has always been a part of my life. My marriage with Avriel has also been an important part of my faith journey.
How does your faith inspire you and shape your outlook, life choices and character?
Avriel: My outlook is hopeful. To know that I am loved and that there is purpose in my life encourages me to get up each morning.
Tony: My faith shapes my relationships with people and provides a framework for making decisions about everything in life.
What is your favourite scripture and why?
Avriel: Romans 8. The whole chapter. Well that's this week anyway. It constantly changes. I love this chapter because of the promises of God that are spelled out by Paul the Apostle. God's heart and character are revealed as Paul lists the benefits of a spiritual life and connection with our Triune God.
Tony: 1 Corinthians 13. 4-7. "Love is…" I used these verses at a family funeral recently and they spoke to me of the importance of love and what that love looks like. It challenges and encourages me.
What person of faith inspires you the most and why?
Avriel: I am a fan of so many people. Maybe my favourite is Mother Teresa. I have heard her preach several times and she was so gifted. Also, her life was a magnificent gift of insight into our God of love.
Tony: Paul – no matter how big a mess you have made of your life, anything is possible through the grace of God.
What are the primary strengths of the Church and what is the best way to make the most of these for the benefit of our communities?
Avriel: In the light of COVID-19, I consider one of the great strengths to be our adaptability – to be able to change and survive no matter what is thrown at us. We have been around for over 2000 years as followers of Christ and the past four months have shown just how quickly we can adapt to the circumstances in which we live. The Church is resilient and very surprising.
Tony: That we are a community of forgiveness, welcoming to anyone questioning whether there is more to life than just 'me'.
What are the primary challenges currently encountered by the Church and what is the best way to overcome these for the benefit of our communities?
Avriel: The greatest challenge is to engage with our community in meaningful ways that shares the good news in what often seems to be a wider culture of indifference. The best way to engage is to keep praying and occasionally step out and try new ways of connecting.
Tony: I think our biggest challenge is to show the wider community that our faith is a way of living based on love for each other through a love of Christ.
What is the kindest gesture you have ever received or witnessed?
Avriel: It is always relating to people asking me to forgive them when they feel they have said or done something that they thought hurt me. The humility in owning their actions and asking for forgiveness is so unselfish. It always surprises me.
What is the best piece of advice you have ever received and who gave you this advice?
Avriel: The best advice was given to me as a parent. That I would get many things wrong and occasionally I would get something right. Forgive yourself and keep going.
Tony: From Col Webber, a friend – "Keep the main thing, the main thing." It's easy to get side-tracked from what's important, so every now and then go back to why you started whatever you're doing and ask, "Am I still heading in the right direction?"
What do you do in your free time to recharge and relax?
Avriel: Walking, reading and watching sunrises.
Tony: Cycling, watching Formula 1 and reading.
What book have you given away most as a gift and why?
Avriel: What's So Amazing About Grace? Phillip Yancey – because it's a great read.
Tony: Gideons Bibles – because they can change lives.
Where do you do your best thinking?
Avriel: In my study, early in the morning.
Tony: In the shower!
If you are having a bad day, what do you do to cheer yourself up?
Avriel: Come home, enjoy a glass of wine, and have a whinge to my husband. Burdens shared and then I feel better.
Tony: Go for a bike ride.
What makes you nostalgic and why?
Avriel: Photographs. Time moves so quickly. Photos remind me to cherish the day.
Tony: Reading a book I've read before and discovering new insights that I didn't see the first time around.
What day would you like to re-live and why?
Avriel: All my mistakes, particularly where I have hurt others. I would love not to have made them.
What is your unanswered question – the question you keep asking yourself?
Avriel: Where is God in this mess?
Tony: Where did I put my glasses?
Jump to next article