An unusual church partnership tackles COVID-19 in the Pacific
Find out about the great work that the Anglican Board of Mission is doing in Melanesia in partnership with the Australian Government and churches in Papua New Guinea and Vanuatu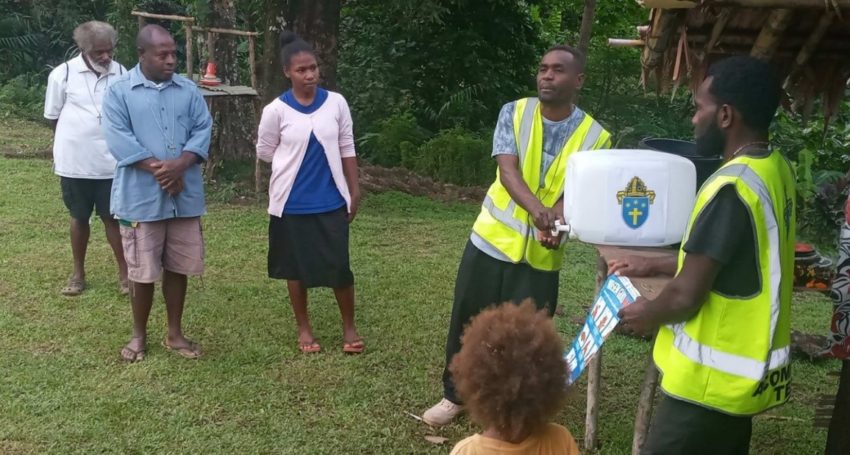 What links COVID-19, the churches in Papua New Guinea and Vanuatu, the Anglican Board of Mission and the Australian Government? Read on to find out more about an unusual, but successful partnership.
Fifteen years ago, the Anglican Board of Mission's (ABM) John Deane, with two other church-based development agency colleagues, suggested to the head of (then) AusAID that the Australian Government could provide an aid stream to Papua New Guinea through the established churches there. They argued that the government could support the churches' vital work in education and health through established Australian aid organisations. Now, in 2020, the Papua New Guinea Church Partnership, comprising seven PNG churches, their seven Australian church agency counterparts, and the Australian Government successfully provides health, education, social inclusion and other important programs in that country.
Meanwhile, in 2016, another ecumenical initiative was emerging. This time, eight Australian church agencies, including the Anglican Board of Mission, formed CAN DO – the Church Agencies Network for Disaster Operations. CAN DO, working with their church partners in the developing world, successfully applied for five years of government funding through the Australian Humanitarian Program. Years of working with churches in Papua New Guinea had given the government confidence to form this additional partnership. The funding has mainly been used to build resilience in the face of disaster among people in Vanuatu, the Solomon Islands, Fiji, Timor Leste and Papua New Guinea.
Fast forward to 2020. If COVID-19 were to spread across the Pacific, it would do enormous damage. The Australian Government was quick to realise the potential role that local churches could play in stopping the spread of the virus and has provided significant humanitarian funding for this purpose. Some of the funding comes through ABM to the Anglican Church of Melanesia (ACOM) in Vanuatu and to Anglicare Papua New Guinea (APNG).
What ABM's partner in Vanuatu is doing
In Vanuatu, there are not yet any confirmed cases of COVID-19, but the tourism-dependent economy has already been decimated by travel restrictions and the threat of COVID-19 infection remains. There is a continuing need for information to reach remote villages, and to ensure people in those villages have access to a safe water supply and sanitation.
ACOM-Vanuatu has begun conducting COVID-19 awareness raising in dozens of communities across the provinces of Torba, Penama and Sanma where the Anglican Church is strongest. To strengthen community hygiene practices, ACOM also plans this month to start rehabilitating water supply systems in 20 communities and constructing model latrines in 25 communities. The model latrines will be built at community centres or in the homes of people living with disability.
ACOM-Vanuatu will also support 274 households to establish home gardens to increase their economic resilience. Economic tensions can also lead to tensions within households, so ACOM-Vanuatu will run gender and child safeguarding awareness sessions in at least six communities.
What ABM's partner in Papua New Guinea is doing
In Papua New Guinea, the number of confirmed COVID-19 cases is still only in the hundreds, far below Australia's number of infections. However, PNG's rates of testing are very low so there are likely to be many unreported cases. Also, in August, the government lifted most of its restrictions, allowing schools to re-open and economic activity to be revived. So the number of COVID-19 cases is expected to rise steeply.
Anglicare PNG has begun conducting COVID-19 awareness raising. These sessions have already reached more than 20,000 people across all five Anglican dioceses of PNG. Anglicare PNG will install water tanks in at least 38 communities, as well as distribute masks and other personal protective equipment to at least 30 Anglican clinics and health-care centres.
Both ACOM Vanuatu and Anglicare PNG have also been distributing government-approved posters and pamphlets during their awareness-raising sessions. And prior to deployment in the field, the staff and volunteers working for ACOM Vanuatu and Anglicare PNG were trained in how to conduct COVID-19 awareness raising.
The role of the Anglican Board of Mission in Australia is to assist ACOM Vanuatu and Anglicare PNG with the planning and management of the response, and to assist with strengthening these organisations' capacity to respond effectively.
ABM gives thanks to the Australian Government-funded church partnerships in Vanuatu and in PNG for supporting its work with local Anglican partners.
The ordeal of Pacific countries in facing COVID-19 is only just beginning, but Anglican institutions in Australia and the Pacific are playing their part in fighting the spread.
Jump to next article