Let's get behind Fr Dan's Westfield Local Hero nomination
"Father Dan Berris from The Lakes Anglican Church stands out for his gentle-giant stature, sense of humour, love of motorcycles and tattoos, and most of all for the good he does in his parish and the wider community," says anglican focus Editor Michelle McDonald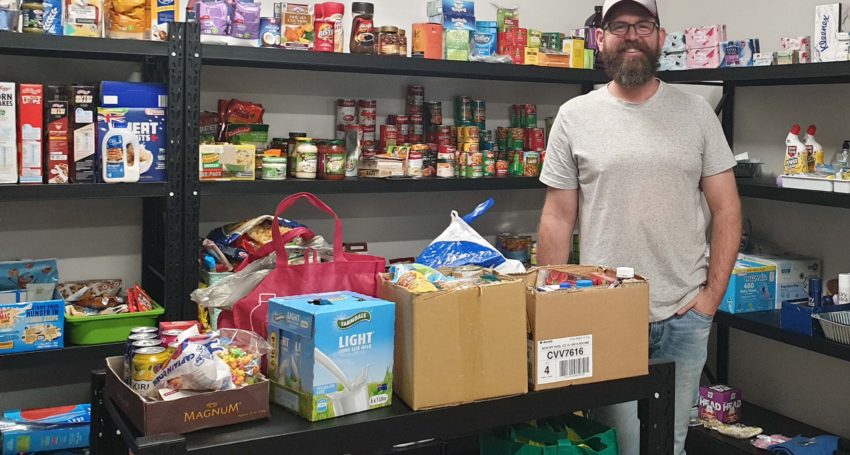 Father Dan Berris from The Lakes Anglican Church stands out for his gentle-giant stature, sense of humour, love of motorcycles and tattoos, and most of all for the good he does in his parish and the wider community, where he runs vital programmes, cares for individuals and volunteers as a police chaplain.
Inspired by his parish priest's generous community spirit, North Lakes Anglican Church parishioner Chris Mundy recently nominated Father Dan as a 2020 Westfield Local Hero.
Westfield Local Heroes are nominated by their communities, and the outcome of the online public vote will determine the three successful 2020 nominees for every Westfield centre, with each of their affiliated organisations awarded a $10,000 grant to support their work.
Mr Mundy said that he nominated Father Dan after witnessing Father Dan's strength, care and compassion since he began serving the parish community in 2012.
"I've seen firsthand how hard Dan works in the local community and the support he gives to individuals facing life's challenges," Mr Mundy said.
"Dan has a strong nature about him that gives people courage to face difficult times, yet is also compassionate and shows people care.
"He confidently interacts with all types of people from many different generations and is always looking for ways to respond to community needs in innovative ways."
Father Dan said that if he gets enough votes to win a $10,000 grant for his church that he will employ facilitators to expand the church's emergency food pantry and the Music Box kids' programme.
"Other grant monies often only pay for items and resources to assist, but don't pay for the people needed to facilitate ministry," Fr Dan said.
"If our church receives the $10,000 Westfield grant, we would use this money to pay facilitators to help our food pantry and Music Box programme have a greater impact in serving the local community.
"The grant money will also help provide employment at a time when so many people are out of work due to COVID-19."
The Lakes Anglican Church's emergency food relief pantry is open three days per week so people who are struggling to afford basic necessities can source food, toiletries and cleaning products from friendly and welcoming church volunteers.
Through the church's Music Box programme, children under five years of age have fun developing cognition and motor skills while their parents and caregivers are supported with some well-deserved down time and fellowship.
Long-term Music Box mum Amy Chalk said that she is grateful to Father Dan because the programme has blessed both her and her children and because Father Dan has been generous and welcoming.
"The Music Box programme has been great to teach my children confidence, coordination, and fine and gross motor skills," Ms Chalk said.
"I have been a part of the Music Box programme for about seven years and it has been a great way for my children to learn how to play alongside and share with other children and express their emotions, and for me to speak to other parents and get advice if needed.
"Father Dan is definitely deserving of this nomination, as since I have known him he puts everyone before himself and is always there for anyone that needs him and is always willing to help anyone.
"Father Dan is also very welcoming to everyone and loves supporting the local businesses, giving his all to the church and the people.
"He is not just our priest, but a friend."
Father Dan said he is humbled by the nomination and inspired by the thoughtfulness of his parishioners.
"I was working in the office and Chris let me know he'd nominated me. I felt quite encouraged, especially when I saw what he wrote," Father Dan said.
"I'm pretty blessed with awesome church members who often express their appreciation to me."
There are two primary ways our Diocesan community can get behind Father Dan Berris' nomination.
People can vote for Father Dan online by Monday 14 September and they can also share this Anglican Church Southern Queensland Facebook post or this news story (see social media sharing options below), encouraging others to vote for him so the two Lakes Anglican Church ministries can have an even greater impact.
anglican focus is proud to support Father Dan's nomination as a Westfield Local Hero and we look forward to hearing about the outcome of the nomination.
Jump to next article