Donation-based crowdfunding: tips and resources
"Through our 'St Claire's Clinic Taraoniara' GoFundMe campaign, we raised $5,627, with this money going towards two large water tanks and their installation, providing drinking water and sanitation for the small Solomon Islands clinic," says Bishop Jeremy Greaves, who also offer tips for successful donation-based crowdfunding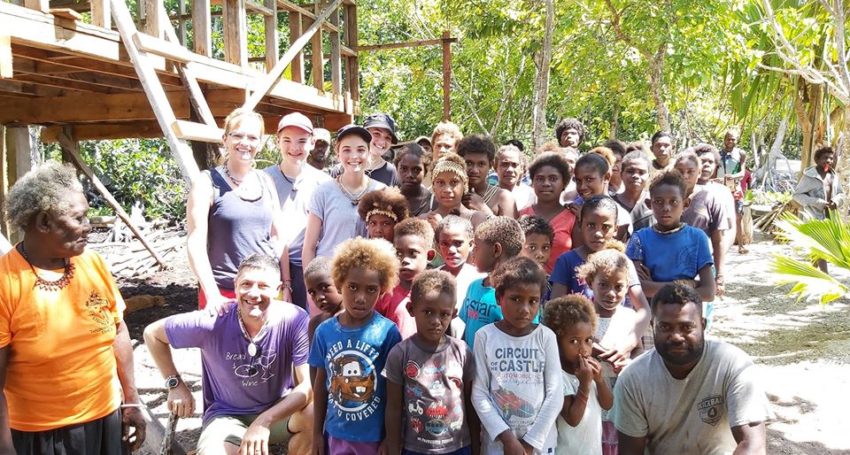 During a trip to the Solomon Islands late last year with my wife, Josie, and my three children, we visited a small clinic in the village of Taraoniara, which is staffed by one nurse/midwife and funded by the local church.
The clinic offers basic medical care and birthing services, and was doing so without a functioning toilet, shower facilities or running water, as there was not a large enough tank onsite or adequate plumbing.
This meant that patients had to walk down to the sea during the day or night to wash or toilet.
Upon returning to Brisbane, we contacted the clinic to identify what they needed to get the shower and toilet working and the best way to do the work using local expertise. The clinic nurse was able to tell us exactly what they needed and how much we needed to raise to fund the project.
Josie and I also chatted about the best way to raise the $5,000 we needed to fund the project and ultimately decided upon online donation-based crowdfunding using the GoFundMe platform.
Online crowdfunding is a way to raise money for a project or other initiative from a large number of people relatively quickly using a digital platform. Individuals or organisations donate an amount of their choosing, with each donation pooled and (hopefully) adding up to the fundraising goal.
Individuals, churches, ministries, charities and companies can start crowdfunding campaigns and anyone can contribute.
Through our 'St Claire's Clinic Taraoniara' GoFundMe campaign, we raised $5,627, with this money going towards two large water tanks and their installation, providing drinking water and sanitation for the small Solomon Islands clinic.
The first water tank was installed in July and is used by patients for drinking, washing and cooking.
The second water tank was installed in August and has been connected to the maternity unit.
At the time of writing, the nurse in charge of the clinic, Jackson Mekapi, said that they are still waiting for some pipe fittings and then the toilets and showers will be fully functional.
As the project unfolded, with the tanks arriving and being fitted one at a time, we kept those who donated to the campaign updated using the GoFundMe tool, as well as social media, ensuring that we included photos in our email updates.
The highlight of the crowdfunding campaign for us was being able to respond to a clear need with a project driven by a local community and funded by people from around the world, and being able to do it all in a relatively short amount of time.
While online crowdfunding is not always the best fundraising channel for every project and initiative, it was an effective and easy solution for our endeavor.
Top 10 tips for online crowdfunding
There is a range of different crowdfunding platforms available online, and donation-based crowdfunding is just one of these, so it's a good idea to do your homework and pick the best option for your project or endeavor.
Begin with a realistic fundraising goal (adjusting your goal as time goes on if required) and ensure that you break down the costs for your potential donors so they can see where their money will go.
The title of your fundraiser is really important – aim for clear, catchy and inspiring.
When you launch your crowdfunding campaign, ensure that your fundraising message is clear and succinct (aiming for approx. 400 words), largely using narrative to engage your audience and covering the standard 'who, what, where, when, why and how' details. Check out how similar online fundraisers have structured their fundraising descriptions to get a feel for what will and won't work for your campaign.
Ensure that your fundraising message description includes a specific and clear 'ask'.
Ensure that you upload engaging, relevant and good-quality images and video when you launch your campaign, using your best landscape-orientation image as the feature pic. Check out these helpful tips for taking images on your phone.
Show gratitude by thanking people after they donate online.
It's really important to update your donors as your project unfolds so people who have donated can clearly see where their money is going (including additional images and video showing how your project is progressing and links to any media coverage).
Share your campaign and updates on social media channels, using relevant hashtags.
Try and get the media to cover your campaign by writing a media release (if you are an ACSQ church or ministry, you can email the anglican focus Editor, Michelle McDonald, to request an easy-to-use step-by-step media release template).
Note from Risk & Compliance Coordinator, Nick Gentner: Any parish sending money, assets or staff overseas must comply with the Australian Charities and Not-for-Profit Commission External Conduct Standards. These standards are intended to promote transparency and provide confidence that resources sent, or services provided, overseas reach legitimate beneficiaries and are used for legitimate charitable purposes. For details on how to comply with these standards please email the Risk and Compliance Coordinator.
Jump to next article