82-year-old WestMAC teacher wins pre-eminent award for teaching in Queensland
82-year-old West Moreton Anglican College teacher Dell Rathbone took out the highest accolade for teaching in Queensland when she was named as the winner of the Most Outstanding Contribution to Teaching Award yesterday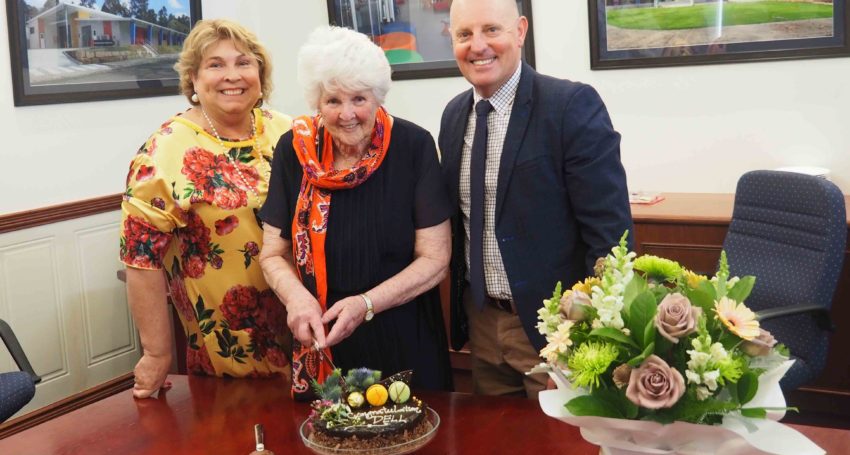 West Moreton Anglican College teacher Dell Rathbone took out the highest accolade for teaching in Queensland when she was named as the winner of the Most Outstanding Contribution to Teaching Award yesterday.
Dell was announced as the winner during the Queensland College of Teachers TEACHX Virtual Awards ceremony while surrounded by family and friends in the College's Calcott Room.
With a distinguished career in the teaching profession spanning more than six decades, Dell was a worthy recipient of the 2020 Award.
Since stepping into her first classroom of 66 students in Graceville in 1955, Dell has taught three generations of Queensland children, and at 82 years young, she will tell you that she's "not done yet!"
Dell is a fine educator, a pioneer and a picture of personal strength and resilience. As a young woman, Dell was passionate about Mathematics and Science, and at a time when these discipline areas were reserved for males, she could not be stopped.
Dell commenced her teaching career at 17 years old and soon moved to the country, where she dedicated 16 years to tirelessly serving country communities. After marrying, Dell was required to cease work and so, to maintain her skillset, she decided to educate her four children via School of the Air.
In 1973 Dell returned to Ipswich where she raised her children as a single parent. Dell has been a stalwart of the Ipswich educational landscape since then. Unsurprisingly, shortly after arriving at Ipswich, the talented educator was quickly asked to teach at Brassall State School, where she would eventually become Deputy Principal.
Throughout her teaching career, Dell's belief in her students and steady commitment to their growth, regardless of their ability level or circumstances, has been extraordinary.
Dell has been a trailblazer in this regard. Recognising, in an age before Autism was recognised by the medical community, that the regimented classroom setting of the 1950s was inappropriate for some of her students, Dell adopted a diverse range of pedagogical strategies and techniques to support her students.
Dell's work with one student in particular caused her to be summoned by the student's physician who wished to learn about the techniques she had been using to so positively impact the student's life and learning. And so began Dell's passion for equity, special education and curriculum differentiation.
Since 1994, Dell has worked at West Moreton Anglican College where she has held countless roles, including Head of ESL and Learning Support. In this role, Dell has developed a deep understanding of her students' diverse linguistic and cultural backgrounds and of teaching strategies that are most likely to be successful for these students.
She is a true polymath and has responsibility for the learning of students across many disciplines and year levels. Dell has developed extensive knowledge of the Australian Curriculum and the QCAA Senior Syllabuses. Her deep understanding of teaching strategies to develop literacy and numeracy is without doubt one of the major reasons for the success of so many of the school's international students in post-school education.
The TEACHX Awards recognise teachers from all schooling sectors and the early childhood sector across Queensland. The finalists were chosen from a record number of almost 400 nominations across six categories.
Jump to next article