Chewing the cud of scripture: lectio divina
"Lectio divina just means 'divine reading' – it means above all a slow, reflective reading of scripture and can be compared to allowing the words of scripture to gently dissolve in our hearts and minds. It is the spiritual version of 'slow food'," says The Rev'd Penny Jones as she takes us through how to practise this ancient form of contemplative prayer as a group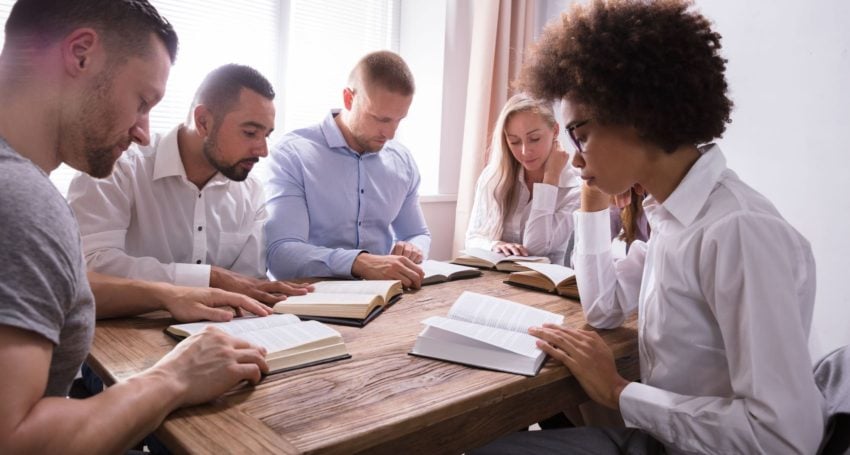 Don't let the Latin put you off! Lectio divina just means 'divine reading' – it means above all a slow, reflective reading of scripture and can be compared to allowing the words of scripture to gently dissolve in our hearts and minds. It is the spiritual version of 'slow food'.
It is an expression of what Thomas Cranmer meant when, in concluding his Homily on Scripture, he wrote,
"Let us ruminate, and, as it were, chew the cud, that we may have the sweet juice, spiritual effect, marrow, honey, kernel, taste, comfort and consolation of them."
Lectio Divina rose to prominence in monastic circles in the sixth century when Benedict of Nursia included it in his Rule. Although, St Benedict drew upon more ancient practices dating back to eastern monasticism in the third and fourth centuries. These practices recognised that God communicates with us through the scriptures in ways that are direct and relevant, but that take time and a contemplative spirit for us to receive.
"For the word of God is living and active, sharper than any two-edged sword, piercing until it divides soul from spirit, joints from marrow; it is able to judge the thoughts and intentions of the heart." (Hebrews 4.12)
I first encountered the practice of lectio divina in a local parish, where the rector used it as a way to begin our weekly staff meeting. The method used was very simple and could be adapted to any group setting. The Bible passage we used was a portion of the gospel reading for the following Sunday, but any passage of about six to eight verses is suitable.
Lectio divina can be done by oneself or in a group. If done in a group, it is best if the group meets in a circle. The following outlines how a group may approach lectio divina.
Settle in silence. This recognises that this practice is not so much a matter of Bible study as it is a form of contemplative prayer.
First reading of the passage: listen. A member of the group reads the passage aloud and slowly. Group members are invited to listen for the word or short phrase that resonates for them and to simply name that word or phrase aloud. It is important that here, and throughout the exercise, that participants do not comment on or in any way respond to others' choices. The interaction comes from the holding of contemplative space for one another, rather than from verbal exchange and conversation. This boundary is hard to observe at first, but it becomes easier with practice.
Second reading of the passage – ponder. A different member of the group reads the passage aloud. In a diverse group it is good to have the voices of those of different genders, ages, etc, heard. This time the group is invited to listen for the word or phrase that is speaking to them, and to articulate aloud in a brief sentence or two why they think that God is speaking to them through this particular word at this particular time. What is happening in their life and in their prayer that resonates with this word or phrase? Why is it relevant to them? Why is God bringing it to their attention?
Third reading of the passage – pray. A different member of the group reads the passage aloud. Again, the group is invited to listen for the word or phrase that is speaking to them. This time it may be in answer to what has already been expressed or reinforcing of something already discerned. It answers inner questions like, 'What is God's invitation here?' 'What am I being asked to take up or let go?' Participants are invited to use this understanding to frame a simple request for prayer, spoken to the person on their left. It could be something like, 'Please pray that I may trust God more.' Or, 'Please pray that I may be ready to let go of my need to control in this situation.' The person on their left retains the request until all requests have been received. The group then prays aloud for one another around the circle, each person praying for the person on their right. It is important that the prayers remain short and simple – reflecting as clearly as possible the prayer that was requested, so that the person requesting prayer hears back God's invitation to them.
Finish in silence. The group ends by resting for a time in the contemplative silence with which they began. For some groups lectio divina can conveniently introduce a lengthy time of silent meditation. For others a shorter time is preferable. In either case, it is helpful if the leader concludes the time in a consistent way, perhaps with the Lord's Prayer and the Grace.
My own experience has been that as confidence grows in the confidentiality of the group, the depth of silence and of encounter with God increases and profound and life-transforming insights occur. The power of group lectio, regularly practised, is that the group upholds and supports one another in prayer between sessions.
However, it is also common to practise lectio divina as an individual. The process is essentially the same as described above, except that the individual can choose whether or not to read aloud, and they may choose to use a journal to write down the word or phrase that resonates and their reflections and prayers. As with the group experience, framing a simple prayer is helpful. It can also be instructive to carry around the most striking phrase for a day or so, allowing it to penetrate our innermost being.
Looking back over a lectio divina journal it is possible to see trends and patterns emerge. These can become the subject of prayer or conversation with a spiritual director or soul friend.
There are many books and online resources about lectio divina available. This resource from the Anglican Communion website is easy to follow and makes suggestions for both individual and group practice.
There are also other modern adaptations, including the practice of visio divina or 'divine seeing', where you approach a work of art or sacred image in a similar receptive way, allowing it to speak to your mind and heart and invite you into a place of silent contemplation.
What is essential to all such practices is to be open to the action of the Holy Spirit, allowing God to speak to the heart.
Jump to next article