Former ballet dancer celebrates her 103rd birthday in Robina
Former ballerina Victoria Lowney celebrated a milestone birthday and was treated to a party with friends and carers at Anglicare Southern Queensland's Robina Respite Centre recently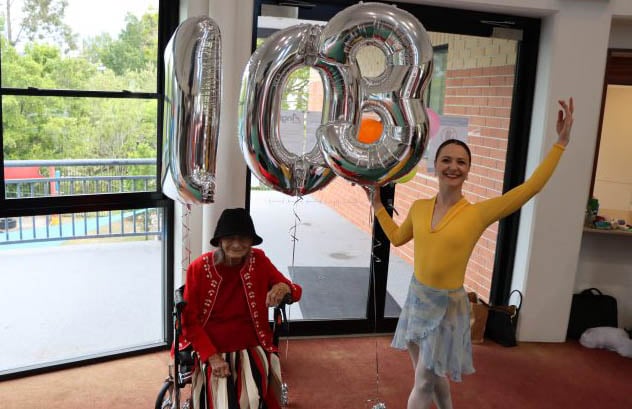 Victoria Lowney might have just turned 103 but she is still young enough to curtsy as she enters a room.
The former ballerina celebrated her milestone birthday and was treated to a party with friends and carers at Anglicare Southern Queensland's Robina Respite Centre on Friday 23 October.
Victoria, who still lives alone, paraded slowly around the room with her walker, but boasted she could still kick her leg high if she wanted to.
One of her carers, Anglicare Southern Queensland's Lifestyle Assistant Kathleen Kirkpatrick, chimed in: "Last time she did that she fell over."
But according to Victoria, movement is the secret to living a long life.
"It's doing something to keep you on the move," she said.
"My doctors, six of them, (ask) 'what do you put it down to?' and (I say) 'well, doing something, move, do some work and keep going'."
Victoria was born in Cornwall in the UK in 1917 before immigrating to New Zealand with her family.
She was a tiny child and a doctor's advice for physical development was to exercise at a Russian-run dance studio in Auckland, so she took up ballet at the age of six.
Soon after, she arrived in Australia and joined the Helene Kirsova School of Russian Ballet, and later became a member of the Australian British Ballet Organisation.
In 1937, when she was 20, she posed for the cover of a highly-regarded magazine, The Dancer.
The Queensland Ballet surprised Victoria with a beautiful eight-minute shout out from all the dancers and even went one further by sending ballet dancer Tonia Looker to help celebrate the day.
Victoria's career was cut short when, at 24, she married her late husband Alphonsus in 1942.
Her career in professional dance was also a casualty of World War II, which shut down the arts sector.
Victoria has been attending the Robina Respite Centre since it opened about 20 years ago.
"She's been a regular. She's involved with the art group, craft group and still goes on all the outings," Mrs Kirkpatrick said.
"She's so enthusiastic. She thinks everybody could be up and moving if they just put their mind to it. That's what she says – that they don't try hard enough.
"She's got so much zest for life still. Every time she comes, she wants to get stuck into it. If we sit around at morning tea for too long, she starts getting up and clearing up the dishes so we can get on with the craft.''
Victoria lives in a flat next door to her family. She has two children and two grandchildren who are said to have inherited her talents.
Happy Birthday, Victoria!
Media Coverage:
First published on the Anglicare Southern Queensland website on 3 November 2020.
Jump to next article