National win for Glennie girls
Three gifted Year 9 students from The Glennie School have won the coveted BRAINways Education The QUEST National competition for 2020, using their abilities in creativity, problem solving and teamwork to achieve some outstanding results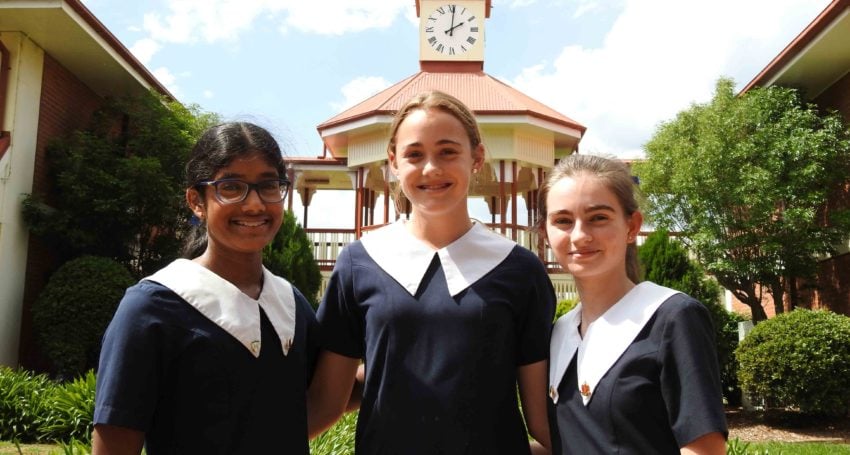 Three gifted Year 9 students from The Glennie School have won the coveted BRAINways Education The QUEST National competition for 2020.
Rheanca Lincoln, Sophie Fleming and Zoe Waters used their abilities in creativity, problem solving and teamwork to achieve some outstanding results at The QUEST.
Six teams from co-educational, all-boys and all-girls schools competed in the three learning areas of Science = Neuroscience of imagination; Humanities = Philosophical, psychological and economical theories of value; and, Mathematics = Correlation and causation, network theory and correlation networks.
At the conclusion of The QUEST, hosted by Central Queensland University, Rheanca, Sophie and Zoe, our Year 9 team, won convincingly, taking out the first-place win in Mathematics, second place in Humanities and fourth place in Science.
The girls would normally qualify to progress to the International competition; however, due to COVID-19 this competition will not take place.
The three Glennie students said that they drew upon creativity, collaboration, hard work and positivity throughout the duration of the competition.
"The QUEST was an incredible experience, and we are so glad that each of our strengths could combine to achieve a rewarding win. In the Humanities challenge, we had to create two new civilisations with conflicting values. We invented cultures, landscapes, economies, governments and society rules, all in an hour and a half. Despite the short timeframe, our creativity and collaboration helped us to produce something incredible that we are very proud of," Sophie said.
"In the Science session, we had an hour and a half to complete a plan for our own science museum, including eight different exhibits. The challenge was all about explaining how the brain imagines and dreams for our civilisations from humanities. Even though the science concepts were hard to grasp, we all powered through the challenge and completed all the given tasks with a smile on our faces," Rheanca said.
"For the Mathematics session, we had to complete scatter plots to investigate relationships between the two civilisations and draw conclusions as to whether causation or correlation was evident through correlation networks. Due to our light-heartedness and ability to find something to laugh about we got through this task in a very positive manner and came away with the win," Zoe said.
Deputy Principal – Head of Curriculum Tonia Gloudemans said that she was proud of the girls' collective accomplishment.
"This is a fantastic achievement for the girls and the first time students from The Glennie School have won at the National level," Ms Gloudemans said.
Jump to next article