Jarjums Connect gets Totally Wild with Ranger Stacey
Anglicare Southern Queensland's Jarjums Connect Group recently welcomed Ranger Stacey and the Totally Wild team to one of their special fortnightly events, where traditional face painting and the making of bush flour were taught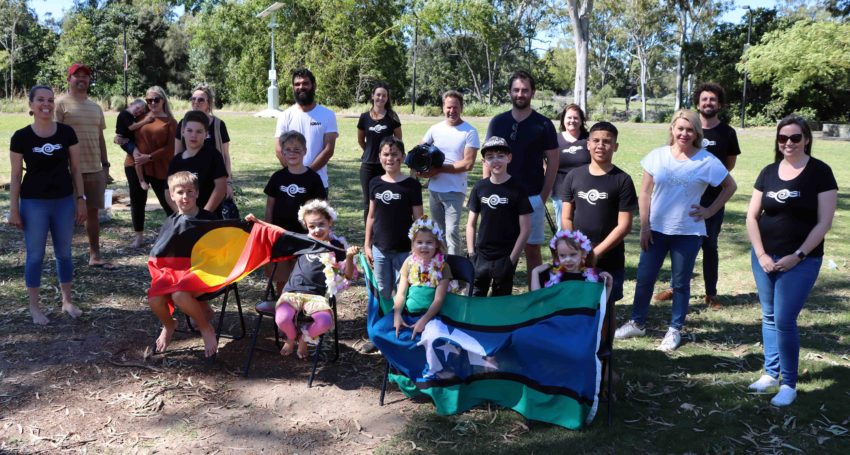 The Jarjums Connect Group is a fortnightly event designed to nurture individual self-expression and offer cultural support in a safe environment for children in our Aboriginal and Torres Strait Islander communities.
Every Jarjums Connect Group event is special, as the group does activities to foster learning around topics like song and dance, art, language and storytelling and making food.
Recently the group had a very special visitor when Ranger Stacey and the Totally Wild team came to join in the fun!
Lalania and the Jarjums showed Ranger Stacey traditional face painting, then Caleb taught them all how dilly baskets could be used to make black beans safe to make flour for damper.
After watching the Jarjums do some traditional singing and dancing, Ranger Stacey was hoping to be impressed by some boomerang throwing, but unfortunately Alara thought the windy day meant the boomerangs would be too dangerous in the small park.
Everyone agreed that the highlight of the day was getting to try witchetty grubs – and watching Ranger Stacey's taste test!
The Jarjums went first, biting down on the traditional food with relish and describing the taste to Ranger Stacey.
Witchetty grubs are a good source of protein, and Caleb showed Stacey the best way to eat them. But Ranger Stacey wasn't so sure, and when she bit down on her witchetty grub she couldn't quite manage to swallow – "why did I get the juicy one?"
You can watch the 5 minute episode here. 
Led by our Cultural Support Worker Lalania Tusa, the Jarjums Connect group's primary focus is on creating cultural connectedness, so that children and young people begin to develop and feel a strong sense of identity and belonging within themselves and the wider Aboriginal and Torres Strait Islander communities. Jarjums is the Yugambeh word for 'children'.
First published on the Anglicare Southern Queensland website on 7 December 2020.
Jump to next article