Head, heart and hands: a Lenten invitation
"When I was invited to put together a Lenten study by the people at Grassroots Resources, I wanted to give people a taste of what it might be like to be intentional about practising the faith. Each week, alongside the reflections on the Gospel reading set for each Sunday in Lent, I introduce a particular practice – there are six in all," says Bishop Jeremy Greaves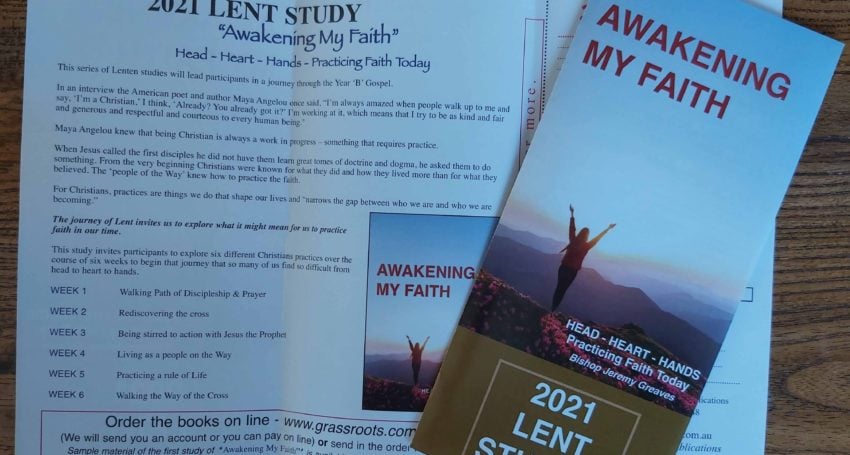 Christianity has, from the very beginning, been as much about practice as it has been about belief. As American historian of Christianity Diana Butler Bass writes in Christianity After Religion:
"The early community that followed Jesus was a community of practice. Jesus's followers did not sit around a fire and listen to lectures on theology. They listened to stories that taught them how to act toward one another, what to do in the world. They healed people, offered hospitality, prayed together, challenged traditional practices and rituals, ministered to the sick, comforted the grieving, fasted and forgave. These actions included wonder, gave them courage, empowered hope, and opened up a new vision of God. By doing things together, they began to see differently…Jesus did not walk by the Sea of Galilee and shout to fishermen, 'Have faith!' Instead, he asked them to do something: 'Follow me.' When they followed, he gave them more things to do. At first he demonstrated what he wanted them to do. Then he did it with them. Finally, he sent them out to do it themselves, telling them to proclaim God's reign and cure the sick. When they returned from this first mission, they could not believe what had happened. They discovered that proclaiming the kingdom was not a matter of teaching doctrine; rather, the kingdom was a matter of imitating Jesus's actions.
At least one study from the US shows that there is a link between "personal spiritual practices" and congregational vitality, suggesting that the "more emphasis a congregation gives to the value of home and personal religious practices the higher the congregation's vitality and the more likely it is to be growing in membership.
It is interesting then, that Lent begins each year with an invitation to practice:
"Sisters and brothers in Christ, from the earliest days of the Church, Christians have observed with great devotion the time of our Lord's passion and resurrection. It became the custom of the church to prepare for this by a season of penitence and fasting.
At first this season was observed by those who were preparing for baptism at Easter and by those who, having been excommunicated, were to be restored to the communion of the church.
By keeping these days with care and attention Christians might take to heart the call to repentance and the assurance of forgiveness proclaimed in the gospel, and grow in faith and devotion to our Lord.
So, by self-examination and repentance, by prayer and fasting, by self-denial and acts of generosity and by reading and meditating on the word of God, let us keep a holy Lent."
(Anglican Church of Australia Trust Corporation)
 The call to observe a holy Lent does not ask us to believe something, it calls us to practice. The journey of Lent is to be one of "self-examination and repentance, [of] prayer and fasting, [of] self-denial and acts of generosity and [of] reading and meditating on the word of God."
The American writer Anne Lamott says that the longest journey most Christians have to make is the "twelve inches from the head to the heart." Practice invites us to continue that journey – from the heart to the hands. This is a journey from thinking to feeling to doing.
When I was invited to put together a Lenten study by the people at Grassroots Resources, I wanted to give people a taste of what it might be like to be intentional about practising the faith. Each week, alongside the reflections on the Gospel reading set for each Sunday in Lent, I introduce a particular practice – there are six in all.
This recently published Lenten study can be downloaded from the Grassroots Resources website and a sample chapter from the Study Guide can be found online. If you are not already part of a Lenten study group, or if you are interested in exploring six different Christian practices, you might like to have a look.
Jump to next article