Top maths student mentoring girls in coding
An AI cadetship program at the Peregian Digital Hub has turned into much more for St Andrew's Year 11 student Angelique Neale, who has been inspired to mentor and teach other girls in the tech industry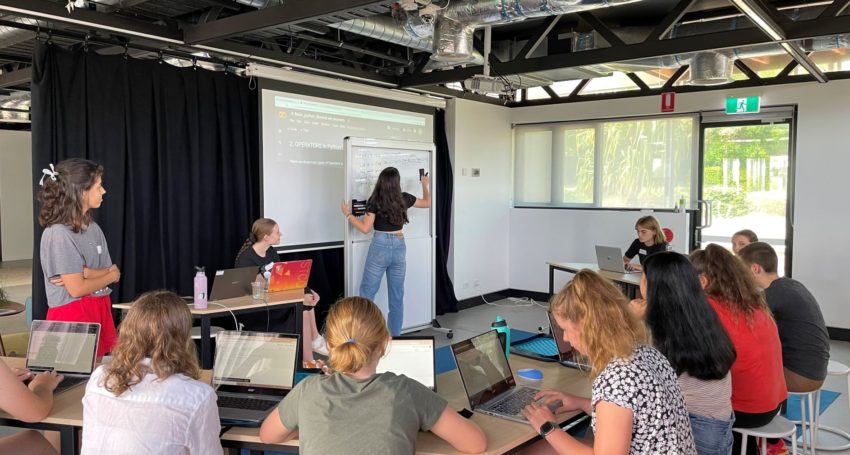 An AI cadetship program at the Peregian Digital Hub has turned into much more for St Andrew's Year 11 student Angelique Neale, who has been inspired to mentor and teach other girls in the tech industry.
In 2020, Angelique was nominated as a top-performing mathematics student, to join the AI cadetship program at the Peregian Digital Hub.
The cadetship program offers non-linear learning for talented and self-motivated students with unique opportunities to stretch themselves doing professional-level work and develop skills in some of the most sought after areas of technology.
"I enjoy computer science and coding, so I thought it would be a fun way to pursue it outside of school," Angelique said.
"My skills before joining were pretty standard – I'd done a decent amount of web development as a part of the digital solutions class. The cadetship has taught me a lot about AI and problem solving – in an entirely new programming language, too.
"Ben and Jakob (the two students teaching the course) were super helpful with getting us started and great at teaching us the content. It was a fun environment to learn in and they made it pretty easy to understand, even for those of us who hadn't touched AI or programming before."
After two terms of weekly after-school sessions, Angelique went from never having coded before to being proficient in Python programming and conversant with machine learning and AI concepts.
An added and unexpected bonus for Angelique was developing the confidence to teach others how to code, which came to fruition this Term. Alongside two other students, Angelique ran an introduction to programming and AI course for 20 girls in Years 9 and 10.
"The tech industry has always been mostly dominated by men, so people nowadays are really trying to encourage women to get involved. Obviously gender doesn't define whether or not you can engage in certain industries or activities, so I encourage anybody who's interested to participate regardless," she said.
With a heightened sense of skills and confidence, Angelique plans to continue working towards a career in the tech industry.
"Being able to work in an industry like this, especially while still in school is a major head start. Other than having fun with small side projects, I'm hoping I'll be able to do some more paid work in the field using and improving on the skills I have," she said.
"I've known for a while that I want to pursue computer science after school, but I think getting involved in things like this has helped me form a much clearer idea of exactly what I want to do."
Find out more about the Peregian Digital Hub's AI Cadetship at www.peregianhub.com.au/cadetship/
Jump to next article