Canon Boggo Pilot: war-time army corporal and Torres Strait Islander missionary priest
"Canon Boggo Pilot continues to be remembered today for his courage, brilliance, missionary zeal, pastoral heart, joyful spirit, vision, work ethic and commitment to preserving his people's culture," says Diocesan Archivist Michael Rogers, as the 150th anniversary of The Coming of the Light approaches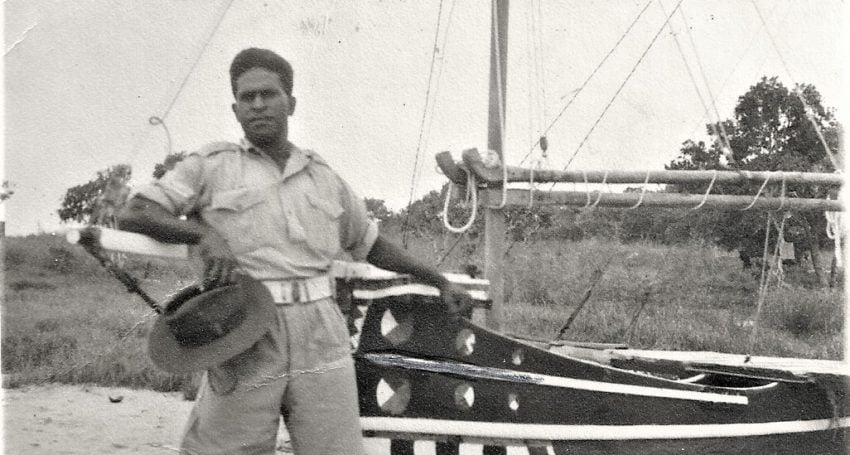 Story Timeline
Trailblazing Australian Anglicans
Torres Strait Islanders from all denominations will celebrate the 150th Anniversary of 'The Coming of the Light' on 1 July 2021. This is an annual holiday for Torres Strait Islanders dedicated to celebrating the landing of London Missionary Society missionaries and Melanesian leaders on Erub in 1871, bringing the Bible with them. The event had a profound impact on life across the Islands and has been linked to the end of inter-island conflict.
Importantly, Christianity did not mean the end of traditional beliefs. Christianity was embraced and the light of God was welcomed into everyday lives with local culture informing and playing a huge role in shaping people's understanding.
In terms of remembering and celebrating the arrival of Christianity to the Islands, perhaps no individual had as great an impact as Canon Boggo Pilot from the island of Erub. While his impact on Christianity across the Torres Strait Islands and North Queensland is well recorded, what is less well known is the contribution he made to the life of parishioners in our Diocese.
Father Boggo was born on 30 January 1921 at Erub, an island in the Torres Strait. After attending the Queensland Government Training College, he enrolled at St Paul's Theological College on Moa Island. The college was closed in early 1942 due to the war, and so in June 1942 he enlisted in the Citizen Military Forces. Assigned to the Torres Strait Light Infantry Battalion, he was initially promoted to lance-corporal and then to corporal.
He married Louisa Nazareth (Babai) Mye, an assistant schoolteacher, on 27 July 1945 at All Saints' Church on Erub – a union that would be blessed with two sons and four daughters.
After the Second World War, Father Boggo resumed his theological studies and was made a deacon on 13 March 1949. He was ordained a priest on 14 January 1951 while the Carpentaria curate of All Souls' Quetta Memorial Cathedral on Thursday Island. He then joined the staff of St Paul's Mission and worked as a missionary priest travelling throughout the Torres Strait Islands and Cape York Peninsula until 1953, when he enrolled at St Francis Theological College in Brisbane for a further year of study. During this time, he also served as an associate-curate at St Alban's Church, Auchenflower and also spoke at that year's Diocesan Synod on his experiences in the Islands.
Up to 1965, Father Boggo served on a number of Torres Strait Islands, including as assistant priest-director of the Torres Strait Mission in 1962 and priest-director the following year. In 1966, he returned to Brisbane – this time with his family – becoming the assistant priest at St Paul's, Cleveland. In the 'Cleveland Parish Paper' for October 1966, Father Boggo thanked parishioners for the welcome that they had received and noted that the move was an important step:
"…it was good for us to come and gain experience from other places, as this will be a benefit to the future ministry in the Diocese of Carpentaria, especially in the Torres Strait."
The extra assistance Father Boggo provided to the rector (Father Peter Brewer) meant that services could be held in areas that had been missing regular services, such as on Russell and Macleay Islands in Moreton Bay.
The impact that Father Boggo had on the Parish of Cleveland can best be shown through the reaction to his leaving for the Parish of Camp Hill in early 1969. At the farewell celebration, St Paul's Hall was "packed to its seams" with parishioners. A tribute, published in The Church Chronicle in April 1969, noted "his ready, happy smile and Christian attitude to the people he came in contact with" and described him as "a man who has the human touch – a rare commodity to-day in this overly modern way of life." The article also notes the views of the Roman Catholic priest, Father McKinley, who noted that Father Boggo was a man of great "moral courage" which had also been realised by the parishioners of Cleveland. Father McKinley also noted that Father Boggo had an infectious happiness and that it was a privilege to share the pastoral ministry for the area with him.
One of the gifts from the parishioners of Thornlands was a grinder and polishing wheel/machine, which Father Boggo used to make table lamps from Bailer and Trochus shells.
Father Boggo promoted Island culture at Cleveland through traditional cooking and dances. His son, Samuel, noted that his father had a regular stall at the Cleveland Church Fete. He remembers his father promoting Sop-Sop, a traditional Torres Strait Islander recipe consisting of banana, sweet potato, pumpkin and other vegetables cooked in coconut milk, with the words "Yum Yum for your Tum Tum". Samuel Pilot also remembers his father and mother demonstrating traditional Islander dancing at Victoria Point to an appreciative audience.
In July 1969, the Camp Hill Parish celebrated the 98th Anniversary (attended by Bishop John Hudson and over 400 parishioners), which appears to have been the first official local celebration conducted by Father Boggo for The Coming of the Light (although he likely promoted this event in our Diocese through other means that have not been officially documented). In 1971 Father Boggo attended the 100th Anniversary celebrations in the Torres Strait (along with Archbishop Felix Arnott), where he shared that it was his great-grandfather (Dabad, a tribal elder) who first welcomed the missionaries 100 years prior to Erub.
After he left Camp Hill in 1973, where 230 people attended his farewell service (the largest congregation that had attended the church for a long time), he and his family moved to Townsville, where he took up the position of priest and director of the newly-formed Torres Strait Island Ministry (TSIM) in Townsville. The establishment of the ministry had a great influence on the pastoral planning and work of the Diocese, and the intention was to minister to people without being restricted to a geographical area. The following year he became an Honorary Canon of St James' Cathedral in Townsville.
Alongside Christianity, Canon Boggo also promoted the cultural needs of his fellow Torres Strait Islanders. Believing that their cultural heritage should be preserved, his first initiative was the production of a Torres Strait Island Hymn Book in 1975. Canon Boggo gathered about 500 hymns from both the eastern and western Island groups, and not only produced the text of these hymns, but spent countless hours reading the proofs. One thousand copies of the hymn book were produced in Townsville, and it was widely distributed, both in North Queensland and in the Torres Strait Islands. The Hymn Book is still an excellent record of all current hymns used in the Torres Strait and is a testimony to Canon Boggo's commitment to preserving the spiritual heritage of his people.
Father Boggo also showed an interest in other community projects and cared for his people, both in Townsville General Hospital and at the Stuart Creek Prison, where he conducted regular services on alternate Mondays. He often visited Cairns and Mackay in North Queensland, ministering to people, especially on bereavement occasions.
On Canon Boggo's passing in 1981, over 650 people attended his funeral in St James' Cathedral, Townsville. In the 'Cleveland Parish Paper', the rector for Cleveland, Father Alan Gate, noted that Canon Boggo had a warm and pastoral heart, and that Canon Boggo had told him that his days in Cleveland were the happiest in his ministry.
His funeral eulogy noted that his focus was not just on parish responsibilities, and that he was often consulted on wide a range of issues – especially in terms of the future of the Torres Strait Islanders. His work with the Community Relations Consultative Body in Queensland, as well as his attendance at the 1980 World Council of Churches meeting in Amsterdam (where his awareness was enhanced, with the assistance of African delegates of the World Council, of the increasing racism and discrimination confronting society), no doubt galvanised him to further advocate in this space.
A year after the funeral, Canon Boggo's ashes were interred under the altar at St James Cathedral in Townsville, and in 1999 his wife Louisa's ashes were interred alongside those of Canon Boggo.
In the late 1980s, the Anglican Diocese of North Queensland established the Canon Boggo Pilot House on Thursday Island to promote the Islanders' cultures and provide accommodation to young boys. In the late 1990s the land and building were purchased by Aboriginal Hostels Ltd, with the old house demolished for a new hostel that was completed in 1999. The owners, with the encouragement of Canon Boggo's son Samuel, kept the name of the previous building. The Canon Boggo Pilot Hostel is currently used as a student hostel for secondary students.
At his funeral, Archbishop John Grindrod summed up the life and work of Canon Boggo Pilot in the following words:
"The clergy and people of Brisbane express our deepest sympathy at the death of Father Boggo Pilot…We give thanks for a priest of his own people in a pioneering ministry in Townsville and for his ministry in this Diocese…We give assurance of our prayers especially to his family and pray that Christ who is the Light may grant life Everlasting…"
Canon Boggo Pilot continues to be remembered today for his courage, brilliance, missionary zeal, pastoral heart, joyful spirit, vision, work ethic and commitment to preserving his people's culture.
Author's note: I sincerely appreciate the valuable contributions of the Pilot family, particularly son Samuel and daughter Jenny who both currently reside in Brisbane, in the writing of this feature. I am also indebted to Anne Watkins (Archivist, Diocese of North Queensland) for additional information about and photos of Canon Boggo Pilot and his life – in particular, the panegyric sermon delivered by Bishop John Lewis at the funeral service (parts of which I have used in writing this feature).
Editor's note: Please consider making a donation to support The Coming of The Light festivities. Donations will help cover major costs, including flights and accommodation for almost 200 artists from the Torres Strait who are travelling to Brisbane. Donations may be remitted to the Torres Strait Islander Anglican Non-Geographical Parish ANFIN Account: BSB # 704901 and Account # 00004190, referencing 'Donation' and your surname or sent by cheque payable to 'Torres Strait Islander Min Grp' to PO Box 1220, Fortitude Valley QLD 4006. Please contact Rodney Wolff on 07 3852 1635 or via priest@trinityvalley.org.au if you have any questions re donations.
Jump to next article