The Coming of The Light 150th anniversary: join in the re-enactments, weaving workshops, dancing and food festivities
Find out how you can join in the historic 150th anniversary 'The Coming of The Light' celebrations to be held in Brisbane in early July, commemorating when The London Missionary Society and Melanesian leaders landed on Erub, introducing the Bible to Torres Strait Islanders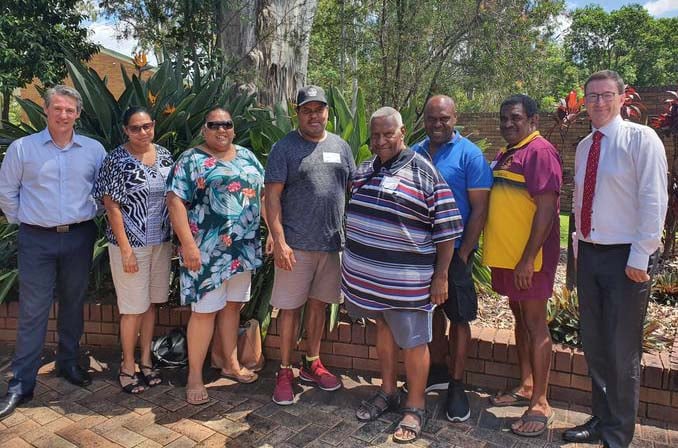 Queensland's Torres Strait Islander community is eagerly preparing for the 150th anniversary of 'The Coming of The Light' when The London Missionary Society and Melanesian leaders landed on Erub in 1871, introducing the Bible to the people who lived there.
Celebrating The Coming of the Light is marked as a public holiday in the Torres Strait Islands, with members of Brisbane's Torres Strait Islander Anglican Non-Geographical Parish working tirelessly in the planning of the local festivities.
Torres Strait Islander parishioner and event steering committee member Ivy Lewis said that while her community members gather annually to mark this historic event, it is the first time that Torres Strait Islander Anglicans will celebrate with the wider community over four days.
"It's the one commemoration that brings the Torres Strait Islander community together every year, and it's our way of acknowledging this historical event that took place on 1 July 1871," Ms Lewis said.
"As 2021 marks the 150-year anniversary of The Coming of The Light, for the first time in Brisbane we are sharing our unique culture, traditions and history with the wider community over a free four-day event."
The following free anniversary celebration activities are planned between Thursday 1 July and Sunday 4 July, with almost 200 artists from the Torres Strait Islands travelling to Brisbane:
Exciting re-enactment performances on the Brisbane River by people from Darnley (Erub), Boigu, Saibai and Dauan Islands.
Traditional dances from people from various islands.
Free tasting events with food cooked using traditional techniques, called kupp murri.
Free cultural workshops, such as coconut scraping/husking, kulap making, weaving, an interactive traditional village experience and storytelling.
A Queensland Museum exhibition called Island Futures, commencing on 25 June where Torres Strait Islander artefacts will be displayed.
Anglicanism is practised widely in the Torres Strait, with local Torres Strait Islander Anglican Non-Geographical Parish members largely worshipping at Holy Trinity Anglican Church in Fortitude Valley.
While looking forward to the celebrations, parishioner and 2021 Queensland Senior Australian of the Year Aunty Dr Rose Elu said that it is important for all Anglicans to understand that Jesus was present in the local people before the Bible came to the Torres Strait.
"Our spirituality lies in the sea, sky and land and since time immemorial our people have believed in a creator, but we did not know that the creator was the Christian God," Aunty Dr Rose said.
"The Coming of the Light made that connection, but we had already received God before the arrival of the English missionaries, as God was already with us.
"As July approaches, I am most looking forward to celebrating our unity as one Body of Christ and learning from each other, along with the local traditional custodians of the land in Brisbane."
By gathering and joining in this year's significant celebration, Anglicans and the wider Southern Queensland community have a unique opportunity to learn about and experience the cultures, foods, stories and faith expressions of Torres Strait Islanders.
Priest-in-Charge at Holy Trinity Anglican Church The Rev'd Prof. Rodney Wolff said that he encourages local Anglicans to join in the festivities and that he is most looking forward to the traditional dancing.
"Participation will do much to build understanding of and respect for Torres Strait Islands peoples and move us all further along the path to Reconciliation.
"I'm most looking forward to the dancing. On the occasions I've seen Torres Strait Islander dancing, I've been captivated by its joyous and Spirit-filled expression of story."
The Coming of the Light steering committee has been busy meeting with people across our Diocesan community to offer opportunities for participation, request support and invite people to the festivities, such as with Reconciliation Action Plan Coordinator Aunty Sandra King; Parishes and other Mission Agencies Commission Executive Director Dr Stephen Harrison; and, Anglican school representatives, including from Cannon Hill Anglican College.
Ms Lewis said that the best way for people across our Diocesan community to support the festivities is to join in and bring along friends and family members.
"Firstly, we welcome our fellow Anglicans to attend as many activities as they would like, including attending services on Thursday 1 July at Colmslie Recreation Reserve on the river, weather permitting, and on 4 July in St John's Cathedral," she said.
"We would appreciate spreading the word of our event activities to friends and family in your communities and for anyone who'd like to volunteer on those days in any capacity to let the committee know by emailing comingoflight21@gmail.com."
Editor's note: Please consider making a donation to support The Coming of The Light festivities. Donations will help cover major costs, including flights and accommodation for almost 200 artists from the Torres Strait who are travelling to Brisbane. Donations may be remitted to the Torres Strait Islander Anglican Non-Geographical Parish ANFIN Account: BSB # 704901 and Account # 00004190, referencing 'Donation' and your surname or sent by cheque payable to 'Torres Strait Islander Min Grp' to PO Box 1220, Fortitude Valley QLD 4006. Please contact Rodney Wolff on 07 3852 1635 or via priest@trinityvalley.org.au if you have any questions re donations.
Jump to next article