From biscuits to Bishop
The Rev'd Kate Ross tells us about trailblazing ordination of women campaigner, mother of six, nurse and midwife, childbirth educator and social justice advocate, Gwenneth Roberts, and about an exhibition she and Gwenneth are opening in the Cathedral to honour the women of our Diocese historically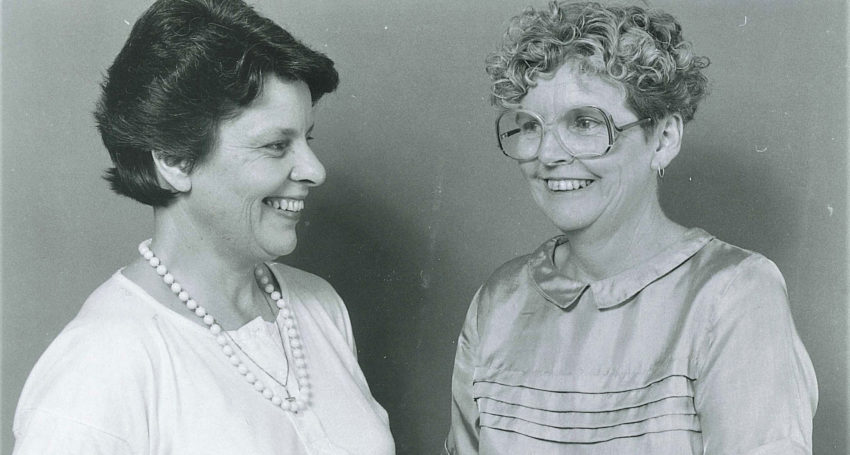 Story Timeline
Trailblazing Australian Anglicans
I first met Gwenneth Roberts in 2019 when I was appointed to the Cathedral in my initial ordained role as a Deacon. Her verve and enthusiasm for her children, work and colleagues were apparent. It was clear that she found a place of belonging and acceptance in the Cathedral community, arriving about the same time that I did, and was excited to contribute in some way. The mostly female clergy team also appealed to her, as well as the quality of preaching and teaching.
Gwenneth is a mother of six children, a nurse and midwife and childbirth educator. She is also a survivor of breast cancer, which she was diagnosed with in 1989 while working as an epidemiologist on the Breast and Cervical Cancer Treatment Program at Queensland Health. At that time, breast screening was not universal, and so she advocated for women to enter breast screening mammography programs, even appearing in The Courier Mail. Later, she became a facilitator of post-breast cancer exercise and information programs.
Gwenneth went to university in her forties, which was a 'sea change' experience for her, leading to her entering public life and performing well academically, along with other similarly aged women. Her academic career was in the field of domestic and family violence. Her research into the presentation of victims of domestic and family violence in the emergency department of a major public hospital, the first in Australia, became the subject of her doctoral thesis. She was involved in research and training about domestic and family violence in Anglican, Uniting and Catholic Churches in the 1990s with Queensland Churches Together.
In 1984 she met Dr Patricia Brennan, founder of the National Movement for the Ordination of Women (MOW), a major life-changing experience, as she observed Patricia's passion for justice and the leadership of women as deacons, priests and bishops in the Anglican Church of Australia. Gwenneth initiated the Brisbane branch of MOW and together with (since ordained) The Rev'd Canon Dr Marian Free, she was co-convenor of the Branch.
For 40 years, Gwenneth has been involved with First Nations communities in Brisbane, standing with elders Auntie Jean Phillips and The Revd Alex Gater on their journeys. She has conducted home groups to educate the non-Indigenous community and supported organisations addressing the ongoing effects of colonisation and associated oppression of First Nations people in Australia.
Gwenneth has been an advocate for justice in Church and society for many years. She is as active now as she was back in the 1980s, working for the recognition of women in public life. She holds an extensive collection of records relating to MOW and is a fount of knowledge on the movement, although she tends to downplay her significant role. She is currently researching the history of Anglican women in our Diocese since the 19th century, for presentation in From Biscuits to Bishop: An exhibition of Anglican women's history to be accessible online and in the Cathedral.
The genesis of this exhibition was in February 2019 when Gwenneth saw that the Melbourne Cathedral had held an exhibition of Anglican women's history in the Diocese of Melbourne. She subsequently raised the idea of an exhibition of women's history in our Diocese with the Dean of St John's Cathedral, The Very Rev'd Dr Peter Catt, who suggested that she work with me on the exhibition. So began months of planning and the delight of our rapport, coming from mutual respect and a non-hierarchical approach, which she has not always encountered in the Anglican Church. Gwenneth has been an excellent host for many of our meetings, courtesy of the wonders of HelloFresh and a glass of wine.
The From Biscuits to Bishops exhibition honours the contributions of women to our Diocese since 1859. We honour those women who worked as fundraisers and saved churches from insolvency. Later women reached out as missionaries, while others spoke out and advocated for ordained women who now take their place among clergy in the Anglican Church of Australia. The exhibition will be held in the Cathedral from 6 May to 20 June 2021. For more information, contact Gwenneth Roberts on gwennethroberts@gmail.com. 
Editor's note (19/03/21): This feature has been updated with additional images since publication. Thank you to the Records and Archives Centre team for providing the additional two images.
Editor's note (25/03/21): This feature was updated with a new email address for contacting Gwenneth. 
Jump to next article