St Margaret's boarders broaden horizons
Each year, coinciding with the Labour Day long weekend, St Margaret's boarding students revel in the opportunity to host day students at their homes, sharing insights into their home and family lives – find out about the students' wonderful highlights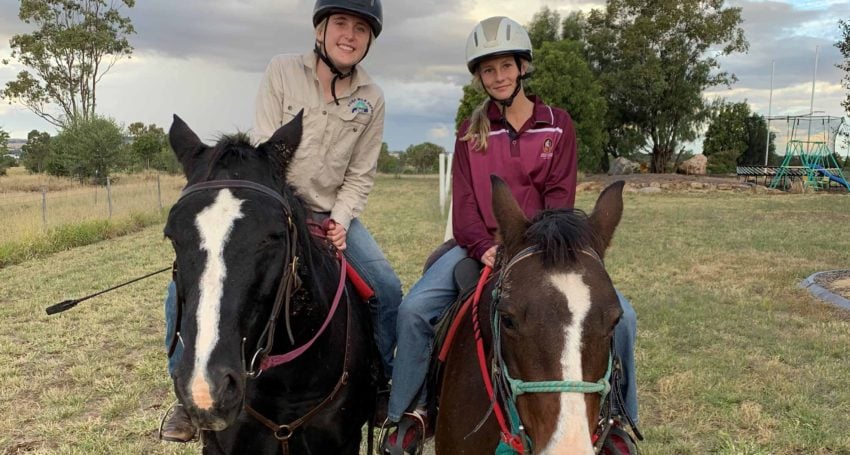 Each year, coinciding with the Labour Day long weekend, St Margaret's boarding students revel in the opportunity to host day students at their homes, sharing insights into their home and family lives.
This annual four-day long weekend, now in its sixth year, is an important part of the St Margaret's experience, embracing the city-country blend of the school community and broadening the horizons of students.
The school's 185 boarders come from many geographical locations, both within Australia and overseas. With this diversity comes an enriching experience for both boarders and day students as they gain a greater understanding of different cultures and backgrounds. The Day Boarder long weekend helps to further expand students' horizons, giving those who participate first-hand experience and a wider understanding about others and the world in which we live.
For some of the city-oriented day students, a visit to the bush presents many opportunities to witness and experience life on a property and the chance to make lifelong memories.
Year 11 students Grace and Alby could not come from more different backgrounds. Grace hails from a crop property in Texas, located on the Queensland and New South Wales border, where her family harvests sorghum, cotton and corn. Alby, on the other hand, lives in the very urban inner-city suburb of Bardon and says the very different and new experiences she's had at Grace's home have helped broaden her horizons.
The friends have embraced the Day Boarder Weekend tradition since Year 8.
"I love going out there every year. It is always so fun and we always do something new like riding motorbikes or camping. The first time I visited, they had just harvested cotton and Grace and I ran across the cotton bales," Alby said.
Grace said she enjoyed sharing these experiences with Alby: "It is great to be able to share my life with those who have a completely different one and giving them an insight into what life is like in the country."
Year 8 day student Millicent Watson visited her friend Georgia's acreage in Orange Hill in the Maranoa Region, where she rode horses, motorbikes and a buggy, fed pigs, enjoyed fire-toasted marshmallows and went on a milk run.
"It was an eye-opening experience because it was so different to my house. There was so much more land and so many animals, and the dams and sunsets on their property were beautiful," Millicent said.
Year 11 day students Grace Reilly, Emma Pickering and Claire Crossley and boarder Annabel Danvers journeyed five hours by bus to Lauren Brennan's family cattle property in Chinchilla for the weekend where they shared in many new experiences, including mustering cattle and weaning a mob of cows from their calves.
Grace, who lives in inner-city Brisbane, said the experience gave her great insight into farm life.
"I loved going to Lauren's cattle farm near Chinchilla. It was an eye-opening experience as I have never been to a cattle farm before. I was so surprised how big the property was and the vast open space. The driveway from the road to Lauren's house on her property is 2km (we can see our front door from the street!). I found it so different that Lauren's mother drives Lauren's brother and sister to the bus that they take to go to school and she doesn't even leave the property. She drives them down the 2km driveway!
"We spent a day working on the farm, mustering cattle, and separating the calves from the other cattle so that they could be sent to another property. I loved seeing the animals, including the four week old kittens!" Grace said.
Emma, another urban dweller, also loved the experience of farm life.
"It was very different to living in Brisbane and my everyday home life. At night you could see all the stars and constellations which was really awesome because where I live you only really can see a few stars at night and only on a really clear night.
"I enjoyed mustering the cattle and weening them which, if I do say so myself, I think I got pretty good at by the end. While we were there we also did a lot of driving around and singing music at the top of our lungs, which was definitely my favourite part of the whole trip," she said.
Jump to next article