Q&A with centenarian Mission to Seafarers volunteer, Mothers Union stalwart and character, Marcia Scholes OAM
Meet Marcia Scholes OAM and find out why she was awarded an OAM, about her Mission to Seafarers and Mothers Union work, what she would write on a billboard and what memory makes her nostalgic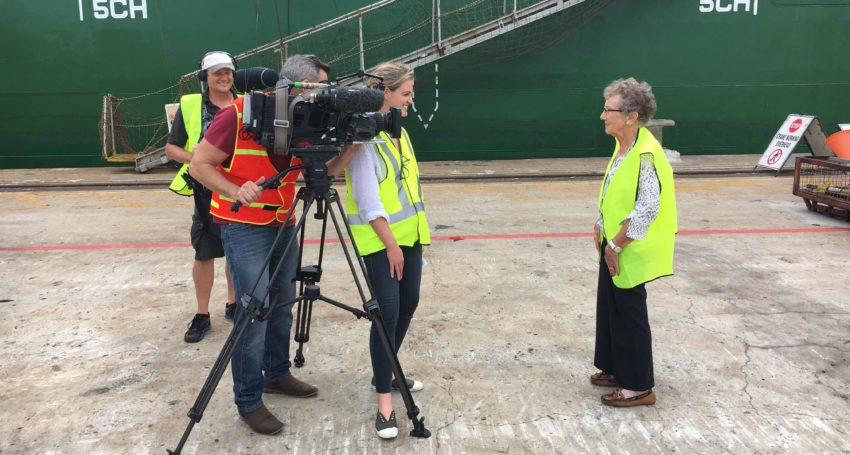 Marcia Scholes was awarded a Medal of the Order of Australia (OAM) this year for 70 years of volunteering at Mission to Seafarers (MTS) and her unwavering commitment to the Anglican Church and her local community.
Where do you currently live and where do you worship?
Due to an unfortunate accident, I am now living in aged care at Stafford Lakes. I get to St Matthias, Zillmere when I can and because I can get a ride to Stafford Mothers Union.
How long have you been involved in the Anglican Church and in what roles?
I've been to Sunday School and church services all my life! I played the organ at Bardon at 18 years of age. I was married at St Paul's, Ashgrove and played the organ at Wilston. I started playing the organ when I attended Mothers Union meetings as there were no organists. Over the years I've been the President and the Secretary of Mothers Union.
Can you tell us a little about your Mission to Seafarers volunteer work?
I answered an appeal in The Courier Mail from MTS Chaplain Padre Reilly for girls to come down, with a letter from their priest, to be 'Hostesses at Mission' on Macrossan Street. I became a 'Friday Night Girl' with a great Matron to look after us – Miss Mavor, who looked after the lightkeepers' needs, including the packing of books for the many children living in lighthouses. My first night was 'St Patrick's Night' in 1947. Our duties? To do what we still do today – only we're 'old girls' now. We were a friendly face in a foreign port – and we danced!
How did this work proclaim the Gospel and contribute to the Church's mission?
On Sundays, Padre arranged cricket and football teams, who played at Churchie and at The Grange, where we served afternoon tea and then dashed back in the tram to Petrie Bight on the Brisbane River to serve the men a beaut cold tea, which was followed by a short service in the Chapel and then dancing or games until 10 pm. Padre Reilly was a real 'blokey' man who could talk to all of the men.
What has been one of the single key highlights of your time as a Mission to Seafarers volunteer?
When the Channel 9 team came to put the Mission on morning TV, and they asked, "Who is this 90-year-old Marcia?" The ship was tied up at Seafarers Road, right outside the Mission. The young reporter and her camera team came up from Sydney and we got 'dressed' and set up to get on the ship – seemingly just an old ship at the wharf, but what a surprise as it could have been the QE2 given our reception. MTS President Captain Ross Nicholls was there, as well as the boss of pilots and the boss of the wharf who didn't want to miss out on the excitement. The ship's Captain was a real 'Mission' man, but sadly not all Captains are as kind to his men as this Captain was.
Can you tell us about your recent OAM recognition for 70 years' voluntary service to Mission to Seafarers Brisbane?
My daughters Jenny and Marion, along with Pam Clemments, and Jennifer Munday OAM (who are both parishioners of St Matthias, Zillmere, a parish which strongly supports the Mission's work with monetary and clothing donations), nominated me and later gave me the letter from Government House to read. As I read through it, tears were just on the edge – I just couldn't believe it! My two daughters were just over the moon.
What have been the key challenges of your roles so far and how have you worked through these?
My volunteering was all joy, fun and fellowship. I met so many wonderful young seafarer men whom we still wrote to after we all married.
Can you tell us a little about your personal faith journey?
My life was really ordinary. I always believed in God since school Religious Instruction and when I became employed, I still taught Sunday School. I liked going to teachers' get-togethers and learning more – to pass on to the children (St Stephen's, Coorparoo – always had good times when we went there) and I just enjoyed teaching the little ones.
What is your favourite scripture and why?
Ah, this is good. My favourite one is from Romans 8.28: "We know that all things work together for good for those who love God, who are called according to his purpose." This has had the most wonderful modern hymn 'For to those who love God', with words by Damian Lundy and music composed by Enrico Garzilli, composed of the words, and I played it all the time. The first time I spoke the words at the lectern one Sunday, I almost sung the hymn, and I think that if I had a good voice, I would have.
What person of faith inspires you the most and why?
My mother and my father. They were ordinary and loving hardworking people who just by their example taught us to follow their footsteps. The MTS Padres were good, too. They all brought something different to the table.
What are the primary strengths of the Church and what is the best way to make the most of these for the benefit of our communities?
The people. The more we know what our Churches do for us in 2021, the more we find ways to help further. If you don't know much about a place, you don't go there.
What is the best piece of advice you have ever received and who gave you this advice?
My mother always told me to "Aim for the stars."
What do you do in your free time to recharge and relax?                                                                                                           
I like to plant a bonsai for the future. I also enjoying reading and spending time with my family.
If you found yourself on a deserted island, what three things would you choose to have with you?
I'd choose a hat, a spade and a plastic bag.
If you could have a billboard with any text on it, what would it say and why?
"Do YOU know where the Mission to Seafarers is located?" because most people have not heard of us.
Where do you do your best thinking?
Definitely in my happy place – in the garden.
What's your best childhood memory?
My parents entertained many returned soldiers from lots of different places and one thing we loved to do was sing around the piano. I remember going to Sunday School at St Paul's, Ashgrove in 1930, and singing in my loud squeaky voice when finishing the hymn with "Alleluia" – cheekily singing "Alleluia, I'm a bum" which was all the go in the Depression in the US. This, of course, was very embarrassing for my mother!
What makes you nostalgic and why?
The night some of us made our Debut at the Maritime Ball in the City Hall in September 1947, because Mission to Seafarers gave me such a rich life. As he danced with me, Padre Reilly said, "Tonight you're being presented to a great soldier."
Editor's note 18/05/21: Thank you to Marcia Scholes' daughter Jenny for lovingly compiling the content for this very special Spotlight Q&A. 
Jump to next article