Parish records: Registers of Services, a sculptor and photographs
Diocesan Archivist Michael Rogers illustrates the value of Registers of Services, with a focus on famous sculptor Voitre Marek and St Alban's, Cunnamulla, while also inviting parishes in our Diocese to take digital images of interiors and exteriors of their churches for submission to the Records and Archives Centre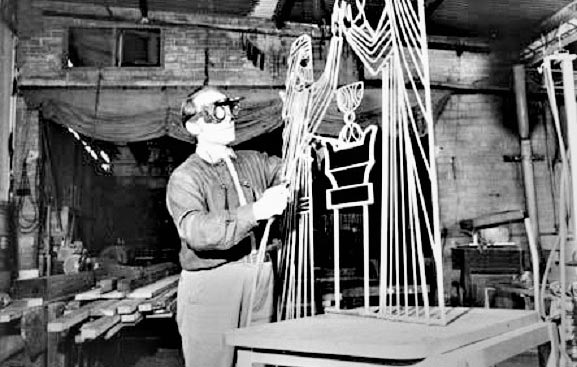 In February and April of 2020, I wrote anglican focus features on the management of parish records and the importance of church registers. In the second feature, I noted that important church events (such as the installation of memorials or sculptures and musical concerts) are often recorded in the Register of Services. These registers are very valuable to the respective parish and our Diocese, as they are a key record of attendance, offertories and the type of service (such as Eucharistic service). They are also an excellent place to record the dedication of the church, as the image from St Peter's, Amity Point's Register of Services shows below.
Two recent enquiries have highlighted that the recording of events in the Registers of Services is often variable. If recorded, the information can be extremely valuable for capturing not only the rich history of our Diocese, but also the social and cultural history of Queensland and Australia. If not, the information can be hard to rediscover or even lost.
Early this year, we received an enquiry from a researcher at The Bach Society of Queensland. The Society is marking their 50th anniversary this year, and the researcher had heard from a reliable source that:
"…The Bach Society choir may have performed Mozart's version of Handel's Messiah at St John's Cathedral on 2 December 1976. If this is the case, this would put the Society's first recorded performance of the work one year earlier than we previously believed."
After looking through the newsletters and minutes of the Cathedral and the Chapter, we finally located a reference to the performance in the Cathedral's Register of Services. It was, in fact, Handel's version of the Messiah. Although it was not exactly what the researcher was looking for, we were able to confirm the date and location of the performance.
Another research request involved a Czech Metal Sculptor. Voitre (Vojtech) Marek was born in Bitouchov, Bohemia, Czechoslovakia (Czech Republic) on 30 May 1919. His brother Dušan was born 5 years later. Voitre studied at the Academy of Fine Arts in Prague, working as a freelance sculptor and was a member of the Czech Union of Creative Artists.
In 1948 both Voitre and Dušan travelled to Australia under the Displaced Persons' Employment Scheme, eventually arriving in Adelaide. Voitre married Vera (a teacher and translator who followed the brothers to Australia) on 8 April 1949. Initially exhibiting works at group exhibits, in 1953 Voitre became the director of a gallery in Adelaide, where he presented a solo exhibition.
Around 1960, Voitre began to create works for churches. Initially focusing on ecclesiastical artworks, he started taking commissions for items such as altars, baptismal fonts, and font covers. It has been discovered that one of his works is still utilised by a church in our Diocese.
Late in 2020, a researcher at the Art Gallery of South Australia, who was assisting in the preparation of an exhibition at the gallery, contacted our Archives team regarding a baptismal font cover that Voitre had designed. All the information that the researcher had was that the cover was commissioned for an 'Anglican Church, Brisbane, sometime around 1972.
As all parishes are aware, any proposed change or addition to a church (such as a baptismal font or cover, or a memorial to a departed parishioner) requires the approval of the Archbishop – usually through a documented Faculty. This allows for a consistent approach to the improvement and maintenance of churches and their inventory. Items used for services are usually dedicated and blessed, and these are usually recorded in the Diocesan Register and the Parish Register of Services.
In this case, however, no record appears to have been made in any applicable register that Archival staff searched. We were about to give up when we searched an Access database that one of our previous volunteers had created for donations to our Diocese.
In the Index for Donations to the Diocese was a reference to Voitre Marek and St Alban's Church in Cunnamulla. It noted the date as around 1973. We immediately went to the Diocesan Registry file for Cunnamulla. In amongst the correspondence was an application for a Faculty (see image) for:
"a Font Cover to be made in solid beaten copper by Voitre Marek, with a cast copper figure of a dove as a handle."
The font cover was to be installed as a memorial to Andy Blake (who passed away on 18 December 1969) and be gifted to the church by his mother and other parties.
I have not had the good fortune to visit Cunnamulla, but from the images provided, St Alban's looks like a marvellous church – dedicated on 2 May 1963 by Bishop John Hudson. It was described in the July 1963 issue of The Church Chronicle as "outstanding" and exhibiting "a contemporary architectural style". It was later recognised as an enduring piece of architectural design at the 2017 Queensland Architecture Awards.
The submission of the images by Cunnamulla also nicely segues into a church photo project we have started. The project involves the identification and scanning of photographs for current churches in our Diocese. The Archives already holds several images of church interiors and exteriors (which we are looking to organise into an online library). The Archives is looking for contemporary images of churches, particularly of interiors.
To assist in this project, the Archives is canvassing all parishes in our Diocese to take digital images of interiors and exteriors of their churches and submit these to the Archives. Submissions may be made via email (archives@anglicanchurchsq.org.au) or through the Diocesan SharePoint network. Please contact the Archivist on 07 3835 2333 to arrange transfer of images.
Editor's note: The Archives team has recently completed an index to the 'Brisbane Diocesan Newsletter' – which replaced The Church Chronicle and was published from 1971 to 1980. The index has been published on The Records and Archives Centre's public website.
Jump to next article