A journey of hope – one year on
"Before COVID-19, things were going well for Oliva and other members of the ABM-supported organisation. They were learning new livelihoods and how to organise themselves to make the most of marketing their agricultural produce. And, for Oliva, her husband's work provided the family with enough money to meet their immediate needs," says ABM's Dr Julianne Stewart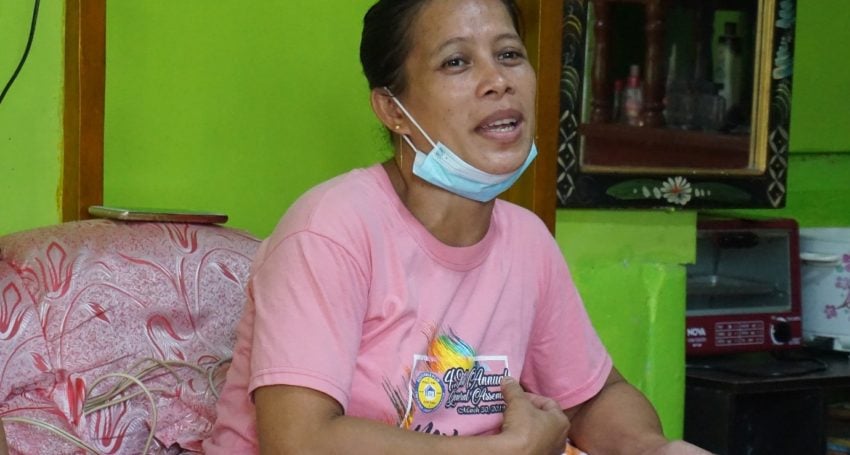 Oliva is 37 and lives and farms in Bulongan, one of the barangays, or villages, in Cebu in the Philippines.
Oliva says that there is great anxiety among the local people regarding both the health impacts of the virus and its economic ramifications.
"This challenging situation has caused us so much stress and made us overwhelmingly afraid of being infected by the virus. We also are very anxious because any recovery from the economic depression caused by COVID-19 is highly uncertain," Oliva said.
Oliva's husband, like many men in the villages, works away from home in a factory in the city. They have two children.
Before the pandemic, Oliva had taken on the leadership of her local farmers' organisation, supported by ABM's partner, Philippines Independent Church-Visayas and Mindanao Regional Office for Development. Before COVID-19, things were going well for Oliva and other members of the ABM-supported organisation. They were learning new livelihoods and how to organise themselves to make the most of marketing their agricultural produce. And, for Oliva, her husband's work provided the family with enough money to meet their immediate needs.
But when COVID-19 came, Oliva's husband's company dramatically reduced their production and he had to cut back on his work hours. This meant the family could no longer meet their basic needs for food and health care.
And it isn't just Oliva and her family who have been affected in this way. Oliva's story is across the Philippines, and in many of the countries where ABM works.
In remote mountain villages in Myanmar where ABM's partner, the Anglican Province of Myanmar, works, they have run out of basic food items, including rice and potatoes. This is because of the dual effects of COVID-19 and the increase in armed ethnic conflict since the beginning of the coup earlier this year. This, in turn, has led to increases in the prices of food and medicines.
In the semi-arid zone of Eastern Kenya, Agnes is a farmer who, before the pandemic, was making baskets to supplement her small farm output and a small income from her husband's work as a security guard. ABM's partner, Anglican Development Services, Eastern (ADSE), had been supporting Agnes and her group of basket-weavers to connect to a big district market where they could get good prices. As a member of the group she also learned how to make and sell baskets.
This was helping her to put food on the table and pay for clothes and school fees for her four children.
Agnes explained that when COVID-19 came, the market for baskets dried up completely.
"This is a strange thing and it's causing a lot of panic and stress to us women, especially parents, as now we do not have money in our pockets," she said.
These very real human stories are playing out against a background of a frustratingly slow vaccine rollout in most of the world's poorer countries.
It's sobering to realise that the world's wealthiest countries have administered about 45 per cent of the world's vaccines, while the poorest countries have received just 1.3 per cent. In most of the countries ABM's partners work in, less than one percent of people have received their first dose.
But, there is hope.
While Agnes' district market is still closed, ADSE is now training Agnes and her friends to make woven mats instead from cheaply available local materials. They will also sell them locally, rather than going through markets which are still very unreliable due to lockdowns.
Please consider giving to ABM's COVID-19 Tax Appeal One Year On to support women like Agnes and Oliva to take their first steps on a journey of hope. Visit the ABM website to donate and for more information.
Jump to next article