Anglicare Gold Coast staff celebrate a collective 60 years of service
South Coast Community Aged and Disability Service Manager Nigel Aberdour, Administration Coordinator Margaret Pask and Home Care Worker Virginia Salaveria have proudly served the Gold Coast community for more than 60 years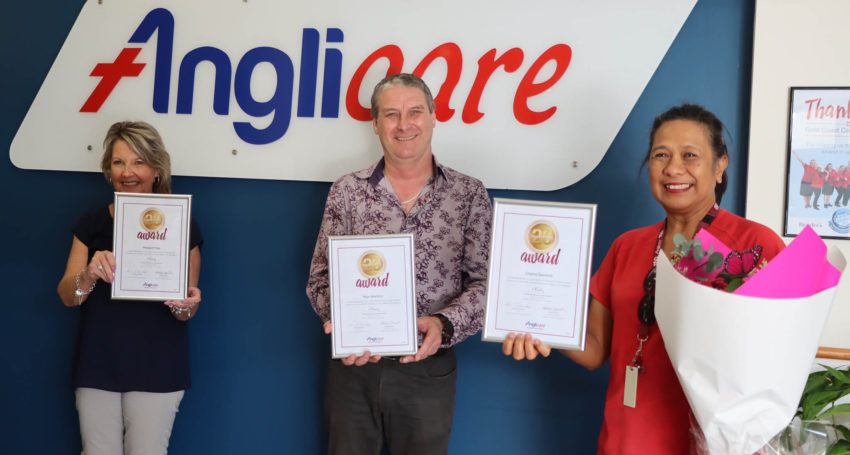 South Coast Community Aged and Disability Service Manager Nigel Aberdour, Administration Coordinator Margaret Pask and Home Care Worker Virginia Salaveria have proudly served the Gold Coast community for more than 60 years.
The trio celebrated 20 years of service each earlier this year and were presented with a certificate and flowers to mark the special occasion at the South Coast Regional Meeting.
More than 180 staff attended the event in Robina where additional staff were also acknowledged for their long service milestones – 11 staff were acknowledged for 10 years of service, 10 staff celebrated 15 years and Nigel, Margaret and Virginia celebrated 20 years of service.
Combined, this represented 320 years of service from 24 staff members which is an incredible achievement.
Margaret Pask
Over the past 20 years, Margaret has worked in several different roles going back to when the Gold Coast service was first established at St Margaret's Church, Nerang.
Margaret started with Anglicare, which was at the time called St Luke's Nursing Service, as part of a very small team of four people. Their goal was to establish and set up a new community service for the Gold Coast, which was no small feat and somewhat daunting at the time Margaret recalls.
It is commendable to now think back on that humble beginning and to consider the part Margaret played in growing and establishing a new community care service, basically from the ground up.
Today we have more than 200 staff along with two respite centres and our main office at Robina. Anglicare SQ is now a leading provider of community care on the Gold Coast and is respected and highly regarded – a reflection of what Margaret's commitment and efforts have made possible.
Margaret has been asked on several occasions over the years why she has stayed with Anglicare all this time. Margaret without hesitation always replies, "The people. I just love the people I come to work with every day".
"I feel proud when somebody asks me whom do I work for. I feel proud to say Anglicare because I feel like now there are a lot of people that know Anglicare because of our advertising on cars and so many people use our service and we have such a fantastic reputation," she said.
Nigel Aberdour
"Over the years I have been with the Gold Coast region of Anglicare it has grown from just a few hundred clients to around 3,500. Along with the growing client numbers our staffing numbers have also grown exponentially to over 200," Nigel said.
Nigel is a Registered Nurse and was a Clinical Nurse Consultant for HIV AIDS in Melbourne prior to coming to Queensland and St Luke's Nursing Service as the HIV Unit State Manager in 2000.
"I did that for about two- to-three years and then had an opportunity to come to the Gold Coast as the Community Services Manager in 2004. Nigel was full of praise for his colleagues, and he commended them for their outstanding work within the community for more than two decades.
"Once you're here, we seem to have all these people who want to stay with Anglicare and I think that's reflected in the organisational staff surveys. When we ask staff, is Anglicare a truly great place to be and consistently the response is emphatically, 'yes'," he said.
Nigel added that it all comes down to living by our values.
"I think we live by our values, and I know it's a bit of a cliché saying that, but for an organisation we are pretty good at living the values that we aspire to hold," he said.
"I think all Anglicare staff strive to uphold our values and live by them. That's why I have stayed for 20 years as it's about the people we serve and the people we work together with."
Virginia Salaveria
Virginia became involved with the organisation when she volunteered at St Luke's Respite Centre in Robina for a year. At the time Virginia didn't have her licence so she had to learn how to drive, and once she received her licence, she was then employed as a Home Care Worker.
As a frontline worker, Virginia deals with a range of clients from those in palliative care, people experiencing mental health issues, as well as clients living with dementia, Parkinson's Disease and Motor Neurone Disease, which can be quite challenging.
"I believe in working for the elderly because I am a very Christian person, so I think working for Anglicare it gives me the time and opportunity to help them," she said.
"If I am helping them, I am helping our almighty God.
"Anglicare has all the values and the mission of which I live my life by."
Virginia said it's great having a supportive team who look out for her and if she is having a tough day, they check in on her.
"I've had a lot of palliative clients who I have seen dying and that's very hard," she said.
"I feel like I do make a difference in people's lives. It's very rewarding for me as it feels like I am looking after my own family. It's why I am still here.
"Ups and downs I am still here. Nigel and the team trust me and even when I have a bad day, I still smile."
Looking back over the past 20 years, Virginia said there have been many highlights, but one in particular stands out the most.
"I still have two clients who have always been my clients for the past 20 years. They always tell me, 'It's you Anglicare ladies looking after us, that's why we're still here' and they still live in their own home," she said.
Nigel and Margaret said they were very fortunate that the Gold Coast team has continued to operate despite COVID-19, as they are all essential workers.
"The thing that was unique was that all these other businesses were closing down and sending their staff home because of COVID-19 and the shutdown. As a health care service, our job was not to go home and not to shut down because we were a life line for a lot of people who were now socially isolated and dependent on our help," Nigel said.
"We were out there when roads were completely empty, people like Virginia going around and seeing clients, caring for them and nursing them. It is very commendable."
Congratulations Virginia, Margaret, and Nigel for your extraordinary service to the community!
Jump to next article