2021 New Guinea Martyrs Appeal
"Each year the Anglican Church of Papua New Guinea provides literacy and numeracy education to more than 3,000 women and men in 66 Literacy Schools around the country. Now, in an exciting new move, the Church also wants to establish early childhood schools, catering to children aged from three to five years," says Dr Julianne Stewart from Anglican Board of Mission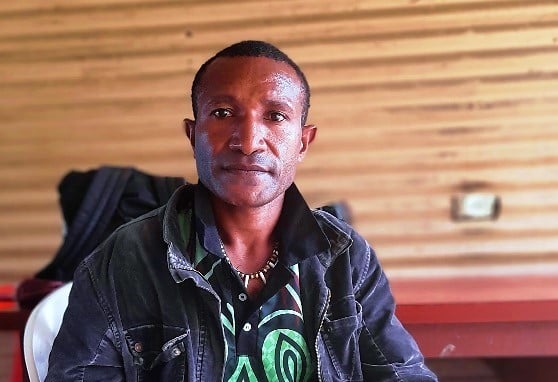 "My goal is to become a teacher." Anosa Imase was talking about his big dream which each year is getting closer to being achieved, thanks to his own tenacity and Anglicare Papua New Guinea's Adult Literacy program. Anosa, in his late 30s, did some primary school education, but never went to secondary school because of the remoteness of his village in Papua New Guinea's Eastern Highlands.
Anosa attended Anglicare's Adult Literacy School in Port Moresby while also working as a security guard and providing for his family. However, through a flexible learning program, he has almost completed his final year of secondary school. His dream of attending Teachers' College is within reach.
But in future, the Church hopes there will be fewer adults like Anosa who will need to wait until adulthood to complete their school education.
Each year the Anglican Church of Papua New Guinea provides literacy and numeracy education to more than 3,000 women and men in 66 Literacy Schools around the country. Now, in an exciting new move, the Church also wants to establish early childhood schools, catering to children aged from three to five years.
The plan is for these early childhood schools to be located in rural and remote areas, often attached to Anglican parishes. It is hoped that providing many more young children with access to these schools, the number of rural children enrolling in and completing their primary education will increase, eventually reducing the need for adult literacy schools.
But, more funds are needed to achieve this goal.
Although funds raised from this year's ABM Martyrs Appeal will continue to support teachers in the Adult Literacy program, they will also go towards the Church's planning for the establishment of new early childhood schools in rural communities.
Your donation to our 2021 Martyrs Appeal can help more women and men, like Anosa, achieve their dreams. It will also help children in rural areas to get a better educational start in life.
Some of these will eventually become teachers themselves, continuing in the spirit of service of the teaching missionaries and Martyrs.
"Once I receive my Grade 12 Certificate I will then apply to a Teacher's College where I can pursue my dream," Anosa said.
ABM hopes its Martyrs Appeal will help ABM to strengthen Papua New Guinean communities through education.
Please show your support by donating to this appeal.
To donate or find out more about the 2021 Martyrs Appeal, please visit the ABM website. 
Jump to next article