Hillbrook Anglican School gives 90 backpacks to the Anglicare Backpack Project
Students and Early Learning Centre children from Hillbrook Anglican School recently participated in the Anglicare Backpack Project, providing 90 backpacks filled with essential items for children going into out-of-home care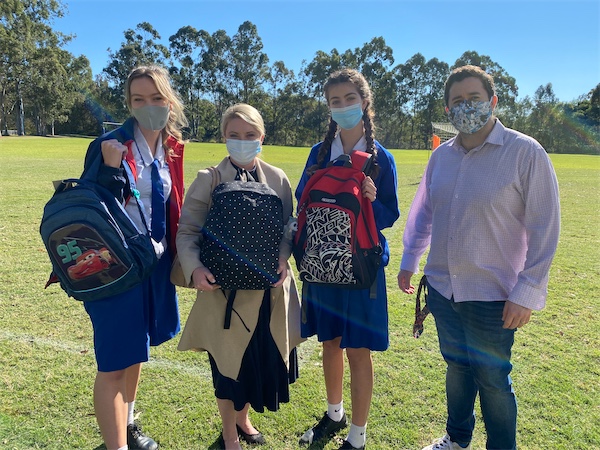 Students and Early Learning Centre children from Hillbrook Anglican School recently participated in the Anglicare Back Pack Project, providing 90 backpacks filled with essential items for children going into emergency care.
Hillbrook Chaplain David Adams, who led the school's project, said that he was inspired by the anecdotes he heard about the students' participation.
"The response from our community was fabulous. I especially loved the stories I heard from our students who organised shopping trips, used money from their savings and got their whole family involved," Chaplain David said.
Year 7 student Halle Traves wanted to get involved in the backpack project after finding out there are kids out there, just like her, who aren't treated the same way she is treated.
"I wanted to help those people going through their troubles in any way I could and I hope by receiving a backpack they'll know they are not alone and there are people who care for them," Halle said.
"Getting involved in this project made me realise there are a lot of children that don't go to school, get bullied by their own family when we are going to school and happy with our lives. In other words, not everyone is treated fairly around the world."
Year 9 student Euan Murray said that he will think about his project participation in the future so he is prompted to keep contributing.
"I really learnt what it meant to help someone with something that can change their life. I will always remember this experience and will keep giving to my community," Euan said.
Many of the students worked together in groups to plan their backpacks.
"When making the list for the backpack, my group and I really put our feet into someone else's shoes to try and think about what would bring the most comfort and calmness in a situation like the one we were told about," Year 9 student Emme Davies said.
"We thought if this were us we would want something warm and safe to hold on to or a book to relax into. We really hope whoever gets our backpack finds comfort and safety in the belongings."
Year 7 student Charli Gillard knew if she was in a position of needing to go into care, she would hope someone would do the same for her.
"I hope that my involvement in this project makes another person feel that there are still people out there in the world that care, and that they are still worth something, no matter what," Charli said.
"I hope that they will feel like they are not forgotten and that they still, and will always, have a place in this world, no matter what."
This project also taught Charli the value of what she currently has.
"I learnt to cherish everything that I own and treat it with utmost respect and never take anything for granted because if I were in that situation, and if I had barely anything, I would be grateful for every little thing that came my way," she said.
The families from our Early Learning Centre (ELC) were involved and the ELC children helped sort the clothing items, books and toys into age categories and began to imagine children just like them receiving the backpacks.
ELC Director Maria Russell said that the children were inquisitive about the project.
"The children continued to talk about the backpack project throughout the day and, even better, asked a lot of questions about the children who would be receiving the backpacks," Ms Russell said.
Hands-on projects like the Anglicare Backpack Project help to connect students with the people they are helping.
Hearing stories about the children who receive these backpacks left a lasting impression on many students as they tried to imagine being taken from their homes with nothing but the clothes on their back.
Year 7 student Ava Cherry said that she feels content when caring for others.
"I wanted to get involved in the Backpack Project as I have always found joy in helping others," Ava said.
"Making something easier for someone when they really need it, giving them some comfort or something to escape to when they feel lonely – I like knowing that I have helped a child, who without the backpack would have no immediate constant or ownership in their lives."
It was a heartfelt community initiative for our students to provide 90 backpacks filled with essential items for children going into emergency care and the experience is summed up perfectly by Year 9 student Emma Ralston.
"The backpack project made such a big difference in our school and in our community and I enjoyed how everyone came together to help and contribute something small to make something big, together."
Jump to next article