New book dispels common misconception, shedding light on Cathedral conception window
A new book about a renowned self-taught stained-glass artist from Brisbane has dispelled a common misconception that the large window at the Cathedral's entrance depicts the Big Bang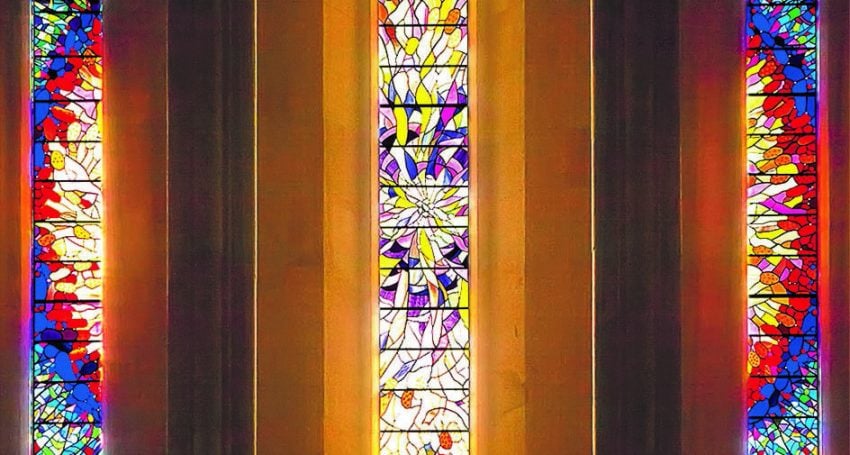 A new book about a renowned self-taught stained-glass artist from Brisbane has dispelled a common misconception that the large window at the St John's Cathedral entrance depicts the Big Bang.
The book's author, local historian and retired Queensland Government advisor Denzil Scrivens, said that the stunning "Millennium Window" instead depicts Jesus' conception in Mary's womb.
"I am aware that some people in our Diocesan community, both lay people and clergy, think that the Millennium Window at the top of the main Cathedral entrance is about the Big Bang," Mr Scrivens said.
"As a Cathedral parishioner, I have often heard people refer to the Millennium Window as the 'creation window', believing it to represent the Big Bang or the creation of the universe.
"Rather, it's a depiction in abstract terms of the exact moment of Jesus' conception in Mary's womb by the Holy Spirit.
"The way I interpret it is that it's, if you like, divine 'DNA' going into Mary's cells and is symbolised by a great cosmic burst of divine power, which is why I think a myth has emerged that it represents the Big Bang.
"It's not a literal interpretation of an actual conception process – it's a profound and abstract mystical interpretation of the moment God brought Jesus into human form."
The window was created by celebrated stained-glass artist Warwick Blair (to the design of artist Scott Maxwell), whose prodigious natural talent more than compensated for his lack of formal training.
The resurgence of the stained-glass industry in Brisbane during the 1980s and 1990s, following its post-1950's decline, is largely attributed to Mr Blair's passion, hard work and genius.
The window was unveiled by Queen Elizabeth II in March 2002 when she visited Australia for the 2002 Commonwealth Heads of Government Meeting, which was held in Coolum.
Mr Scrivens said that the deeply spiritual Warwick Blair died just three weeks after the unveiling, having stoically worked on the "Millennium Window" while enduring  the symptoms of AIDS.
"When he had AIDS – a devasting diagnosis for him – he continued working, despite the onset of seemingly never-ending health complications," he said.
"During the conservative Bjelke-Petersen years, discrimination, fear and stigma towards people with HIV/AIDS were rife.
"I am told that Warwick spoke of the ailments caused by AIDS, but not of AIDS itself.
"He had an abiding faith, which is reflected in how he translated his spirituality into glass.
"He openly spoke about God and the gifts God gives us – he led a very spiritual life."
Blair created thousands of stained-glass windows in a career lasting less than 20 years.
Along with creating windows for Queensland homes and churches of different denominations, Mr Blair produced major works for a large number of institutions, including Cromwell College at the University of Queensland, St Aidan's Anglican Girls' School, St Hilda's School, the Wesley Hospital, Brisbane Girls Grammar School and the Myer Centre.
He was particularly known for his use of brilliant tone colours, drawing upon an unrivalled collection of antique, patterned and textured glass pieces.
Mr Scrivens said that he met Warwick Blair almost by chance in the 1990s, many years later reflecting on how little was known about him, and thus prompting him to research and write Blair: Stained-glass Treasure.
"I met Warwick when I needed a stained-glass window made for our home – we looked in the phone book and found his details and called him," he said.
"We had no idea at the time that he was regarded as Brisbane's leading stained-glass artist, but delighted nonetheless when he agreed to make our humble window.
"He was a beautifully spoken, gracious, intelligent and gentle man – he was lovely to deal with.
"Back in 2019 while looking at the Millennium Window as a Cathedral Guide, I suddenly realised that little was officially known about the person who had created it.
"I knew that the person was Warwick Blair and that he had been presented to the Queen when she unveiled the window in March 2002 and that he had died soon after the unveiling, but that's all the Cathedral seemed to know about him.
"Being the curious historian that I am and having written three other books on the Cathedral's art, history and architecture, I embarked on a mission to find out more about him and his truly amazing output."
The result is Mr Scrivens' new book Blair: Stained-Glass Treasure, which details the unique career and beloved works of this extraordinary Brisbane artist, featuring over 70 of his stunning creations.
You are warmly invited to attend the launch of Blair: Stained-glass Treasure at St John's Cathedral on Sunday 3 April at 3.00pm. Proof of COVID-19 vaccination is required for entry to the Cathedral for this event. For more information, please contact Denzil Scrivens via denzil.scrivens@bigpond.com or visit the Cathedral Facebook event page.
Jump to next article