Brisbane cafe gives back to those experiencing homelessness
A Brisbane bayside cafe has a "pay it forward" sign so customers can purchase vouchers to help those in need, which are given to organisations supporting people living rough in the Redland Bay community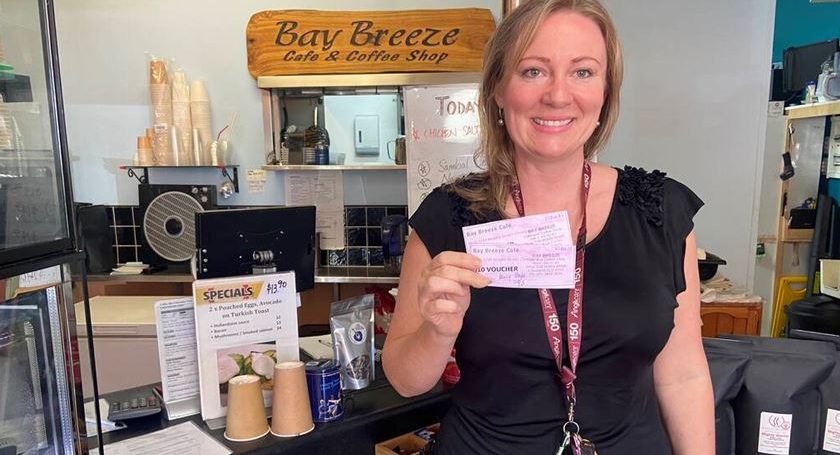 A Brisbane bayside cafe has a "pay it forward" sign so customers can purchase vouchers to help those in need, which are given to organisations supporting people living rough in the Redland Bay community.
Bay Breeze Cafe and Coffee Shop, located at 7/39 Middle Street in Cleveland, has been running the initiative for several years and assisted many people in the community.
The coffee shop has provided numerous vouchers, supported by their patrons, to Anglicare Southern Queensland's InSync Youth Services over the past couple of years, which have gone to people in need of a meal. The simple act of generosity has gone a long way to those struggling on the streets.
InSync supports a variety of initiatives aimed at helping young people experiencing homelessness to build happier and healthier lives off the streets.
Anglicare Southern Queensland's InSync Service Manager Rees Maddren said youth homelessness is getting worse every year with an urgent need for more social housing in the wider Brisbane community.
"Our services are full at the moment," Mr Maddren said.
"The need far outweighs the availability of crisis services. It's not just ours, there are a dozen or so crisis services around the Queensland south-east corner for young people, but across Australia there are 26,000 young people who are homeless at any given time so there is a big gap there in what services can provide and what is needed.
"I think there needs to be significant investment from government, both at a state and Federal level, to provide more community and low-cost housing and to also increase crisis accommodation.
"There's a lot of investment around early intervention, which is great to help prevent homelessness in the first place. If we can help support families and young people to not separate that will help, but there will always be that need for crisis and transitional accommodation."
Anglicare's InSync Youth Homelessness service provides one of the few crisis accommodation options for under 19s across Brisbane's southern suburbs, Logan, and Redlands. In recent years they have provided 2,600 nights of crisis accommodation and 5,400 nights of transitional accommodation every year.
During the COVID-19 pandemic, lockdowns and restrictions have impacted service provision, and increasing numbers of young people have been unable to access crisis or transitional housing.
"In the Redlands area we're the only homelessness service accommodation provider down here so we see a lot of young people coming to the door looking for assistance for food and getting some emergency relief from our Mental Health and Family Wellbeing service that we share the office with," Mr Maddren said.
"Transport is an issue. We have people living on the southern Moreton Bay Islands who come across to Cleveland to get support and it can be difficult to get to jobs or study for those people if those activities are not in the Redlands area. It's a long trek into Brisbane city."
Mr Maddren said youth homelessness is everyone's issue and that more needs to be done to help eradicate it.
"I think when we look at young people as the next generation, which includes those who are going to be our leaders, it should give us a real sense of what importance we place upon them doing well," he said.
"Often young people have matters taken out of their hands and they find themselves homeless. If we can pack support, encouragement and together build a good case plan, we can help get them out of that situation, so they can be active participating members in the community."
"That need for support so you can find somewhere safe to put your head down at night is important. So many people who are homeless are couch surfing. They need their own place, so then they can access education, training, and employment. Those challenges have remained the same throughout the years.
"The other thing would be to have those family supports to be able to build back in ways into reconnecting with family if there is a family breakdown."
Mr Maddren believes COVID-19 and the recent Queensland Floods have caused a "perfect storm" around areas that were already struggling.
"I think it's really just put more pressure on where there was already pressure, so around the rental markets, around if young people have COVID-19, where do they stay?" he said.
"There has been pressure on the whole homeless system. When COVID-19 first came about in 2020, governments acted fairly quickly and put people experiencing homelessness up in hotels to keep them safe from the virus, so governments can act quickly to eradicate homelessness if there's the willpower and investment to do that.
"I would be encouraging the government to think outside the box: what could we do to change this? Because every time you get someone off the street you're actually, in the long-term, saving money and you're providing a house for somebody. That in my view should be the most important thing, housing first."
Mr Maddren said it's nice to connect with young people who have been through InSync years down the track.
"We have a number of people that want to stay in contact with us so that's how it works. It's up to them. For some young people they want to put that part of their lives behind them once it's over, and we totally understand that," he said.
"We really love it when they come knocking on the door and tell us how things are going and what has been happening in their lives."
Mr Maddren thanked the many local businesses including Bay Breeze Cafe and Coffee Shop and community residents for doing their part to help those living homeless.
Jump to next article