The pearl of great price
"Still popular now, jewellery makes great presents for loved ones. Yet if you pick up a necklace or earrings from a jewellery shop or market stall or 'cheap' shop, can you be sure that the workers in the supply chain were treated well? Fair Trade treats artisans, workers and farmers as if they are of immense value – just like the pearl," says The Rev'd John Martin as Mother's Day approaches, with the anglican focus editor giving away a beautiful pair of Fair Trade pearl earrings to a reader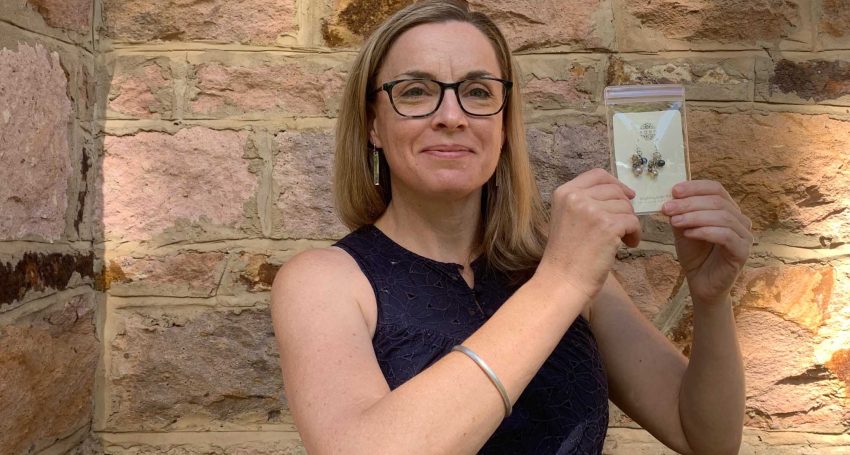 As a way of illustrating the value of the Kingdom of Heaven Jesus told a story. He said the Kingdom of God is like a merchant who, seeking valuable pearls, finds one of exquisite value. In order to acquire it, he sells all he has; such was the value of the pearl (Matthew 13.45-46)
This is a story about the immense value of the Kingdom of Heaven.
Jesus effectively used a pearl metaphor to describe the Kingdom of Heaven because jewellery was a treasured part of everyday life for many in Biblical times.
Still popular now, jewellery makes great presents for loved ones. Yet if you pick up a necklace or earrings from a jewellery shop or market stall or "cheap" shop, can you be sure that the workers in the supply chain were treated well?
Fair Trade treats artisans, workers and farmers as if they are of immense value – just like the pearl.
Aware is a social design project committed to the 10 principles of Fair Trade that supports artisans. Among these artisans are girls and women who have been snatched from their homes, or lured, and forced into sex slavery. This is a form of trafficking.
Among Aware's products is Eden jewellery. Each piece of Eden jewellery is handmade by a woman rescued from trafficking and sexual exploitation.
Here is the story behind Eden jewellery, which is sold by Aware in the Fair Trade Association's Mother's Day Fair Trade Shopping Guide 2022:
"When you choose hope, anything is possible. When Eden Outreach team discovered a new red light district in the city, they were shocked at how young the girls looked.
"From her hiding place behind a car, one of these young women locked eyes with a team member. Enzali had been looking for a job at the bus station when a rickshaw driver said he could employ her as a masseuse. Instead, he took her to a brothel where she was trapped for seven months. We gave her an exit strategy, stealthily wrote our phone number on some ripped paper, and sneaked it into her tiny hand.
"Two days later, she called from a taxi with another trafficking victim alongside her! They received a welcome pack of new clothes and living essentials, and immediately began trauma counseling for PTSD. While hopelessness thrives in the trafficking hubs where Eden does weekly Outreach, it is also in these places that hope has the most power.
"The Promises of Hope Collection was inspired by the power of hope to declare new beginnings, possibilities, opportunities, and dreams."
This Mother's Day, please consider purchasing a Fair Trade gift. The Fair Trade Association's Mother's Day Fair Trade Shopping Guide 2022, for example, has a range of beautiful gifts to choose from.
Editor's note: anglican focus is giving away a pair of Eden pearl earrings to a reader. Keep an eye on the ACSQ Facebook Page for your chance to win. 
Jump to next article