Archbishop of Canterbury inspired by the resilience of Lismore's flood-affected residents
It was a historic occasion for inspirational Northern Rivers locals who were visited by the Archbishop of Canterbury, The Most Reverend and Right Honourable Justin Welby, and his wife Caroline last week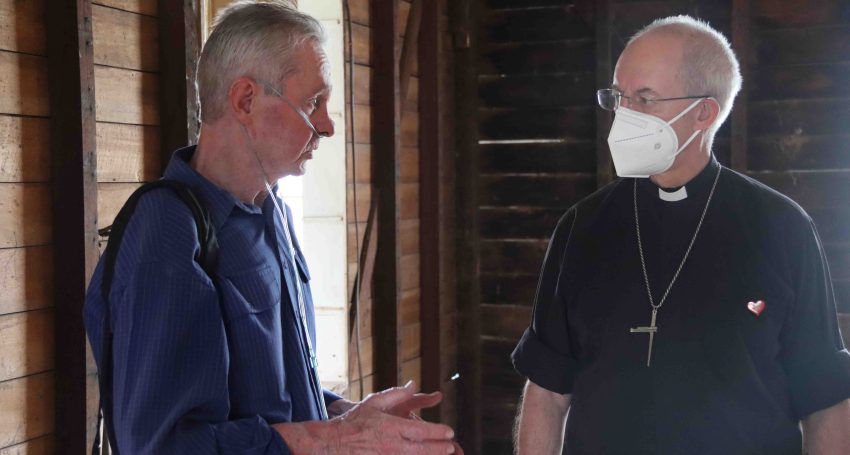 It was a historic occasion for inspirational Northern Rivers locals who were visited by the Archbishop of Canterbury, The Most Reverend and Right Honourable Justin Welby, and his wife Caroline last week.
Archbishop and Mrs Welby are currently on a rare trip to Australia, arriving in Ballina on Wednesday where Archbishop Welby delivered an open community address on the theme of "Building Peace in robust diversity" at Emmanuel Anglican College.
Following Archbishop Welby's community address, a Q&A panel session was held.
They then spent a day in Lismore visiting those still reeling from the devastating floods that impacted their community in February this year.
The visit marked 72 years since an Archbishop of Canterbury visited the Diocese of Grafton, with the first visit held on 7 November 1950 by the then Archbishop of Canterbury, Geoffrey Francis Fisher.
Archbishop Welby spoke to The Lismore App team about why he decided to extend his visit to the Northern Rivers.
"Wherever you are, either a war or a natural disaster, it has much the same effect on people. Yes, there are people probably worse off, but that doesn't necessarily mean that you are okay," Archbishop Welby said.
"I decided to visit Lismore and the Northern Rivers as I am in Australia, and to extend my trip by a few days, and to not just rush past, was something I can do.
"In the story of Jesus and the Good Samaritan, the Priest and the Levi walk past the man who is beaten up by robbers, but the Good Samaritan stops.
"I don't want to be like the priest and the Levi; in other words, stop, pay attention and even if you can't make much difference, show that you mind."
Archbishop Welby walked the streets of Lismore shaking his head in disbelief as he was shown buildings that went completely under during the February floods.
Archbishop Welby told The Lismore App that "intense courage" are the words he would use to describe his impression of the Lismore, and wider Northern Rivers, community.
"If someone asked me what is an Australian like when I return home, I would say, on the whole, really courageous, brave, they really get out there with a 'can do, we'll beat this' approach to life," he said.
The Archbishop went on to commend the resilience of Lismore community members, with only around one in five people back in their homes, over 1,000 still unhoused, and some homes remaining off their stumps.
"I mean entire streets have been completely wiped out," he said.
"I visited two houses and heard from residents who had lost everything, everything that symbolised their life, and that was heartbreaking."
Parishioner Ray Nickel said it was an "absolute privilege" to host the Archbishop Welby at his North Lismore home, which still remains stripped of internal walls.
"I was pleased to let him see what the situation was for not just myself, but [so] he would understand how it is for other people in this town, and how much devastation and loss there was," Mr Nickel told ABC News.
Later, they prayed together on the verandah.
Archbishop Welby met with another family who admitted they sometimes suffer from anxiety.
"I met with a family, with a young daughter, who was going off to school, and they told me that some days they wake up, and suffer with the anxiety they feel, but they choose to get on with things, and out of this, they sweat the small stuff less," he said.
Archbishop Welby praised volunteers from Resilient Lismore, a community action group providing vital information and connecting people willing to volunteer their time or services to help flood-affected residents.
"Resilient Lismore is one of the most inspiring things I have ever seen. I genuinely mean that. I was super impressed," he said.
The Lismore App asked what advice he would give to those struggling to find hope and resilience.
"It's easy for the adrenaline of the early months to wear off, it really matters that people are supporting each other, year after year. You have found a new level of extraordinary community than you ever have before, it's important to hold onto that, to keep it alive through regular connection," he said.
"Use opportunities when you can celebrate to celebrate, and thank for what progress has been made, but also cry out, and lament and protest about what needs to be done."
Archbishop Welby and the Roman Catholic Bishop of Lismore, The Most Reverend Gregory Homeming, gathered for midday prayers at St Carthage's Catholic Cathedral before boarding the bus for lunch at The Sherwood Hotel.
The Anglican Bishop of Grafton, The Right Reverend Dr Murray Harvey, said that conversing and praying with Lismore locals and Archbishop Welby was the highlight of the visit for him.
"I will especially remember the visit to Lismore, especially walking around the streets and talking to locals and agency representatives and doing two home visits to families who were flooded and who are still living in temporary accommodation," Bishop Harvey said.
"This is why he came and he's very engaging and interested in people and their stories.
"The Archbishop, Mrs Welby and the whole team that travelled with him were clearly overwhelmed by the extent of the devastation, and also by the friendliness, tenacity and resilience of the local people.
"There is a real sense of community in Lismore and he was touched by that.
"People seemed to really warm to him and they appreciated his personable nature and the fact that he was so interested.
"At one point he disappeared into a shop and I said, 'Hey, I don't think this visit is on the run sheet of prearranged visits is it?' His wife Mrs Caroline Welby said, 'No, he just does that sort of thing.'
"It was just a random visit! The shopkeepers were keen to tell him about their experience and how they've worked hard to reopen.
"One of the other highlights was to visit St Carthage's Catholic Cathedral and introduce the Archbishop to the Bishop of Lismore, Bishop Greg Homeming.
"I knew the Catholic community was really looking forward to the visit.
"They told him about how the cathedral was completely flooded and he met students and staff from the local Catholic schools that had extensive flood damage to their campuses.
"He was really warmly received and we said Midday Prayers together."
Archbishop Welby flew to Thursday Island over the weekend where he spoke with locals about the impacts of rising sea levels in the Torres Strait Islands.
Today Archbishop Welby ordained two Aboriginal women, Valmai Connolly and Petronella Connolly, as priests and one Aboriginal woman, Ainsley Dangar, as a deacon at St Alban's Anglican Church in Yarrabah, east of Cairns.
Tomorrow, on the final day of his official engagements, he will visit the trailblazing Wontulp-Bi-Buya College in Cairns, which supports the development of Aboriginal and Torres Strait Islander church and community leaders.
The Archbishop of Canterbury is the spiritual leader of the world's 85 million Anglicans, which include around 2.5 million Australians.
He is the most senior bishop of the Anglican Communion, which has provinces in more than 165 countries.
Archbishop Welby was enthroned as the 105th Archbishop of Canterbury in Canterbury, England in 2013.
He recently gave a sermon at the funeral of Queen Elizabeth II and will conduct the coronation of King Charles III on 6 May 2023.
This article was written by Anglicare Southern Queensland's Philippe Coquerand with quotes from The Lismore App and the ABC News.
Jump to next article