Embattled faithful in Kyiv vow to stay on
The depleted Anglican community in Kyiv has survived a year of full-scale war and is still attracting new members, a longstanding Ukrainian member of the congregation says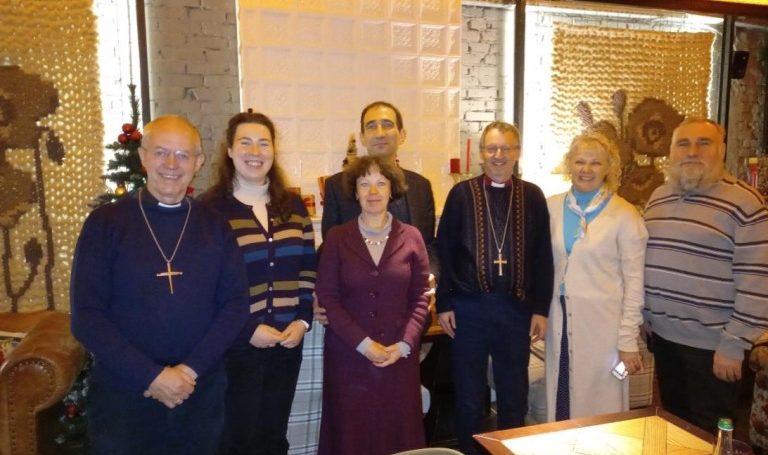 The depleted Anglican community in Kyiv has survived a year of full-scale war and is still attracting new members, a longstanding Ukrainian member of the congregation says.
"Most expatriate Anglicans had to leave when the war began, while embassy employees aren't allowed to go to the city centre where our church is located," Christina Laschenko, the churchwarden of Christ Church, the Anglican chaplaincy in Kyiv, explained.
"Although new Russian attacks have already started in eastern Ukraine, we are hundreds of miles from the front line and don't feel them directly. Meanwhile, with spring on the way and more electricity arriving from Europe, we're hopeful the situation will improve."
Ms Laschenko was speaking as Ukrainians marked the anniversary of the Russian invasion, which has left tens of thousands dead, millions homeless, and swaths of the country destroyed.
Speaking on the phone, she said that the regular congregation at the church's services had shrunk to about a dozen, and included staff of international aid missions. Several new Ukrainian members had, however, also joined the congregation, Ms Laschenko said, creating hope that the chaplaincy would grow again once peace returned.
"We all have friends and family members fighting in the east with our armed forces, and it's not difficult to imagine how we feel when they come under attack at the contact line," she said.
"But a lot of people are looking for spiritual comfort and guidance during this war and looking for God's support — many who never thought about the faith before are now attending various churches. As one military chaplain said, there are no atheists in the trenches."
The Christ Church chaplaincy opened in 1999, close to the Khreshchatyk Metro Station, sharing its church and premises with the German Lutheran community, and is in the diocese in Europe's eastern archdeaconry, which covers both Ukraine and Russia.
In a parish letter to mark the war anniversary, Ms Laschenko said that Ukrainians had not been "conquered within days", as had been the Russian plan, but had been left grieving for the "huge human losses of ruined families, lives, and homes", and had no option but to continue resisting.
She said that she and other Anglicans would stay, praying and helping the needy, and Christ Church still hoped to find a permanent Chaplain so that it could "grow and flourish in a free and peaceful Ukraine".
The letter continues: "With daily air raid alerts, and shopping malls, maternity hospitals and residential blocks being hit, we all are in the war zone. Commemorating a year of full-scale war, we are now entering Lent, a time of trials. But the darkest hour comes before dawn, and we are also looking forward to Easter, the time of resurrection and triumph of life."
Speaking earlier this week, she said that religious leaders, especially from the Greek Catholic and independent Orthodox Churches in Ukraine, had become "extremely important" during the conflict. A surprise visit last December by the Archbishop of Canterbury, and the diocesan Bishop, Dr Robert Innes, had provided "an important morale booster".
She said: "It was a gloomy time, with constant air-raid alerts and severe blackouts and cuts in electricity, heating, and internet connections; so we felt supported and encouraged.
"Today, while most drones and cruise missiles are destroyed by our air defences, the greatest danger comes from ballistic missiles, which come very quickly and hit everything — not just critical infrastructure, but civilian homes. Even if shot down, their broken parts still fall on the city."
Despite ever present needs at home, Ms Laschenko said, Ukraine had sent 87 emergency workers to rescue people in Turkey after the earthquake.
First published on the Church Times news site on 24 February 2023. Visit the Church Times news site to subscribe today.
Jump to next article