Q&A with priest, husband and father, counsellor and liturgy enthusiast, The Rev'd Dr Simon Tang
Meet Simon Tang and find out about his faith journey, hobbies, unique secret skill, plans and goals, and his thoughts on comprehensive Anglican identity and purpose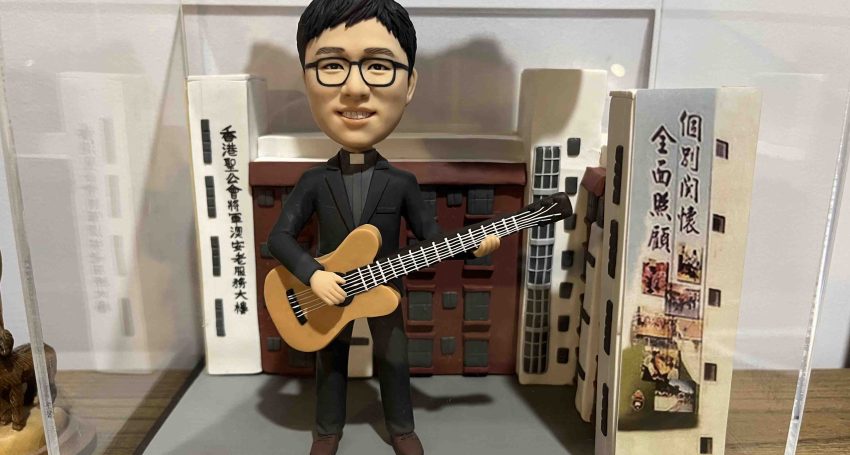 Where do you currently live and where do you worship?
I live with my wife and two daughters in Parkinson and we worship at The Parish of Algester where I have "permission to officiate". On 6 March, I started officiating the Cantonese Sunday service in The Parish of Sunnybank at 11am.
How long have you been involved in the Anglican Church and in what roles?
I was born into the Anglican Church. Both my parents were Anglican. My father was the principal of an Anglican secondary school and he was ordained in 1999. My mother was a teacher at Anglican primary and secondary schools. I was ordained in Hong Kong in November 2013. I served in three Hong Kong parishes before moving to Australia in the middle of last year.
What is your current role and what does your role involve?
I am currently a part-time assistant priest at The Parish of Sunnybank.
What projects and activities are you currently working on?
I hope to develop Cantonese ministry in our Diocese, including at The Parish of Sunnybank. And I hope to work with other Algester and Sunnybank priests in order to build even more collaboration and cooperation.
What has been one of the highlights of your time in your role so far?
Several weeks ago while preaching at Sunnybank – the last Sunday after the Epiphany – I preached about our value in God's eyes being "uncountable" because each of us is unique and we are loved unconditionally. I spoke to a parishioner after this service and expressed how I was a bit frightened about starting a new ministry. She said, "Simon, your value to God is also uncountable."
What are your plans and goals for the next 12 months?
I am hoping to organise a kids' Sunday School in Cantonese. I also want to start Cantonese fellowship activities.
Can you tell us a little about your personal faith journey?
I was born into an Anglican family, so I went to Sunday services and Sunday School weekly with my parents because I had to. When I was in youth fellowship in high school and studying social work and counselling at university, I started to develop my own identity in the Church, including spending time with my own friends and thinking about the kind of Christian I wanted to become. I wanted to start evangelising people.
How does your faith inspire you and shape your outlook, life choices and character?
Jesus shows us how to be good people and as the God incarnate he gives us assurance. Jesus accepted people and showed compassion. He shows me this compassion, which gives me more self-confidence when I start to have self-doubt, especially as a new migrant in Australia.
What is your favourite scripture and why?
"For everything there is a season, and a time for every matter under heaven" (Ecclesiastes 3.1). This scripture helps me when I am pastorally caring for people. It helps me to help them find solutions when they are suffering.
What person of faith inspires you the most and why?
My father because I saw him as a principal and as a priest. I saw him empower teachers and parishioners to be their best and to build the Church together. He showed me that people working together is better than one person working alone.
What are your thoughts on comprehensive Anglican identity and purpose?
The world is getting smaller and more complicated and so I think all Anglicans need to work together to spread the Gospel through liturgy and social service.
Why is Reconciliation with Aboriginal and Torres Strait Islander peoples important?
Aboriginal and Torres Strait Islander peoples are "born" of this land, so we need to respect their contribution to and care for this land over thousands of years.
What is a primary strength of the Church and what is the best way to make the most of these for the benefit of our communities?
Our liturgical service because if we really understand what the meaning of liturgy is we help people communicate with God. Hundreds of years of tradition and knowledge have built this strength. I think it's important for clergy to put time into their liturgies.
What's your best childhood memory?
Playing with my friends in a church playground.
If you are having a bad day, what do you do to cheer yourself up?
I evangelise over a good wine or beer.
What do you do in your free time to recharge and relax?
One is watching TV series with my wife, Greece, after dinner. I also drink wine with Greece and our friends. I like swimming with my daughter. I play piano and guitar. I read fiction and comics.
If you found yourself shipwrecked on an island, what three things would you choose to have with you?
Islay Single Malt Scotch Whisky. Steak. My wife, Greece.
Where do you do your best thinking?
When I dive into a swimming pool and swim near the bottom where it is very quiet.
What is the most surprise thing that happened to you recently?
In the last two days our elder daughter, who is studying in Year 10, cooked brownies at school. The brownies surprised Greece and me because they were so good because she usually doesn't like cooking.
If you could only eat one thing for the rest of your life, what would that be?
Cantonese dumpling noodles.
What is your secret skill?
I can distinguish different grape types in wine just by smell.
What item should you throw out, but can't bear to part with?
Greece tells me that I have too many books, but I can't throw them out.
Jump to next article