Anchored in faith: Mission to Seafarers navigates calmer seas post-COVID as it rebuilds and reinvigorates
"Seafarers are now returning to the Brisbane Seafarers Centre after a challenging period of COVID restrictions, and it brings joy to our hearts to provide a warm welcome to those who desperately need a smiling face and a comforting connection to the outside world as they visit the Port of Brisbane," says Mission to Seafarers President, Captain Ross Nicholls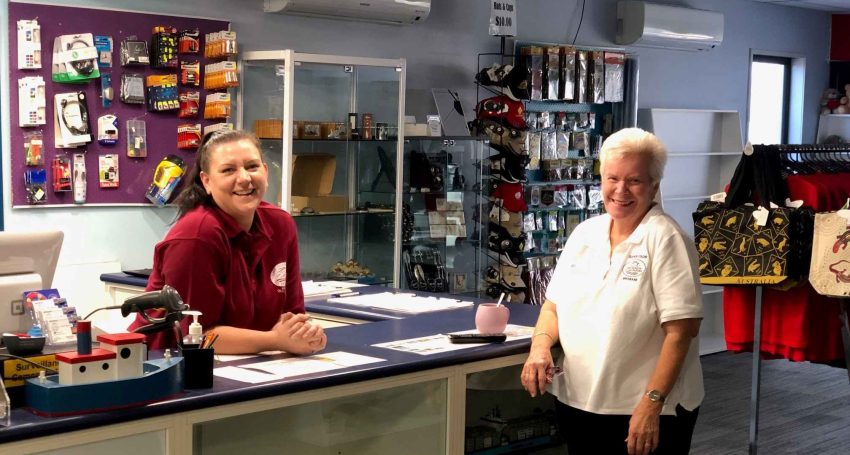 While the worst of COVID is behind the majority of us, seafarers – who faced nearly 18 months of one of the harshest lockdowns imaginable – are now returning to the Brisbane Seafarers Centre.  
They are again enjoying the opportunity to connect with family and friends while also taking a brief period of socialisation in our seafarers' centre, the local foreshore at Wynnum and shopping at the Plaza. It brings joy to our hearts to hear their laughter, families chatting on phones and watching them wade through our secondhand clothing or handmade beanies bins trying on the latest fashion. 
Maintaining relationships

Many ships calling into the Port of Brisbane are visiting regularly as they're on a monthly shipping service. One such seafarer, who hails from Papua New Guinea, has found great solace in visiting our Mission. He has become the conduit between the centre and his colleagues onboard his ship, and it's not unusual to be in contact while he visits other ports in the South Pacific. Surprisingly to all of us, he became aware of a niece who was studying in Brisbane, and they met for the first time at the Brisbane Seafarers Centre. 
Staff at the Brisbane Seafarers Centre develop connections with seafarers who spend up to 11 months onboard ships and regularly visit the port. Most of the connections are maintained through our social media and we are often delighted to hear of children being born; marriages; and, recovery after a medivac and hospitalisation.  
Social media is now an important means of keeping in contact with seafarers and to also tell their stories. We have created an Instagram page to tell these stories and to keep our seafarers and supporters connected visually. See us on Instagram at mtsbrisbane.
Another relationship was developed during COVID when restrictions meant our online shop was the primary conduit between Mission to Seafarers and the seafarers. We were delighted to receive a visit from many of the seafarers from one ship who took great pleasure in baking a cake and delivering it personally. 
Growing industry support 
One of our more prominent challenges, as we approach 12 months since reopening, is the loss of volunteers we experienced during the pandemic. Prior to March 2020 we had around 60 volunteers who enabled us to open 12 hours per day for seven days per week. These opening hours provided a great opportunity for seafarers to access the Brisbane Seafarers Centre and our services;  volunteers are our lifeblood for service provision.  
We are now operating with less than 10 volunteers, which means that our opening hours are now only Monday to Friday from 10am to 6pm. Efforts to attract more volunteers  have so far yielded very little success, so we are very keen for anglican focus readers to put their hand up to assist us.
We are also focusing on the local maritime industry becoming more engaged. There are many individuals within the industry who are supportive of our role and are taking steps to help create additional benefits for seafarers. We are encouraged by this level of engagement and very appreciative of their support. 
New team member
With the growing number of seafarers returning to the Brisbane Seafarers Centre and the demands on our shops (both the physical store and online) we've recently appointed a new staff member to coordinate all shop activities and to provide support to Heather, our Centre Supervisor. We all welcomed Caroline with open arms as she comes with a great skills, experience and enthusiasm to take on this role. She's developing a keen understanding of the seafarers' life and how we can better serve them. 
Sea Sunday 2023
Each year we recognise the significant contribution of the seafarer to our lives. We think it's great that the Anglican Church recognises seafarers in the Liturgical Calendar through Sea Sunday on the second Sunday of July. Please take the opportunity this year, on Sunday 11 July, to recognise the contribution that seafarers make to our lives. This year we will be visiting St Matthias' Church, Zillmere to jointly celebrate Sea Sunday. 
Should you like further information about Sea Sunday and the sermon notes that are prepared for this day, please contact us on tfa@mtsbrisbane.org.au.
International Day of the Seafarer 
The Brisbane Seafarers Centre is hosting a lunch for the port community on Friday 23 June to recognise the International Day of the Seafarer. The gathering aims to unite our port community and celebrate the role of the seafarer, while acknowledging the sacrifices seafarers make to ensure international shipping remains efficient and competitive. The event will also recognise the and the important role that the Brisbane Seafarers Centre offers in maintaining the physical, emotional and spiritual health of international sea workers. 
Smooth sailing…
Author's note: If you are keen to volunteer at Mission to Seafarers there are a range of activities that you can assist with, including banking, minibus driving and shop/bar sales. Full  training is provided. Please contact MTS Brisbane via tfa@mtsbrisbane.org.au or 07 3895 1181 for more information. 
Jump to next article