Oceania Primates commit to the Anglican Communion as "one body with many parts"
Anglican leaders in the Oceania region have reiterated their commitment to the Anglican Communion, describing it as "one body with many parts". The comments were made in a communiqué at the end of their annual Fono, or meeting, which brings together primates and provincial secretaries from the four independent-yet-interdependent churches in the region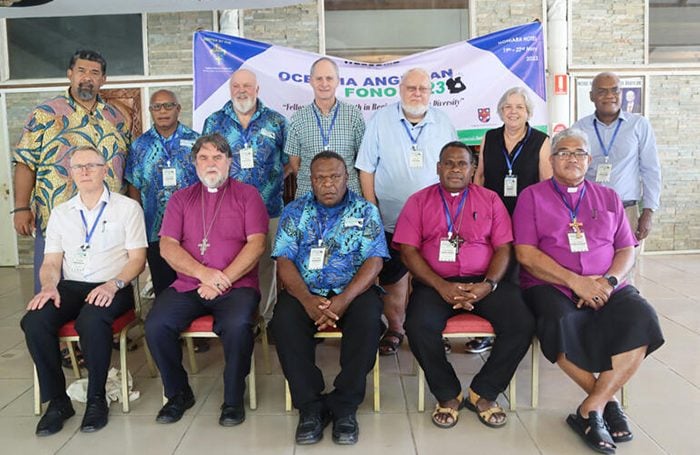 Anglican leaders in the Oceania region have reiterated their commitment to the Anglican Communion, describing it as "one body with many parts". The comments were made in a communiqué at the end of their annual Fono, or meeting, which brings together primates and provincial secretaries from the four independent-yet-interdependent churches in the region: the Anglican Church of Melanesia, the Anglican Church of Papua New Guinea, the Anglican Church of Australia, and the Anglican Church in Aotearoa, New Zealand and Polynesia. This year's meeting was hosted by the Anglican Church of Melanesia in Honiara on the Solomon Islands.
"The Fono members reiterated their Commitment to the Anglican Communion and reminded themselves that despite the many differences, they chose to work through their differences and remain in the wider Anglican Communion", the communiqué said.
"The Fono members also noted the critical role of cultural norms and values that undergird many of the Fono members' communities. Working in the region calls for a clear respect for those values and cultural practices.
"In addition, the Fono members acknowledged that the development of resources around Evangelism was urgently needed to begin to address the issues and concerns raised about the relevance of the Anglican Communion. Lastly the Fono members were invited to share information on the developments at the global level regarding the Anglican Communion and its aspiration to remain as one body with many parts."
During the meeting, which was held under the theme "Fellowship and Growth in Regional Anglican Diversity", the leaders discussed intentional discipleship, theological education, climate and disaster preparedness response, and the Pacific Seasonal Workers Scheme and its repercussions on Pacific communities.
They discussed an aspiration to create "Centres of Excellence in Theological Education" for the four Churches, and the possibility of a Centre of Excellence in the Diocese of Polynesia that could provide Anglican formation and support initiatives in Melanesia and Papua New Guinea for a mechanism with regional focus on Pacific theology.
This communiqué said that the idea is now in the design stage, with partners committed to the design. "This concept is to be developed into a proposal for the consideration of the Fono members at the next Fono", the communiqué said.
Participating in the Fono were the Acting Archbishop of Papua New Guinea, Bishop Nathan Ingen; the Primate of Australia, Archbishop Geoff Smith; two of the Primates of Aotearoa, New Zealand and Polynesia, Archbishop Sione Uluilakepa and Archbishop Philip Richardson; and provincial secretaries Anne Hywood from Australia, Dennis Kabekabe from Papua New Guionea, Michael Hughes from ANZP, and Dr Abraham Hauriasi from Melanesia.
First published on the Anglican Communion News Service website on 7 June 2023.
Jump to next article