Anglicare Southern Queensland client celebrates 100th birthday
Anglicare Southern Queensland recently recognised the 100th birthday of client Sydney Bacon, with a celebratory morning tea at Bethania Community Centre in Logan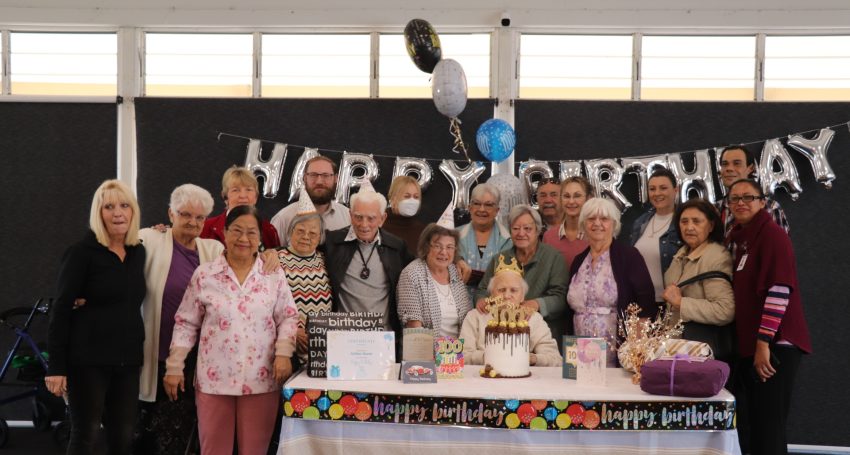 Anglicare Southern Queensland recently recognised the 100th birthday of client Sydney Bacon, with a celebratory morning tea at Bethania Community Centre in Logan.   
Mr Bacon enjoyed his birthday with his fellow respite centre clients, complete with a cake made by an Anglicare volunteer, and his favourite food of Lindt and other chocolate bars.  
Mr Bacon was born on 17th June 1923 in South Normanton, in Derbyshire, England.   
A couple of years later he moved to Waterloo with his family, until World War II broke out. He joined the army for a short while and upon leaving thought, "What do I do now?"    
"I set up my own business. I was an upholsterer, so I wanted to look at making wingback chairs. I went into the shop window and people came in. I brought some chairs in and quite a few people said I want one of those," Mr Bacon said. 
"I made them different to what was typically available. I did all the outside plain and the wings and the arms plain and, on the inside and on the seat, I did a beautiful pattern."  
It was during this time where he met his wife, Joan. Joan's parents were looking for someone to design their car seats and Mr Bacon put his hand up and said he would do it.    
Mr Bacon took Joan out on their first date to watch the motorbike racing and the rest is history.  
The pair married in England in 1948.  
In 1973 they emigrated to Australia and lived in Brisbane before moving to Bannockburn over 30 years ago.  
Mr Bacon said his secret to living a good life was to not smoke.  
"I don't smoke, and I have never smoked. In the army they would give me a cigarette and I would chuck it out. I think if you don't smoke, you'll live a good life," he said.  
Joan passed away a couple of years ago and she is never too far away from Mr Bacon's thoughts.  
These days Mr Bacon enjoys reminiscing on the days gone by, playing games, exercising, and listening to music. His favourite music is Beethoven and André Rieu.  
Mr Bacon loves participating in the Anglicare Home and Community program, and he enjoys catching up with his fellow respite friends.  
"I love the Anglicare staff. They're wonderful. Marvellous. They're the kindest people I've ever met," he said.  
Anglicare Southern Queensland Group Manager for Home and Community Sue Montgomery wished Sydney a very happy 100th birthday. 
"It's an absolute honour to be caring for clients, such as Sydney, who have given back to the community in so many ways," Ms Montgomery said.  
"We are so pleased that we could celebrate Sydney's 100th birthday. He is such a character and is loved by all our staff and clients. Happy 100th birthday, Sydney."
Jump to next article