St Andrew's Anglican College raises over $1000 for children and their families in Ukraine
"The terrible invasion in Ukraine has united a college workplace on the other side of the world. The compassion and concern expressed that day by our staff members filled the lunch room," reflects St Andrew's Anglican College library technician Barb Lodge, who initiated a fundraising lunch for the UNICEF Cook for Ukraine appeal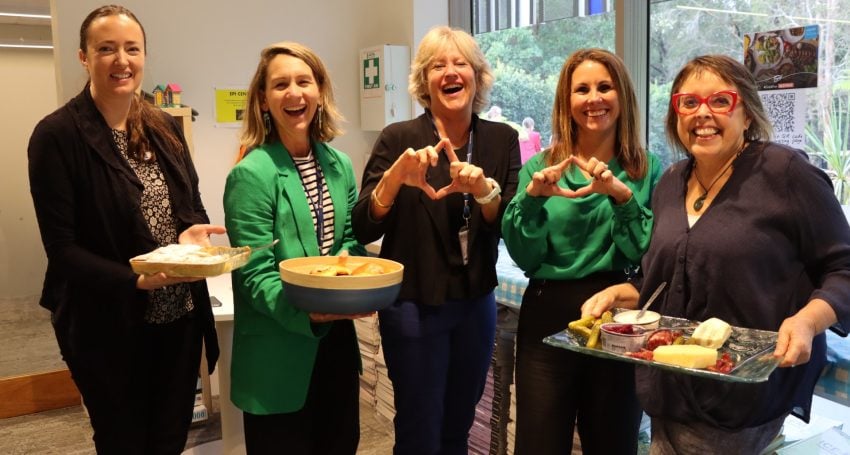 The inspiration to participate in the UNICEF Cook for Ukraine appeal came from reading tweets from Ukrainians who were pleading for people around the world to remember them as the invasion ground on.
Tweeted images of bombed towns, the faces of frightened children, captured soldiers and footage of drone strikes are deeply shocking. I could not fathom what it must be like for them to try and find any moments of joy — but they are. What amazing people. I have seen tweeted images of Ukrainian people drinking coffee together, of flowers taken by Ukrainians when they go for a walk, and people's cats and dogs that keep them company for long hours in the dark when the power goes out.
When the UNICEF Cook for Ukraine appeal ad appeared in my social media feed, I knew I needed to respond to help raise money to support Ukrainian children and their families.
What was so inspiring occurred before the day of the lunch. I realised that I couldn't possibly cook enough food on my own for up to 37 colleagues in my immediate building, let alone others from many other areas of the school. When I asked if anyone would like to help cook traditional Ukrainian food using recipes provided by UNICEF, I was stunned by the response, with six staff members putting their hand up to assist.
I was responsible for making the pampushky (garlic bread) and the cabbage piroshki (a bread-like baked dumpling). They were time consuming to make with the kneading and waiting for the dough to rise, but delicious and well received. Other friends made paprikash (paprika chicken) and borscht (beetroot soup), which most of us hadn't tried before.
UNICEF made the appeal lunch easy with the QR code set-up and by providing great recipes.
The Head of Primary, Ben Dean, also suggested that I help run the sausage sizzle at the College's rugby games, with all funds going to the UNICEF appeal. That started the ball rolling with $354 raised. I learned how to turn 50 sausages simultaneously from a PE teacher working on the BBQ with me.
I also had a dear friend living in another state who poured in a generous starting sum, which helped the fundraiser gather momentum.
People around the world were deeply saddened after watching Ukraine's Eurovision contestants Tvorchi explain that just before they performed on stage, they were informed their home city of Ternopil had been the target of an airstrike. This terrible incident was discussed at the lunch, with tears shed.
The terrible invasion in Ukraine has united a college workplace on the other side of the world. The compassion and concern expressed that day by our staff members filled the lunch room. Thank you, UNICEF, for the inspiration and assistance to make us feel a little less helpless — in the end we helped raise over $1000 for children and their families in Ukraine.
Jump to next article