Q&A with St Margaret's teacher, history buff, mum and Park Run enthusiast, Louise Brown
Meet award-winning teacher Louise Brown and find out about her recent teaching highlights, current activities and goals, favourite book and secret skill and what she would write on a billboard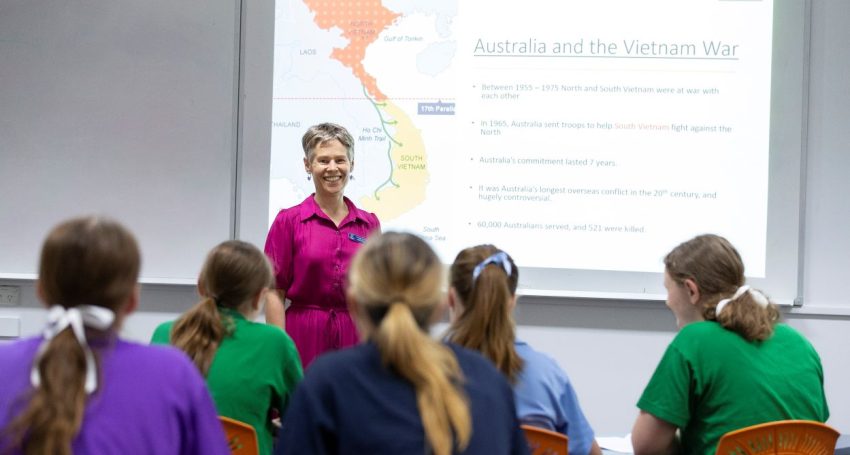 How long have you been involved in the Anglican Church?
I have been at St Margaret's since 2018. I was Assistant Head of Faculty from September of that year, acting Head of Faculty in 2020 and became Head of Faculty in 2021.
Congratulations on recently winning an Apple Award and the Teacher Mentor Award at the prestigious National Excellence in Teaching Awards (NEiTA). Can you tell us a little about NEiTA and what your awards mean to you?
NEiTA is the longest running community-based awards program to recognise teaching excellence in Australia and New Zealand. I am honoured to have received the NEiTA awards, and very grateful to everyone who has supported me throughout my teaching career.
What is your current role and what does your role involve?
I am Head of the Sociocultural Faculty, which incorporates History, Geography and Religious and Values Education (RVE). Day to day I teach History, including Senior Modern History, as well as Religious and Values Education.
I am also the Vice President of QHTA — Queensland History Teachers' Association.
I host on behalf of QHTA and St Margaret's a termly online TeachMeet where History teachers share practical ideas for use in the classroom.
What projects or activities are you currently working on in your role?
Curriculum development is central to my role. Both History and Religious and Values Education are subjects rooted in the past, but informed and shaped by the present, and helping students to have access to these vibrant and dynamic conversations through high-quality materials and learning experiences is a hugely rewarding part of my job.
I'm also really enjoying preparing students for Ethics Olympiads — an online event in which students work as a team to present their ideas on a range of ethical cases. The intellectual rigour, reasoning and critical thinking our students have shown on a range of challenging topics have been fantastic.
I'm also interested in the application of educational research to the classroom. Research is much more readily available to teachers now — a huge change over the past five or 10 years. I'm particularly interested in the application of Cognitive Science to the classroom, and how explicit teaching of vocabulary impacts students' reading comprehension, as well as the quality of their written work. I'm sharing some of what I'm learning at our termly History TeachMeets.
I've also started writing a blog at secondarysource.com.au. Only a few posts so far, but I'm enjoying the process of writing and hope to do more when I have finished my Masters.
What are your plans and goals for the next 12 months?
I want to continue to strengthen our RVE provision for students. With the support of amazing people like Vanessa Gamack at the Anglican Schools Commission and our school chaplain The Rev'd Jazz Dow, I am continuing to blend the academic rigour of theology with the space for students to explore their own values. Helping students to understand how others see the world — and to be enriched by it and to have their own ideas developed as a result — is one of the best things about teaching RVE. It's essential to building resilience; we help the girls know that other people can see the world differently to them, and that's OK.
What has been one of the highlights of your time in your role so far?
It was my last lesson with my Year 10 History class at the end of Term 4. Some had selected Modern History as a senior subject, but for some of them it was their last ever History lesson. Two girls sidled up to the front as the rest of the class departed — two girls who, if I'm honest, I never quite knew how they felt about my lessons. They thanked me for the year — which is always lovely, but then one of them said "I've learnt so much!" I think that's the best compliment I could ever hear from my students. I hope she goes and uses her knowledge to make a difference in the world.
Can you tell us a little about your Christian faith journey?
I have never taught at a faith school before, but am blessed to have the support of the Anglican Schools Commission in delivering the best possible faith and values education to all of our students.
What is your favourite Bible scripture and why?
"'Therefore I tell you, do not worry about your life, what you will eat or drink; or about your body, what you will wear. Is not life more than food, and the body more than clothes? Look at the birds of the air; they do not sow or reap or store away in barns, and yet your heavenly Father feeds them. Are you not much more valuable than they? Can any one of you by worrying add a single hour to your life?'" (Matthew 6. 25–27)
I recently heard Dr Peter Kline from St Francis College speak very powerfully on these verses from Matthew, in relation to the Anglican Schools Commission theme for 2023, "Flourishing Together for Dignity". It made me reflect on the importance of being present, of paying attention to the joy and beauty around us, and of surrendering our worries to God in order to live more fully.
What person of faith (living or passed – any religion) inspires you the most and why?
Archbishop Desmond Tutu. His compassionate approach to conflict and his championing of diversity was — is — hugely inspirational. He acted from the perspective not of being right but of doing the right thing, and I find that such a powerful message for reconciliation.
Why is it important for Christians to celebrate NAIDOC Week?
The founder of the precursor to NAIDOC Week, William Cooper, was a committed Christian, and we embrace his legacy when we come together to celebrate and learn from Aboriginal and Torres Strait Islander peoples about their histories, cultures and achievements.
Why is it important for Anglican schools to cover Reconciliation with Aboriginal and Torres Strait Islander peoples in RVE?
Schools play a powerful role in Reconciliation. Knowing about Aboriginal and Torres Strait Islander peoples' histories and cultures can develop deeper connections in our community. This understanding empowers our students to be advocates for change in the world outside of school.
What do you do in your free time to recharge and relax?
My daughter and I do Park Run every Saturday along the waterfront. We also enjoy cycling along the same route — it's great for clearing my mind. We sometimes stop for ice cream — when cycling of course, not in the middle of Park Run!
I also love to read and listen to podcasts. Geekily, most are about teaching!
What is the best piece of advice you have ever received and who gave you this advice?
I remember studying for my finals at university, and in the midst of "revision overwhelm" a friend wrote me a supportive postcard (which seems so retro now in the days of texting!).
She was — is — a football fan, and the message read "play the long game". It's an apt metaphor for teaching. The impact of what we do in RVE, in particular, is often hidden from view; we don't know how deeply our students have been affected by our discussions or which lessons might have personally resonated and might be drawn on years down the line as their lives unfold. It reminds me that deep learning isn't always visible, and the importance of riding out those day-to-day challenges, because we know what we do is so important.
If you found yourself on a deserted island, what three things would you choose to have with you?
Apart from my husband, daughter and miniature labradoodle? Am I allowed my phone for the podcasts?
If you could have a billboard with any text on it, what would it say and why?
"Whenever God closes a door, somewhere God opens a window."
What book have you given away most as a gift and why?
Phosphorescence by Julia Baird. I thought it was beautiful reflection on gratitude, friendship and holding firmly to what you believe, as well as being open to the possibilities of change. We are stronger than we think.
Where do you do your best thinking?
When I am running along the waterfront or walking my dog in the mornings.
What is your karaoke go-to song?
Err…any Abba number! And only if someone will do a duet with me!
What is your earliest memory?
My dad singing, "I'm a little tea-pot" to me in the bathroom.
If you are having a bad day, what do you do to cheer yourself up?
Just walking in the door and seeing our dog do a crazy-dog-dance, so excited to see me always makes things better!
What makes you nostalgic and why?
Seeing the British countryside on the TV! We moved over to Australia in 2017 and although Australia is home now, we loved walking in the UK and miss the hills of Yorkshire.
What item should you throw out, but can't bear to part with?
My mum keeps telling me I must clear out all my university notes, letters and photos from her attic. But as soon as I open the box, the memories will come back and I'll be there for hours! We're going back to the UK at Christmas so I'll have a go…it's only been 30 years!
What is your secret skill?
I can do accents.
If you could only eat one thing for the rest of your life, what would that be?
Greek yoghurt or hummus.
Jump to next article