This is what life with ADHD feels like
"ADHD is not an over-diagnosed TikTok trend. Autism is not a disorder in need of a cure," says Hilary Uhr from the ACSQ Equitable Participation Working Group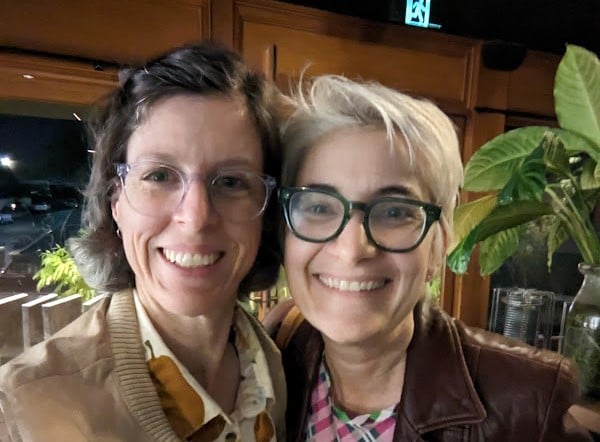 In 2020, amidst many other earth-stopping events — both global and personal — I gradually became aware, and then had formally confirmed, that I am both Autistic and have Attention Deficit Hyperactivity Disorder (ADHD)*.
My story is not unique, but all stories matter. Like many others, I'm a parent whose diagnoses followed the diagnoses of my child. This information meant that I could retrospectively sift through the pieces of my life and understand them in a very different way. As a child and as an adult, I was outwardly coping while inwardly collapsing, and my strengths hid my struggles.
I grew up attending church with my family in Brisbane, in a church community that in many ways was a loving extended family for me. I thought I fitted better and was more welcomed there than elsewhere.
I "did well" in life generally, completing three different degrees and becoming a lawyer.
However, in church circles, as well as outside of them, I was used to being described as "too intense" or "angry". I heard so many times that my words, tone and behaviour could look angry to others, so who was I to question my impact on them?
I loved God. I loved other people. So what was wrong with me? I was deeply ashamed and took that feedback to heart.
My dual diagnoses surprised most people I told…"You? I would never have guessed. You must be very high functioning then."
Why was it a surprise? Because Autistic and ADHD people don't "look" like me, it seems. Understanding of neurodivergence (something that must move well beyond "awareness") is increasing rapidly, but we've got an incredibly long way to go, including in church.
ADHD is a descriptor for a neurobiological reality. It is not a behaviour. It is a type of mind that has a natural neurological response to stimuli that is different to a neurotypical response.
ADHD is experienced differently by different people, and frequently includes hyperactivity of the mind or body, difficulty with attention when not deeply interested in the topic, an ability to hyperfocus on things that are of special interest, extremes of emotion and mood, very fast cognitive processing, impulsiveness, impatience, extraordinary creativity, and difficulty sleeping.
It's difficult for me to separate the different aspects of my neurobiological wiring in terms of my church experiences because I am Autistic and an ADHDer, and a few more niche things as well. They are all interrelated. The "intense" and apparently "irritable" or "over sensitive" person I was in church is what an ADHD person may be like in a typical, and let's face it, noisy, busy and crowded church gathering.
In my own case, while I do get angry, more often than not I'm passionate about something. I'm all-in about ideas and dissecting what I or others mean with their words. I'm curious and intense, and yes, my tone and even choice of words can sound blunt or sharp when I don't mean them to be.
Is that autism or ADHD? Is it sensory overload or enthusiasm about an area of expertise? It actually doesn't matter. Whatever its source or sources, a church building — over morning tea or supper or trying to manage polite small talk, with music at the same time and others talking loudly next to me — is an incredibly difficult place to be. When my ADHD brain is overwhelmed by sound, light, lots of activity, or too many competing demands, I experience an intense fight/flight/freeze response.
Knowledge about neurotypes is a wonderful thing. I'm glad to have the chance to contribute some lived experience insights as both a neurodivergent person and as a parent of neurodivergent children.
I do this informally all the time, and am also currently providing some assistance to research led by the Equitable Participation Working Group, along with The Rev'd Ann Edwards from St Mark's, The Gap.
Tips and advice about loving and accommodating neurodivergent people in your church community

How can you be an ally to neurodivergent people (whom you most likely already know, even if they're undiagnosed)?
1. Educate yourself

ADHD is not an over-diagnosed TikTok trend. Autism is not a disorder in need of a cure. Neurodivergence is a wide group of different neurotypes (neurobiology, cognitive wiring, physical difference, genetic make-up — many, many things). Read and listen to people speaking from lived experience. You might find these things describe your best friend, your sibling…perhaps even you.
2. Consult with your community members
Invite your community members to tell you what they need, what works and what doesn't, without requirement for disclosure of a diagnosis. Presume sincerity. If a person is struggling with sound, crowds, exhaustion, stress, whatever it is, assume that is the truth without requiring justification.
3. Reflect seriously on your church services, including Sunday services
Consider what is essential in your services and what is not. What are you prepared to give up or change in order to love and affirm those who are excluded by certain environments?
4. Practically support individual needs
Develop practical supports through speaking with the people you are serving. Needs are incredibly individual, and so a variety of factors may need accommodating, from noise to seating to bright lights. Providing detailed information and photographs on your church's website could assist someone coming along for the first time in knowing what to expect. Figure out how and what needs to change so that there is an attitude of willingness to be educated, rather than a surface-level list of "typical" accommodations or adjustments.
5. Offer clear guidance for assistance
Make clear — in all communication channels — whom to contact about adjustments or accommodations. Make sure that the system for addressing requests will work.
Break the mould; reinvent the wheel. My vision is beyond inclusion — it's about belonging.
* I choose to use "identity-first" language (see "Using the right language", which is the third topic on this webpage)
Editor's note: October is ADHD Awareness Month. Find out more about ADHD by visiting the ADHD Foundation website. Check out pages 18-28 in the 'Being Together: An inclusion and respect dialogue resource for parishes and ministries' resource that was developed by the Parishes and other Mission Agencies Commission last year.
Jump to next article