Fraser Coast Anglican College students inspire unity by creating a space for prayer
The success of Fraser Coast Anglican College's new Prayer Space initiative has underscored the power of student-driven projects in fostering unity, well-being, community, and a deeper sense of purpose within the school, and wider, community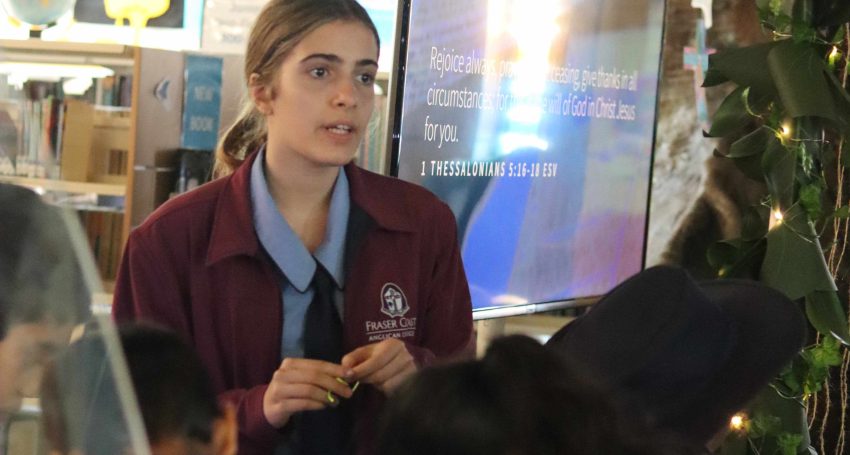 In an inspiring display of leadership and creativity, Fraser Coast Anglican College Year 11 students have led the establishment of a captivating Prayer Space within the college's library.
This student-driven initiative, which is part of the college's Religious Education programme, has seen participation from students spanning the entire school, from Prep to Year 12.
Thoughtfully designed as an inclusive environment, students adorned the space with bright colours and fairy lights to be a sanctuary for prayer, reflection and a range of engaging activities.
From serene meditation corners to interactive prayer stations, the space catered for a diverse range of preferences and spiritual practices. The innovative design approach also allowed students to explore their spirituality in a way that resonated deeply with them.
For Year 8 student Bella the Prayer Space was a valuable addition to the college because it allowed students to engage in an authentic way.
"The Prayer Space felt like a serene haven where I could just be myself," Bella said.
"I loved the colourful artwork and the chance to reflect on my thoughts — it's amazing how something created by our older peers could be so meaningful to all of us."
The event also welcomed members of the local community, fostering an environment of unity and spiritual connection.
As students approach exam season, the college's Coordinator of Religious Values and Education and English teacher Lana Priebbenow saw the addition of a Prayer Space as a significant way for students to find peace amid the busyness and pressure of exams.
"In our fast-paced world, our students are juggling academic demands, extracurricular activities and personal responsibilities," Mrs Priebbenow said.
"The Prayer Space offers them an invaluable opportunity to find solace, centre themselves, and connect with their inner selves amidst the chaos.
"It's a vital resource particularly during times of heightened stress such as exams."
On a recent visit to the Prayer Space, Year 11 student Matthew found it worked extremely well in providing a refuge away from the busy nature of secondary school life.
"As a senior student, the Prayer Space reminded me of the importance of taking a step back and connecting with my inner self," Matthew said.
While the Prayer Space may have particular benefits for senior students seeking peace from the pressure of exams, younger students such as Year 6 student Daniel, have also discovered the advantages such an initiative offers to those wanting to gain a broader perspective on the world.
"I enjoyed the interactive activities a lot," Daniel said.
"There was a gratitude wall where we could write down things we're thankful for, and it made me realise how much positivity there is around us."
Jump to next article