St Margaret's staff hitting the right notes to inspire students and raising funds
St Margaret's Anglican Girls' School music teachers are set to perform at a "Reverie — music for clarinet and strings" concert to inspire their music students and help raise funds for refugees and people seeking asylum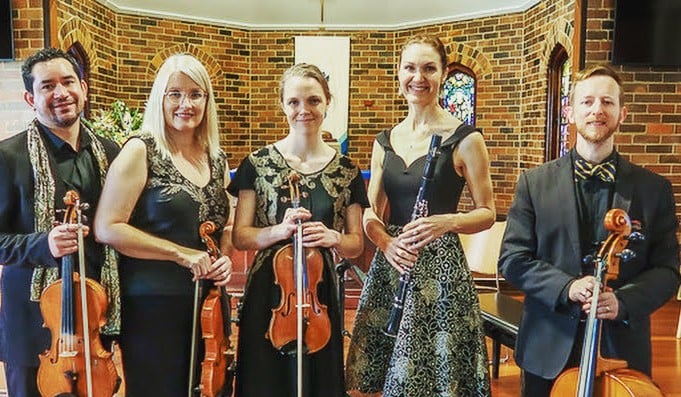 Three St Margaret's Anglican Girls' School music teachers will demonstrate their professional skills, as well as their care for vulnerable community members, to students at a concert titled "Reverie — music for clarinet and strings" in mid-October at the school.
Violinist Helen Carvolth, cellist Alex McPherson and violinist and composer Alys Rayner are all instrumental music tutors at St Margaret's and, together with violinist Shannon Luk and clarinetist Catherine Burton, form the professional chamber music group, Riverbend Ensemble.
Riverbend Ensemble's concert program "Reverie" spans four centuries, including Mozart's iconic Clarinet Quintet in A, "Reverie Orientale" by the Russian composer Alexander Glazunov and string quartet music by Samuel Coleridge-Taylor, and will be held in the Arts Foyer of St Margaret's Anglican Girls' School on Sunday 15 October at 2 pm.
While the event will serve as a fantastic dose of inspiration for students as they see their tutors' live performance and composing skills, with $10 from each ticket sale being donated to the work of Indooroopilly Uniting Church's Asylum Seeker and Refugee Support Hub, it's also an important opportunity for students to witness their tutors modelling care for the community.
For violinist and Riverbend Ensemble member Helen Carvolth, this balance of inspiring students musically and through community care was key to the initiative.
"The 'Reverie' event is important for raising the ongoing work of the Asylum Seeker and Refugee Support Hub, particularly in a part of Brisbane where this may not be as known," Ms Carvolth said.
"It's important for our students to be aware of these issues, and for the surrounding community to know that St Margaret's is a school that not only has a strong drive for social justice, but supports its arts staff as well.
"I hope that students will be inspired by the beautiful music to persevere with their own music studies, but also to be aware of the ongoing suffering that refugees and people seeking asylum still face in Australia."
The Asylum Seeker and Refugee Hub has been running for almost a decade and has assisted hundreds of refugees and people seeking asylum at risk of deportation with food, clerical and administrative support and living essentials.
In 2022, the Hub received the Multicultural Sector Outstanding Achiever Award at the Queensland Government's Multicultural Queensland Awards.
As a member of the Brisbane Refugee and Asylum Seeker Support (BRASS) Network, Asylum Seeker and Refugee Support Hub members regularly connect with Anglican Church BRASS Network representatives.
For Anglican Church Southern Queensland Justice Enabler Peter Branjerdporn, seeing initiatives such as the "Reverie" concert is an encouraging display of community support that sends the message to refugees and people seeking asylum that people really care for their plight.
"It's wonderful to see communities of faith offer their unique gifts to help refugees and people seeking asylum who have been through so much," Mr Branjerdporn said.
"As co-convener of BRASS, I love hearing how people get referred from the Asylum Seeker and Refugee Support Hub to the Thread Together Hub at St Andrew's Anglican Church in Indooroopilly, where refugees and people seeking asylum can take time to choose brand-new clothing they love, and enjoy the option of warm conversation and a cup of coffee or tea in a welcoming space."
With such a worthy purpose underpinning the concert, it was a perfect alignment of values for St Margaret's to support the event given the school's commitment to social justice and community awareness.
When St Margaret's Anglican Girls' School Head of Performance Brad King was first told of the idea for the concert he immediately backed it and subsequently arranged for the Riverbend Ensemble to use the beautiful space in the Arts Centre Foyer as a venue, as well as let the group freely publicise the event within the school community.
"At St Margaret's I feel very lucky to have teachers who consistently perform professionally in a variety of capacities and recognise the value that their experience brings to our music program," Mr King said.
"It is really powerful for students to see their teachers in 'performance mode' and engages students so much more in their own learning journey as they work toward developing musical capacity.
"It will be particularly exciting for students to hear a composition written by one of our staff members!"
Violinist and composer Alys Rayner will have one of her own compositions performed during the "Reverie" concert — an opportunity for St Margaret's students to hear their music tutor's brilliant work being performed in a professional ensemble setting.
"Helen Carvolth took a leap of faith and asked me to write a composition for clarinet and strings to be included in this program," Ms Rayner said.
"I have a deep and abiding love for Australian poetry, and a habit of wending it into compositions wherever I can get away with it.
"The words of one of our somewhat obscure symbolist poets spoke to me, resonating with the theme of 'Reverie', and I wove clarinet and strings music into the stanzas. This trustingly chosen piece of music now exists! It is 'Three poems of Christopher Brennan' for clarinet quintet and speaker."
As the Artistic Director of the Riverbend Ensemble, Helen Carvolth is particularly excited about the group sharing Ms Rayner's composition with the audience, and for poetry enthusiasts the performance will have additional resonance.
"Alys Rayner's 'Three Poems of Christopher Brennan' is one for poetry lovers and was written especially for the ensemble," Ms Carvolth said.
"Alys has written this beautiful work especially for us, working with us during its development — it's a celebration of the Australian poet Christopher Brennan, as well as Alys' passion for language allied with music."
For music students attending the concert, Ms Rayner is keen to emphasise that there are three main things she hopes they can take away from this musical experience.
"Firstly, the expansion of their aural library: what sounds and expression are possible on their instruments, what they would like to try out or aspire to," she said.
"Secondly, introduction to works that can be a resource to them, either in their creative endeavours, or simply in being an inspiring presence, like a friend, to seek out in the future.
"Finally, I hope students recognise their own capacity to strive towards creation, excellence and actualisation in their futures."
Author's note: Riverbend Ensemble will perform "Reverie — music for clarinet and strings" at the Arts Centre Foyer of St Margaret's Anglican Girls' School on Sunday 15 October at 2 pm. Tickets can be purchased at the door or online, and cost $35 for adults, $30 concession and $10 for children, with $10 from each ticket sale being donated to the Asylum Seeker and Refugee Support Hub.
Jump to next article