Flinders students score major prizes at music composers competition
Matthew Flinders Anglican College student siblings Liam and Lachlan Booth have taken out top prizes for their music compositions at the recent Australian Society for Music Education Queensland Young Composers Competition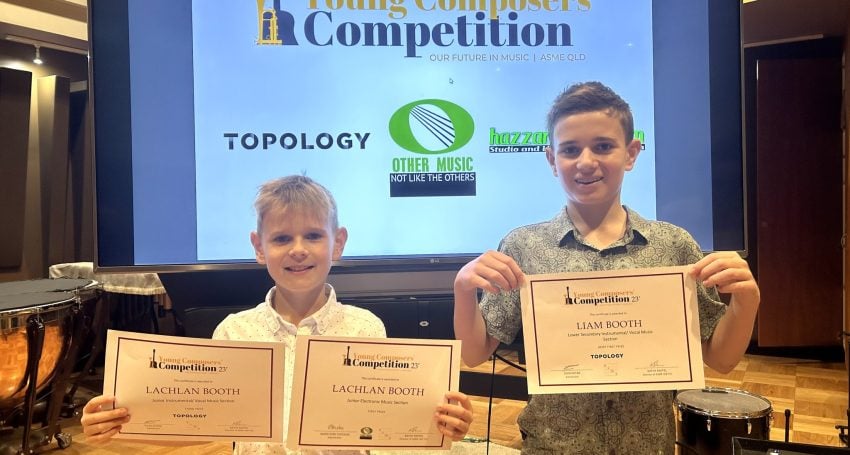 Matthew Flinders Anglican College student siblings Liam and Lachlan Booth recently won first place awards for their music compositions in the Junior Division of the Australian Society for Music Education (ASME) Queensland Young Composers Competition.
Flinders Year 8 student Liam secured first place for instrumental composition and Year 6 student Lachlan received first place for electronic composition and third place for instrumental composition at the awards gala, which was held in Brisbane in October.
The brothers' passion for music started at a young age, with both boys trying a range of musical instruments as they developed their craft – at age three Liam had already received a drum kit to play as he began his musical odyssey.
"I have loved music since I was little and we have pictures of Lachy and me playing lots of instruments when we were very young including the trumpet, trombone, bugle, piano, guitar and even the electric drum kit that Mum and Dad bought me for my third birthday," Liam said.
Like his brother, Lachlan's passion for music started early and quickly blossomed into regular busking gigs alongside his brother and grandfather.
"I remember playing and listening to lots of music since I was young," Lachlan recalled.
"I've been playing piano, percussion, saxophone and busking with my family since I was very young."
Over the years the brothers have donated thousands of dollars to charity from busking with their grandfather, and are now the fifth generation of family musicians to pursue their passion for the artform.
ASME Queensland Young Composers Competition adjudicators had only praise for both brothers' work, and it's clear a lifelong passion for music, as well as a multigenerational family interest, has cultivated talent rarely seen in people their age.
"Liam is a clearly exceptionally talented young composer," said the competition adjudicator.
"He clearly has an exceptional knack for musical storytelling and a great ability to capture different moods really well in his music.
"His compositions are characterised by a real sophisticated level of craft and a great musical imagination."
Commenting on Lachlan's electronic composition that used a complex industry-standard computer program to create and produce the music, the Competition adjudicator noted, "He did it all, he is 10-years-old and what you are hearing today is absolutely phenomenal."
The adjudicator also mentioned that Lachlan's techniques used in composition are being taught at a university level.
For Flinders Director of Music Nick Campbell, the news of the brothers' competition awards at the competition was very welcome, but perhaps expected given their prodigious talent.
"I am always excited and proud when I hear of the successes of the Flinders students," Mr Campbell said.
"Having seen the compositional work of both Liam and Lachlan, I was not surprised to hear that their work placed first in their respective sections of the competition –both boys have developed sophisticated compositional abilities.
"As both Liam and Lachlan participate in the Band Program at Flinders, they have first-hand experience of work with the repertoire of leading industry composers, while receiving direction from their conductor regarding the interpretation of the music and the integration of the instrumental parts.
"In addition, Liam is studying in our Year 8 Music EDGE program where he recently completed a composition task focusing on the development of compositional strategies."
From Prep to Year 12, Matthew Flinders Anglican College students are offered a comprehensive musical education with a range of curriculum and co-curricular programs available to enhance and cultivate students' talents in this field.
Practical experience playing in band ensembles through Flinders' music education has only strengthened Liam's musical journey.
"The way that Flinders has enhanced my music composition is through the many band ensembles that I am involved in," Liam said.
"This gives me a varied range of composing styles to observe and then experiment with in my compositions."
Lachlan also feels that the opportunity to play in band ensembles at Flinders has supported and enhanced his musical skills: "Playing in the band has improved my percussion skills and also I have had the opportunity to learn more instruments, including timpani and saxophone."
Given their talent and passion for music, both brothers both see their futures linked to some aspect of the music industry once they leave school.
"In the future I would like to continue composing music; however, I understand that success in the music industry can be unpredictable and that traditional composition is narrowing, so I would also like to do producing," Liam said.
"I'm going to keep on making music in my spare time because I enjoy making it," Lachlan said. "I'd like to be a DJ, music producer or rapper."
Jump to next article