Diocese opens its doors for Brisbane Open House
Join in the fun this weekend at Brisbane Open House, a free public festival that celebrates Brisbane's architecture across the city, including a number of historic Anglican Diocese sites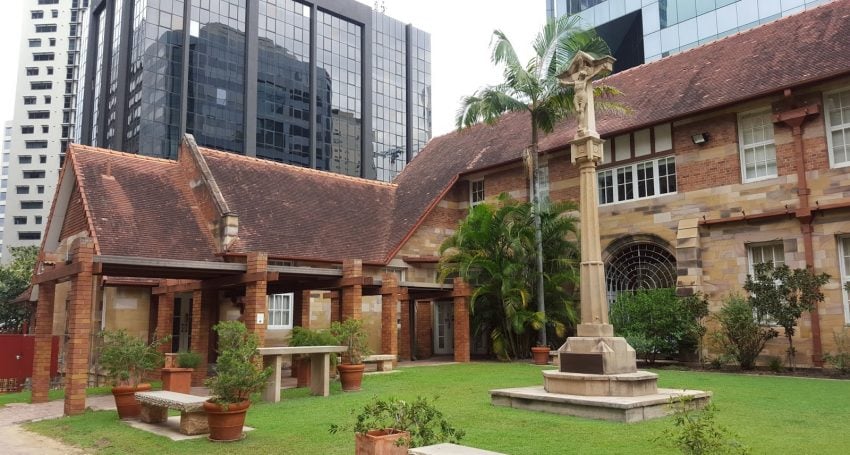 The Diocese will be a keen and active participant in the annual Brisbane Open House Festival this weekend, allowing Brisbane residents and visitors a look at some of its unique and extraordinary churches and locations.
Seven Anglican venues will be on show around Brisbane with the culturally, architecturally and theologically curious able to see everything from the St John's Cathedral bell tower and its chicken coop and worm farms, to the magnificent history and aesthetic splendour within the walls of the heritage-listed Old Bishopsbourne at Milton.
There are many surprises in store for visitors to St John's Cathedral, including tours of the Cathedral's mini-farm, as well as the bell tower, with its 12 English-made bells – the largest weighing 830kg.
Half a dozen chickens provide a daily supply of eggs to St John's Cathedral residents, The Very Rev'd Dr Peter Catt and his family, while an industrial sized waste bin behind the Cathedral is home to a worm farm – part of the Cathedral precinct's sustainable operations, with the worm weed providing fertiliser for the gardens.
Tours are also on offer to the bell tower – although be warned, it involves a steep climb of more than 100 steps up a twisting and narrow stairwell – while the anniversary year of WWI will also see guided tours of the military and civilian memorials inside the Cathedral. Adjacent to the Cathedral, there will be regular walking tours around heritage listed St Martin's House, which operated as St Martin's War Memorial Hospital for nearly 70 years.
On Saturday, Records and Archives Centre staff will be available to help people delve into the history of the Cathedral, the Anglican Church and the old hospital, while local band, Bach and Forth, and organ music adding to the lively atmosphere on Sunday afternoon.
All tour bookings are taken on-site on the day and all visitors are welcome.
A total of seven Anglican Diocese locations will be on show around Brisbane, with thousands expected to flock to St Francis College at Milton. Amid its spacious grounds sits Old Bishopsbourne, the two-storey residence, which was constructed in 1865-1868 for Edward Tufnell, the first Anglican Bishop of Brisbane.
The magnificent venue is open from 11am-4pm on Saturday and Sunday with guided tours both days (at 1pm, 2pm, 3pm – no booking is necessary), a sausage sizzle on Saturday and Devonshire Tea on offer, as well as various market stalls.
Visit the Brisbane Open House website for maps and more information on St John's Cathedral and all other Open House sites.
Brisbane Open House – Brisbane Anglican Diocese locations:
All Saints' Anglican Church: Cnr Wickham, Wharf and Ann Streets, Brisbane
Anglican Church Grammar School (Churchie): Oaklands Parade, East Brisbane
Old Bishopsbourne House and Chapel of the Holy Spirit: 233 Milton Road, Milton (Access via 25-29 Baroona Rd, Milton)
St John's Anglican Cathedral: 373 Ann Street, Brisbane
St Martin's House: 377 Ann Street, Brisbane
St Mary's Anglican Church: 455 Main Street, Kangaroo Point
Mission to Seafarer's Centre: 2 Seafarers Street, Port of Brisbane
Jump to next article