Q&A with ACSQ's Reconciliation Action Plan Coordinator, Chrissy Ellis
Find out about the unique faith journey and work of our Diocese's Reconciliation Action Plan Coordinator, Chrissy Ellis, a proud Bwgcolman woman from Palm Island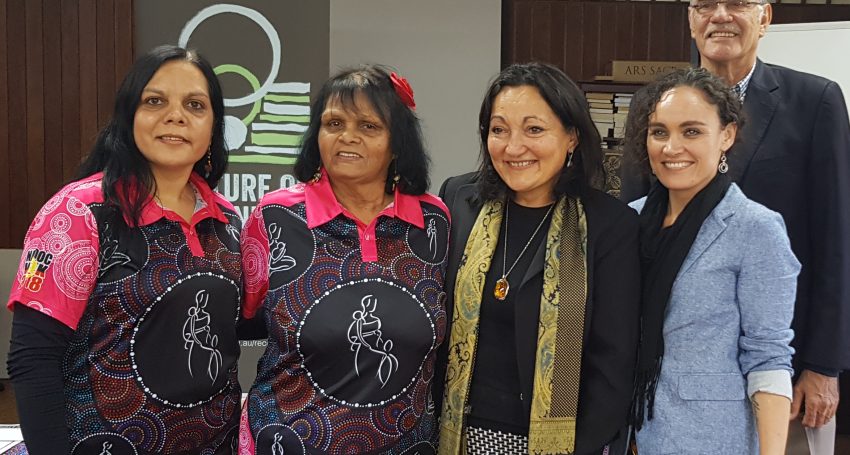 Chrissy Ellis is a proud Bwgcolman woman who was born on Palm Island, North Queensland, and who lives in Ipswich. Chrissy is the Reconciliation Action Plan Coordinator for the Anglican Church Southern Queensland. She is also currently studying a Bachelor of Laws at Deakin University's Institute of Koorie Education.
How long have you been involved in the Anglican Church and in what roles?
I commenced working for Queensland Churches Together Commission as the Churches Together Indigenous People's Partnership Program Coordinator in 2014. In this role, I worked ecumenically with Aboriginal and Torres Strait Islander church leaders throughout the SEQ region to help build bridges toward reconciliation in the church. Since 2017, I have been working as the Reconciliation Action Plan (RAP) Coordinator for the Anglican Church Southern Queensland and am based in St Martin's House on Ann St, Brisbane.
What is the name of your current role and what does your role involve?
As the Reconciliation Action Plan Coordinator, I oversee the RAP, which was implemented in November 2016. On a day-to-day level, I create awareness around National Reconciliation, organise National Reconciliation Week and NAIDOC Week activities and educate the broader Diocese about Aboriginal and Torres Strait Islander justice issues. I liaise with the Parish and other Ministries Commission (PMC), Anglican Schools Commission and Anglicare to embed RAP actions and targets in their organisational frameworks. I work very closely with the RAP Working Group to organise and coordinate Diocesan activities that celebrate significant Aboriginal and Torres Strait Islander days and events.
What projects and activities are you currently working on?
The current RAP will expire at the end of the year and so I am working with the RAP Working Group members to develop a new RAP for 2019-2021. As part of this process, I am reviewing the effectiveness of the 2016-2018 RAP and participating in a New RAP Development Workshop.
I will also be delivering a Reconciliation session at an ecumenical course; providing cultural awareness and support to School Chaplain staff and students; and, providing RAP sector support to other Aboriginal workers. I will also be networking with other Aboriginal RAP workers in SEQ, representing the Anglican Church in local ecumenical activities and supporting broader church initiatives, such as the promotion of a 'Friends of Nungalinya' fundraising dinner.
What have been the highlights of your role so far?
NAIDOC Week this year was a significant highlight for me. The theme of NAIDOC Week this year was 'Because of her, We can', celebrating Aboriginal and Torres Strait Islander women. I was given the opportunity to learn about my mother's story and to share it at three events, including Prayers for Aboriginal and Torres Strait Islander Ministries and Concerns (PATSIMAC), Gold Coast North Anglican Church and a non-denominational Christian college. Another highlight was participating on a NAIDOC Women's Panel at St Francis College to help educate formation students about the significant role Aboriginal and Torres Strait Islander women have in our communities, ministries and highlighting our issues.
A further highlight for me was National Reconciliation Week 2018 when I worked with Stephen Harrison, Anglican Schools Commission / RAP Working Group Member, to develop videos that showcased reconciliation work being achieved across the Diocese. This year's theme 'Don't Make History a Mystery' provided a platform for the Anglican church to digitally record Aboriginal and Torres Strait Islander stories and history.
Can you tell us a little about your faith journey?
I was born on a Catholic Mission on Palm Island, so the foundations of my Christian faith were birthed from my homeland. My mother's upbringing was Catholic and my father's upbringing was Anglican, so an ecumenical outlook is natural for me. In Manbarra language 'Bwgcolman' means 'many tribes, one mob', which reflects the fact that the Palm Island community was formed under the Aboriginal Protection Act in the early 1900s when people were forcibly removed from their traditional country and sent there. Because I was born in such a diverse community, I am able to work across many different groups of people and influentially walk between 'two worlds'.
How does your faith inspire you and shape your outlook, life choices and character?
My faith in God gives me the strength to be resilient in challenging times and to continue to walk in the footsteps of Aboriginal church leaders and my ancestors who have gone before me.
What person of faith inspires you the most and why?
There are too many inspiring Aboriginal and Torres Strait Islander faith leaders to name them individually. A Biblical person of faith who inspires me is Queen Esther because of her commitment to fast, pray and intercede for her people and nation.
What are the primary strengths of the church and what is the best way to make the most of these for the benefit of our communities?
One of the Church's strengths is its commitment toward building national unity and oneness through the process of reconciliation. To make reconciliation happen, the Church needs to continue finding ways to strengthen relationships with Aboriginal and Torres Strait Islander peoples by hearing our stories truthfully, amplifying our voices and supporting Constitutional recognition.
What do you do in your free time to recharge and relax?
I love spending time and staying connected to my family – mother, brothers, nieces, nephews, grandchildren and community.  I really enjoy riding my Triumph Street Triple 675 alongside my husband's Triumph Speed Triple 1000 during long road trips.
What is your favourite movie and why?
Stomp the Yard – I love RNB, hip hop and dance music. It also has a strong storyline, which inspires people of colour to rise above difficult circumstances.
What is your favourite travel destination and why?
I like going home to Palm Island to connect with Country and my people, and it helps to keep me grounded, not losing sight of where I come from and God's destiny which lies before me. It replenishes my spirit and gives me strength to continue God's work of justice and reconciliation and walking in two worlds successfully.
Jump to next article