Young Palestinian Christian visits Brisbane to share her story
The Rev'd Dr Ray Barraclough, former lecturer at St Francis College in Milton and former senior lecturer at St George's College in East Jerusalem, reflects upon the story of a young Christian Palestinian woman, Areej Masoud, who recently visited Australia on a speaking tour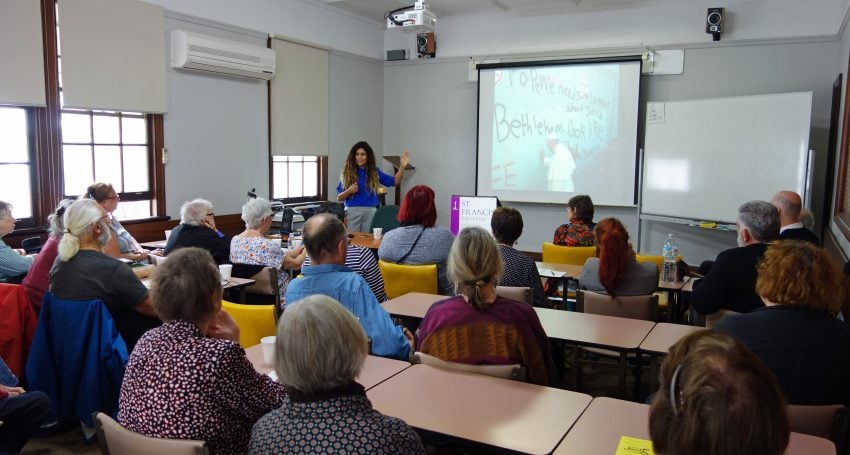 I have been engaged in supporting the Palestinian people since 2003 and have previously worked and lived in Palestine when I was senior lecturer at St George's College in East Jerusalem. I majored in History at the University of Queensland, while my Doctoral study encompassed researching political ideas contained in the New Testament writings. These two fields of study came together in my continuing interest in religion and politics in the Middle East.
In October, a young Christian Palestinian woman named Areej Masoud spoke at several gatherings in Brisbane, including at St Francis College where I heard her speak, about the contemporary experience of her fellow Palestinians.  Areej has been brought to Australia on a speaker tour by the Palestine Israel Ecumenical Network.
Areej could be said to have had an ecumenical journey. Born and raised in Bethlehem in an Orthodox Christian family, she attended Catholic schools and then journeyed into an evangelical stream of the Christian faith. She currently works as the Development and Communications Coordinator at Bethlehem Bible College.
Palestinian Christians have maintained the birthplace of Jesus and Christianity for over 2000 years. However, very few of the thousands upon thousands of Christian pilgrims who visit that part of the world ever meet the local Indigenous Christians. The Palestinian Christians living in the Holy Land refer to themselves as 'the forgotten faithful'. The latter note how Arab believers were present on the day of Pentecost (Acts 2:10-11).
In her talk, Areej described how the pressures placed upon Palestinians in East Jerusalem and the occupied territories by the Israeli authorities over the years have led to a significant number of Palestinian Christians leaving the region to settle mainly in nearby Lebanon or in Western countries. Areej envisages a time in the future when there will be next to no Christians in the Holy Land.
Areej also shared with local South East Queensland Christians what day-to-day life is like for her fellow Palestinians. She emphasised how, despite media reporting, Palestinian Christians and Muslims have, for many, many years, lived peaceably together. For decades, they have also shared the experience of being lined up to be monitored or arbitrarily halted by Israeli authorities through military checkpoints on their own land. For example, Areej told us about how she had to quit a job because in a three month period, she was unable to get to work for an equivalent period of two weeks because she was not permitted through a check point from one area of her homeland to another. She also explained how Palestinians have different coloured number plates on their cars to Israeli cars who have easy access through checkpoints.
She also shared about how Palestinians across their lands are discriminated against when it comes to water usage, as Palestinians are only allowed 70 litres per day, compared with the Israeli consumption of 300 litres per day. In order to cope, Areej said that she and her Palestinian neighbours share water rations, for example, by doing each other's washing when one family runs out of water.
Amongst the pictures she portrayed was a set of three photographs, taken at different times during her life, of a tree-covered hill she could see from the window of her home when growing up in Bethlehem. Now, not one tree stands upon that rounded hill. Rather, it is covered completely by an Israeli settlement. Areej referred to the UN Security Council Resolution 2334 and explained that according to international law, these settlements are illegal; however, the Palestinians are powerless to stop the growing number being erected on their land.
Areej shared how she is challenged daily as a Christian to 'love her enemy'. She told us a number of stories about how she finds ways to stand up for her rights in a loving way, including one time when she and a friend were prevented from passing through a checkpoint and were detained briefly even though they had politely made it clear that they were on their way to an important appointment. Areej then described how she engaged one of the Israeli soldiers about a tattoo on his arm that included words in the design that resonated with her, including 'peace'. She started this conversation by simply saying 'I like your tattoo'. Even though she and her friend had been yelled at unprovoked by armed Israeli officers, instead of getting angry at the male guard, she found a way to connect with his humanity. As a result, he softened and let them through the checkpoint, albeit making it clear that they may not be so lucky next time.
It is over twenty years since I worked in that part of the world as a senior lecturer at St George's College in East Jerusalem. What was conveyed to me through Areej's story was the intensification of Israeli control over Palestinian lives. Numerous cameras are located through the Old City of East Jerusalem to monitor all who walk on its stony streets. State surveillance is an integral part of life.
The day-to-day lives of who we are as Anglicans in Australia is so far removed from the living conditions that Areej described to us. As Areej shared, all Palestinians have the right to live in peace, freedom and safety in their home land. One particularly striking memory from Areej's presentation was her stressing how important retaining hope is for the Palestinian people.
Areej suggested that Australian Christians can help in the following ways:
visiting Palestine and meeting Palestinian people to hear their stories
reading and learning about the situation of Palestinian people, such as by visiting the Palestine Israel Ecumenical Network site
advocating and praying for peace in the Holy Land.
I can also personally recommend the following three books. Although they were published some years ago, they are still worthwhile reading to gain a sense of the human journey. The first two are written by Christians and the third by a journalist/historian. The three books are:
Autobiography: Blood Brothers by Elias Chacour (Kingsway Publications, Eastbourne)
Historical account: Whose Promised Land? by Colin Chapman (Lion, London)
Historical account: A Peace to End All Peace by David Fromkin (Penguin, London, 1989)
What I have written is simply a response to a young courageous and committed Christian Palestinian woman who seeks to share her experiences with her fellow Christian brothers and sisters throughout the world. Whatever our views on the present tensions in her homeland, we owe her a hearing.
Jump to next article