But what if she'd said 'No'? Backstories to the Bible
Dr Marie Louise Craig reviews a recently published book by ACSQ priest, The Rev'd Dr Cathy Laufer, and discusses how the author captures "the simplicity of theological questions and the unfathomable depths of theological answers," and challenges us to find the answers for ourselves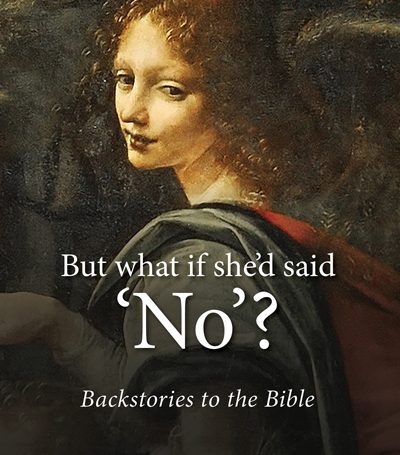 For those who find large theological books daunting, this is the book for you. For those who enjoy reading large theological books, this is the book for you.
In this slim volume, full of short and very short stories, The Rev'd Dr Cathy Laufer has captured both the simplicity of theological questions and the unfathomable depths of theological answers, although in keeping with her Jewish heritage she admittedly does not actually give us any answers.
According to Jewish teachers, best practice is to not spoon feed the students, but to encourage the students to find the answer for themselves. Often a student's question is answered with another question or a story. Jesus himself used this method.
In a phone conversation with Cathy, I asked her how much the story-telling teaching method of her Jewish heritage had influenced this book. She answered my question by telling me a story within a story, so I gathered the answer to my question was 'significantly'. Cathy did explain, however, that the first story began its journey as an undergraduate assignment.
You do not have to be a trained theologian to engage with the content of this book. You only have to enjoy, for instance, the kind of story that starts seriously and ends with a punch line.
This is what the first very short story, "First Temptation", is, although it took me a few days of thinking about it to understand the punch line. I am a little challenged in that department. I won't say any more. Read it for yourself.
The second story is another engaging read. The story, "Meir and Khamet", tells the Exodus story of the plagues from the point of view of a young Israelite slave. I am still thinking about this one four weeks after reading it. I am wondering what Khamet decided to do and what that decision tells me about him. I am wondering about what the story of the plagues (biblical and according to Cathy) says about God. Then, when I reached the end of the book and read Cathy's postscript, I discovered there is another story of Jewish slavery being told in this narrative. Layers on layers! This is a story that keeps on giving.
The title of the book is the title of the fifth story, "But what if she'd said, 'No'?". You might guess from the title that it is referring to Jesus' mother, Mary, and you would be partially correct. Read the story to find out what I mean. I am still challenged by this one too. What if I say, "No", but believe that in doing so, I am making a good and loving decision? How can we tell?
Another favourite of mine is "Food for thought". This story retells the story of the loaves and fishes through the eyes of Andrew and Ariel, the boy who donated the bread and fish. After watching the whole process of feeding all those people with five little loaves and two fish, Ariel notices how tired Jesus is and comments: "I suppose making all that food takes a lot of energy." He then asks Jesus if he is Moses.
True to the Jewish idea of best teaching practice, Jesus answers with a question, "Why do you think I might be Moses?"
Ariel points out that Moses fed the people special food in the desert. Jesus confesses that he is not Moses.
Ariel has another question: "So who made the bread and fish? You? Or God?"
This time Jesus answers with two questions, "What do you think, Ariel? Who made the bread and fish?"
Well, dear readers, what do you think? Who made the bread and fish? Jesus? Or God?
Mmm. More questions than answers.
These four stories are tasters for the whole book. The book is only 114 pages long. It contains a variety of genres – short stories, plays, poems and diary entries – and covers a wide range of topics from the whole Bible and beyond. The book is easy to read and entertaining, but most of all it is thought provoking.
I invite you to read the book and then visit St Francis College for lunch one day, so we can enjoy discussing the questions Cathy's book raises about the nature of God and the nature of Jesus, about what sin is and how we can recognise temptation, about…well, you can find your own questions and we can all ponder the answers together.
Catherine Laufer, 2018. But what if she'd said, 'No'?: Backstories to the Bible. Morning Star Publishing, Reservoir, Victoria.
If you are interested in theological discussion at any level, there are opportunities at St Francis College. For more information on:
Jump to next article