Matthew's Parable of the Royal Wedding Feast: A sociorhetorical Interpretation
"It is the intertextual dynamic with the findings of the Royal Commission that sets this huge piece of critical biblical scholarship apart. This is not just an arcane treatise for members of the guild of biblical scholars…This is a serious piece of critical biblical interpretation that also deals with the prophetic message of the text for our Church in wider Australian society today," says The Rev'd Dr Greg Jenks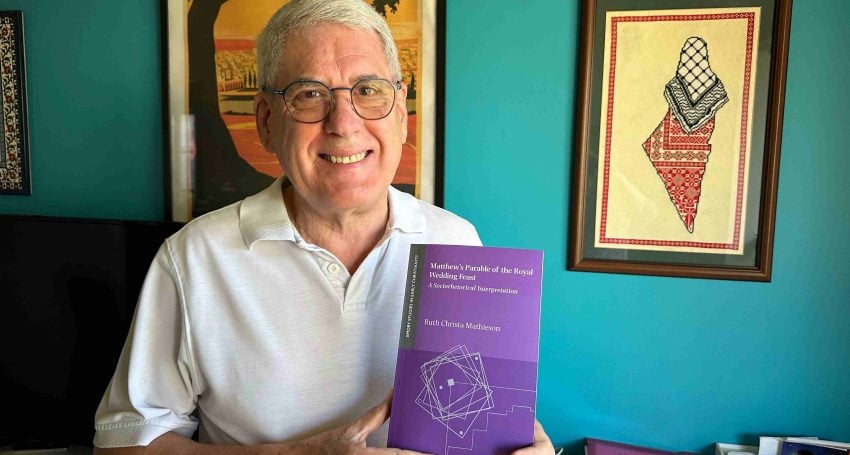 What happens when an Anglican priest finds herself struggling with one of the most puzzling parables of Jesus while the deadline for a sermon is fast approaching?
For Ruth Mathieson, Principal of St Francis College in Brisbane, that experience — while serving as a priest in the Diocese of Adelaide in 2011 — led her into a PhD program with Charles Sturt University's School of Theology to explore in detail the parable of the royal wedding feast in Matthew 22.1–14. Her doctoral dissertation has recently been published as Matthew's Parable of the Royal Wedding Feast: A Sociorhetorical Interpretation.
That sounds like a serious piece of work. And it is. This book offers a deep dive into the scholarly analysis of this parable, while offering an interpretation that speaks truth to power within the Anglican Church of Australia today.
The big idea at the heart of this meticulous study is that we must not be distracted by the long-standing debates about the nature of the "wedding garment", which one unfortunate guest had failed to wear for the occasion. Rather, this parable is to be recognised as a polemic directed at the religious leaders of Jesus' own time — and perhaps our time as well—for their failure to protect the faith community by removing from the community those causing harm to vulnerable members. That may sound like a long bow to draw, but through more than 330 pages of care-filled scholarship, Ruth Mathieson makes her case and wins our consent.
Ruth Mathieson has demonstrated how an ancient parable can speak into the darkest corners of our contemporary Church life in Australia today.
Like any craftsperson, it is essential to have the right tools for the project. In this case Ruth Mathieson has chosen to work with an interpretive method —sociorhetorical interpretation — whose name may make our brains hurt, but is really a suite of common-sense approaches to the biblical text that allows for fresh insights to be gained. In her own words:
"I approach the parable from a series of different positions to examine its inner texture and intertexture and its ideological, social and cultural textures" (p. 39).
By paying attention to what we know about the ancient context of the Scriptures — as well as the texture of the parable itself and its links with other parts of Matthew and other Jewish texts — before considering our own context as we hear the parable, we gain a multi-dimensional appreciation for the text. This includes different ways in which the parable has been understood in the past, as well as fresh ways for the prophetic challenge of the parable to be heard today.
We catch an early glimpse of where this research is leading when Ruth Mathieson observes — almost in passing — "I consider the lack of wedding clothes to suggest a lack of appropriate responsibility for others rather than taking inadequate responsibility for being righteous oneself" (p. 88). As the examination continued, she will later conclude that "it is more helpful to focus on how the individual is cast out from the wedding feast than on what [a wedding garment] represents" (p. 185).
That somewhat cryptic observation follows a forensic examination of biblical and extra-biblical texts that use the motif of "binding hands and feet" as part of the process of casting out evil actors — whether human or extra-terrestrial — who seek to cause harm to the community of faith. As the book reaches its final chapters, this insight is deployed to great effect as the parable is read within the context of the Royal Commission into Institutional Responses to Child Sexual Abuse.
It is the intertextual dynamic with the findings of the Royal Commission that sets this huge piece of critical biblical scholarship apart. This is not just an arcane treatise for members of the guild of biblical scholars, created as the entry fee (perhaps even a wedding garment?) for an emerging scholar seeking admission to the ivory palaces of the academy. This is a serious piece of critical biblical interpretation that also deals with the prophetic message of the text for our Church in wider Australian society today.
Researchers in fields such as engineering or the health sciences are encouraged to commercialise their research. The research is expected to generate new applications that put the fresh discoveries into action and hopefully generate additional funds for the university. In theology, and particularly in biblical studies, monetising our research is not anticipated, and we rarely see direct connections made between the outcomes of the research and the way that the Church functions.
Ruth Mathieson's research makes those connections and presents a strong case for religious leaders to take a more active responsibility for the safety and wellbeing of the community, and especially our vulnerable members. This study itself is an expression of a new reality as the Churches grapple with the findings of the Royal Commission. Traditional expressions of episcope — including Church disciplinary tribunals — have tended to focus on casting out (or moving on) an offender, but have not taken seriously the need to "bind them hand and foot" so they lose their capacity to harm others or re-offend against previous victims.
This book is probably designed for a specialist audience, as it presumes some knowledge of biblical scholarship and even a basic grasp of New Testament Greek. It certainly offers a rewarding read for clergy with a university degree in Theology and provides something of a refresher program in parables studies and recent trends in hermeneutics.
As a professional colleague in the biblical studies team St Francis College, I found both the review of previous scholarship and the demonstration of new interpretative methods to be engaging and rewarding. I think there is scope for a more accessible edition that would allow a wider range of Church members to engage with the analysis of the parable and especially its relevance for responsible religious leadership at all levels within the Church.
The Rev'd Dr Ruth Mathieson, 2023. Matthew's Parable of the Royal Wedding Feast: A sociorhetorical Interpretation. SBL Press, Atlanta.
Jump to next article