WestMAC unveils $11 million worth of new facilities
West Moreton Anglican College has celebrated yet another milestone as part of the College's 25-year celebrations with the official opening of $11 million worth of new facilities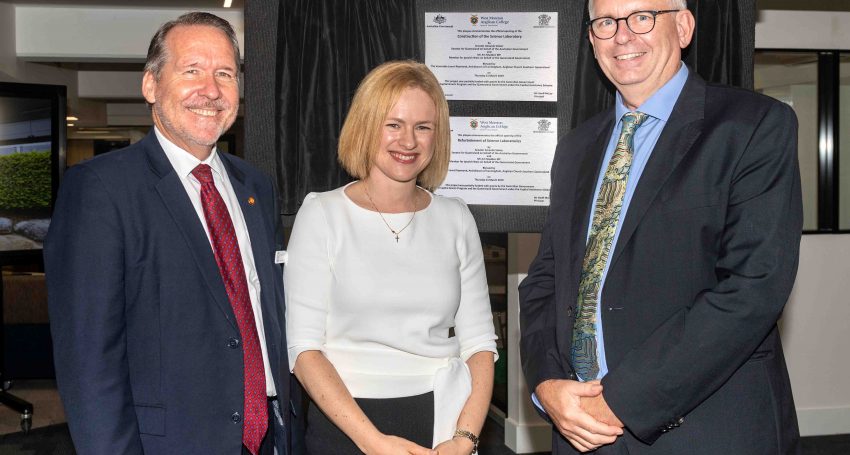 West Moreton Anglican College celebrated yet another milestone yesterday, as part of the College's 25-year celebrations with the official opening of $11 million worth of new facilities.
WestMAC Principal Geoff McLay was joined today by Queensland Senator Amanda Stoker and Member for Ipswich West Jim Madden to officially open the College's new Junior and Senior School administrative buildings and classrooms, as well as new and refurbished science laboratories.
Mr McLay said the now-completed projects were already in use and provide 21st century facilities for students of the College, while delivering upon key outcomes of the College's Master Plan.
"These facilities have improved upon the already remarkable learning environment for our students and provide them with even more opportunity to reach their full potential," Mr McLay said.
"The College is grateful for the funding received through both the Australian and Queensland Governments to make these projects a reality and provide these facilities for many years to come.
"Today's official opening marks the culmination of more than six years of hard work in delivering upon the College's Master Plan."
The Junior School building provides the precinct with a clearly visible and defined entry, including easy access from the carpark, which is particularly important for parents of younger children who regularly need to visit the office and make contact with staff. The total cost of the project was $2.8 million.
The Senior School building is a contemporary space with several flexible learning spaces, including a state-of-the-art business centre and a break-out learning area that is more commonly seen in a tertiary setting. The total cost of the project was $4.8 million.
The new and refurbished science laboratories provide flexible learning spaces to allow for a cross-curricular approach to science, technology, engineering and maths (STEM). The new science lab project was delivered for just over $1.6 million, while the refurbished lab was just over $2.1 million.
Year 11 student Talia Wright said that she is most looking forward to using the Flex and seeing the impact this modern and collaborative space will have on her study habits and assignment outcomes.
"I am most looking forward to using the Flex – it is a modern, usable space and its open nature will surely lead to creating a space that is perfect for doing assignments, set tasks and group work," Ms Wright said.
"It is a beautiful build and I am positive it will improve the study habits of students for many years to come.
"Whether that be through school work or learning to be respectful of others by providing a quiet place to work, the Flex is by far the best learning space in the school.
"I look forward to utilising this comfortable, usable area to achieve better grades and stay on top of my studies for the rest of my time at WestMAC."
Jump to next article