Bishop John's 'walk and talk' pilgrimage tackles the big issues
Bishop John Roundhill is about to embark on an eight-day walk and talk tour from Brisbane to the Gold Coast and is inviting parishioners and members of the public to join him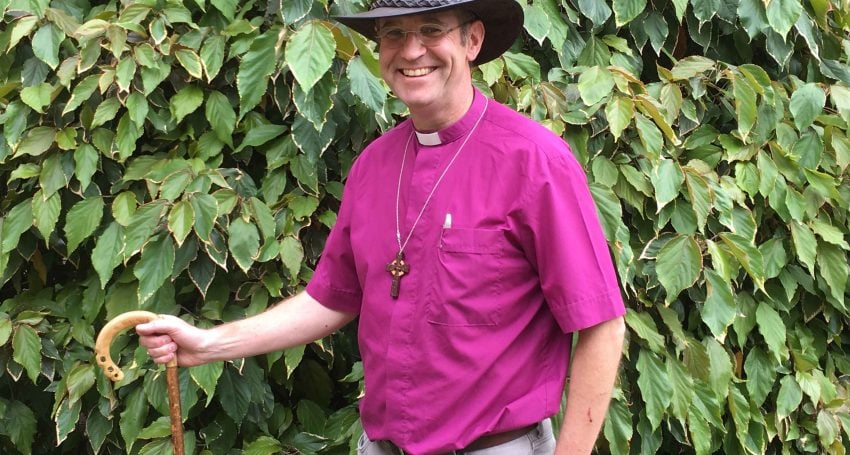 In the aftermath of the Christchurch tragedy, now more than ever, Bishop John Roundhill believes it's important for people to talk about the big issues.
And what better way to talk about issues – such as climate change, multi-culturalism, immigration and people seeking asylum, religion, and (to a lesser extent) politics than by clearing your head and your lungs while exercising!!
Bishop of the Southern Region the Right Rev'd John Roundhill is embarking on a 160km walk in eight days, with fellow Anglicans and anyone from the general public "who's up for a chat and a stroll" between Brisbane and the Gold Coast. He hopes to play 'pied piper' to a support crew of hundreds of people for his 'Talking the Talk, walking the walk (to Church)' in Holy Week from 14 to 21 April.
"For me, walking and talking are two of the simplest pleasures in life and I love chatting with people as we walk together," said Bishop Roundhill, whose region covers all Anglican parishes south of the Brisbane River to the border and east across to the Moreton Bay islands.
"Some of the differences that divide us in everyday life lessen when we are walking together. I believe that great conversations come from a shared activity, and who knows what solutions or ideas we might come up with when we're on the road together?
"In the weeks since the Christchurch shooting tragedy, it has been uplifting to see the light that has emerged from such darkness and how communities and people from different beliefs have come together in New Zealand and Australia.
"It's more important than ever that we talk and share our fears, insecurities, hopes, dreams and prayers. When you talk to people about issues, you get a deeper understanding of the threats and opportunities that lie within each of these."
Bishop Roundhill says he's willing to talk about anything – even controversial topics such as gay marriage and child sex abuse – and while he doesn't expect to be able to fix things, he believes that collaboration between people can provide some answers and be the building blocks for solutions (or at least provide a different perspective).
He will carry a Bishop's crosier (a shepherd's crook), which was made in England and given to him by a parish in Lancashire, as he strides out between 10 and 35km each day, starting at St Francis' College, Milton, travelling via Manly and Mt Tamborine, and ending at St John's Anglican Church, Burleigh Heads on Easter Sunday. Fellow walkers can join him for as little or as much of each day's walk as they want. You can see the walking course and follow his journey here.
Bishop Roundhill – who has worked in parishes and schools in England, Scotland, Hong Kong and Australia – has a keen interest in social justice. Such is his passion for his beliefs, when he was the Dean of Bendigo, he was arrested in 2014 in the local office of National Party Senator Bridget Mackenzie during a protest advocating for refugees. Charges of trespassing were brought against him and other protesters, but were later dismissed in court.
"The week of this pilgrimage between Brisbane and the Gold Coast is the most holy week in our calendar and I will be walking from church to church in the Anglican Church's southern region and I will be saying morning or evening prayers each day with the parish I am in," he said.
Bishop John, who is also a keen runner who competes in half-marathons and fun runs, will embark on the walk supported by his wife Frances Thompson.
Jump to next article