Q&A with Erica Skerman, Camp and Young Adult Coordinator
Meet passionate AYCF Camp and Young Adult Coordinator, Erica Skerman, and find out about her Ichthus Camping Ministry work, how she is connecting with parishes across our Diocese, and about her diverse faith journey and inspirations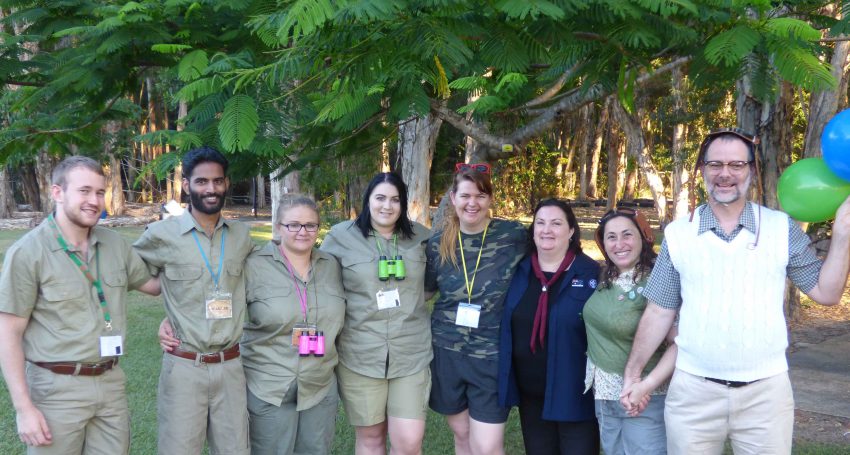 Erica Skerman has served as the Camp and Young Adult Coordinator in the ACSQ within the Anglican Youth, Children's, and Families Ministry team for the past three years. She currently worships with her "local community at St Stephen's in Coorparoo, loves a good coffee with great company, and generally tries to stay out of trouble."
How long have you been involved in the Anglican Church and in what role?
I have been part of the St Stephen's, Coorparoo community since 2013, and have been working with the Anglican Youth, Children's and Families Ministry team at St Francis College, Milton since mid-2015 – first as an Administration Assistant, then as Camps Coordinator and now as Camps and Young Adult Coordinator.
What does your role involve?
In my current role, I run the Ichthus Camping Ministry, which caters for young people from Grades 4 all the way to graduation to encourage and inspire them in their faith. I'm also involved in training, mentoring, and empowering our young adults as leaders of these camps and beyond, ensuring they are connecting into their local parish communities and finding connections with their peers across our Diocese. My role is to ensure that our young people are flourishing as disciples of Christ and are confident in sharing this passion for God within their parishes.
What projects and activities are you currently working on?
This year is a really exciting year for us because we have some great projects that are being introduced this year – one is the Ichthus leaders' retreat which will invest even more into the young leaders of our Church and the ministries in which they serve. We are also well underway in the planning of our upcoming camps for Senior and Junior Ichthus, in which we hope to inspire our youth to go deeper in their faith and send them back into their parishes excited for more.
What have been the highlights of your role?
So many, and I consider it such a privilege and a blessing that I have such an incredible role working with young people on a regular basis. A big highlight for me is watching young people become excited about their faith but also proactive, with a heart and desire to become leaders and journey with others. It has also been a highlight to get to know the parishes within our Diocese, and the incredible clergy men and women and lay people who lead them. There is so much good stuff happening out there and it's a huge encouragement to witness it.
What are your plans and goals for the next 12 months?
We have some really exciting new projects in the works, which would be fantastic to see come to fruition over the coming year. One project aims at inviting young people to explore theology and ministry, another working with National Synod to put together a youth program, and a goal of expanding our camping ministry to reach more young people for Christ.
Can you tell us a little about your faith journey?
I've experienced many reflections of the Church; Lutheran, Baptist, Pentecostal, ACC, and now Anglican. I have believed in the death and resurrection of Jesus since I was a young teenager, but started to really allow my life to be transformed in my final years at university. I've never really doubted the presence of God in my life, but it took time for me to decide that I wanted God at the centre of it and I honestly have no regrets.
How does your faith inspire you and shape your outlook, life choices and character?
My faith inspires me constantly because my relationship with God is so dynamic, speaking different things into different spaces, yet for the common goal of becoming more of who I am in Christ. It has given me an outlook of hope and excitement in life and it has challenged and invited me to be more; more loving, more gracious, more generous, more self-controlled. I find myself making choices as one who is realising more and more how deeply loved she is by God.
What is your favourite scripture and why?
I'm terrible at playing favourites, as I love so much of it! However, picking one of them, I'm going to go with the final chapters of Job 38 to 41. I love these chapters because they are really awe-inspiring to me, deeply humbling, and reminds me that nothing escapes God and his goodness, even amidst great suffering.
What person of faith inspires you the most and why?
I don't have someone who has inspired me the most across my life. People come to light in seasons of my life and have an impact on my own journey and each are important to me. Currently, I am inspired by Mother Teresa because of her commitment to Christ and the way she lived life has allowed God to inspire so many others. As someone said of her, "The simple words she spoke were credible because of the life she lived". How beautiful a description of a life is that?
What are the primary strengths of the church and what is the best way to make the most of these for the benefit of our communities?
The church has strength in proclaiming the life of Jesus who never fails to be relevant to the constant shifts in our lives and in our culture, but deeper in that, we are a community in which we can welcome everyone because Jesus welcomes us first. Therefore I believe our benefit lies in stepping out into our local communities, welcoming the strangers and being great, loving neighbours who can offer others the hope found in Christ.
What are the challenges currently faced by the Church and what can be done to overcome these?
There are many and because of this, I believe one of our biggest challenges is to stay hopeful, passionate, and zealous (shout out to Romans 12:11) in the face of these challenges. Remembering that small acts of love and kindness go a long way, the best you can give in the moment is enough, and that God is for us and we cannot be separated from such great love (Romans 8:31-39). I think small steps towards God from where we are right now are the best way to overcome anything.
What is your favourite movie and why?
One movie I never fail to enjoy is 1999's The Mummy with Brendan Fraser and Rachel Weisz; it's got action, comedy, romance, great lines and a (now) badly CGI-ed villain. What's not to love?
What is your favourite travel destination and why?
The one I haven't been to yet. I find great joy in the entire process, the dreaming of where to go, the planning of making it happen, then running around experiencing it all, that feeling of coming home, and the warmth of reminiscing only to start the process all over again! Love it.
Jump to next article