Multi-faith community members unite in prayer for Sri Lanka's Easter Sunday attacks victims
Christian, Muslim, Buddhist, Hindu and Sikh faith leaders united in prayer with over 200 multi-faith community members on Friday night at St Philip's Anglican Church, Annerley to pray for the victims of the Easter Sunday attacks in Sri Lanka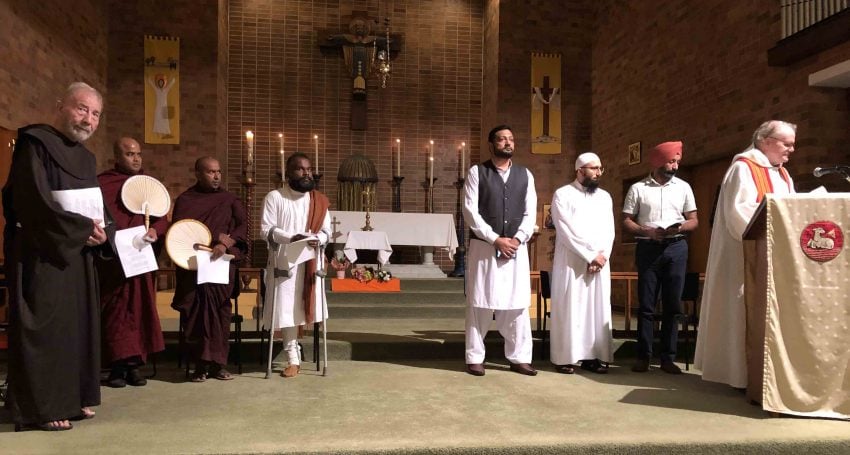 Christian, Muslim, Buddhist, Hindu and Sikh faith leaders co-led a prayer service at St Philip's Anglican Church, Annerley on Friday night, with over 200 local multi-faith community members coming together to pray for the victims of the Easter Sunday attacks in Sri Lanka.
Each faith leader spoke from the heart about our common humanity and shared desire for peace, as community members mourned the loss of over 250 people who died, and prayed for the more than 500 who were wounded, in the recent Easter Sunday attacks on numerous Christian churches and luxury hotels in Sri Lanka.
Prayer service organiser, The Rev'd Daniel Jayaraj, who is parish priest at All Saints Anglican Parish, Chermside and a member of the St Philip's Church Tamil Congregation who hosted the event, said that he was touched by how quickly faith leaders responded to the invitation and by what they shared from the sanctuary during the service.
"There is love and affection between all religions, so it was easy for us to meet at short notice – I strongly felt that there is a religious harmony among us," Fr Jayaraj said.
"All religion's motives are the same – to love God and to love others.
"We are called to be part of the global body of Christ, 'to seek to transform unjust structures of society, to challenge violence of every kind and pursue peace and reconciliation' and it is our responsibility to raise our prayers and voices for people who are suffering.
"Our diocese is a multicultural diocese, and we do have many Sri Lankan people here."
The prayer service commenced with an opening prayer from Br Donald Campbell SSF, with each faith leader then lighting a candle at the altar before sharing prayers and singing in their own languages, which were translated into English.
President of the Queensland Council of Imams and Holland Park Mosque Imam Uzair Akbar said that he was moved by how the prayer service offered a way for diverse people to hear from one another and encouraged people of all faiths to focus on what they share in common.
"The highlight of the prayer service was to hear the messages from all different faith leaders and notice the similarity within our messages – it was great to be part of a platform which allows each one of us to hear from one another," Imam Akbar said.
"The main message shared is that despite our differences, there is a lot more which unites us than divides us, and if we focus on the things that unite, we can truly build a peaceful and harmonious society as God wills us to."
Venerable IG Nanda Thero from Sri Lanka Buddhist Monastery in Ellen Grove shared similar insights.
"Our main message is to come together as communities of all faiths, regardless of our religious beliefs or practices, to work harmoniously to eliminate terrorism from the world and to convince the attackers that terrorism has no place in the world, but only peace and harmony," Venerable IG Nanda Thero said.
Hindu priest Sailesh Chand Darshan from Sai Saileshwara Temple in Virginia, who also co-led the prayer service, said that he appreciated how he and his community members were embraced at St Philip's.
"It was love in action to be welcomed so warmly and being part of a ceremony that allowed prayers from different religions to be sung in a church," Sailesh Chand Darshan said.
After the vigil, prayer service attendees connected over supper in the church hall to support each other and to console grieving Sri Lankans who attended.
Counselling practitioner and Secretary of Pax Christi International Peace Movement Pam Nair, who attended the service, said that the overwhelming sense of solidarity between vigilers, most of who had never met before, demonstrated people's shared intentions and hopes.
"For me, the highlight of the vigil at St Phillip's Anglican Church was the coming together of people of goodwill from many religious and cultural backgrounds," Ms Nair said.
"Fundamentally, we are all striving for a more just and peaceful world and we came together in solidarity, as we are one humanity born into a fabric of relationships."
Similarly, Rochedale Mosque member Shehnaz Moosa said that people across different faiths need to continue connecting and building relationships, grounded in the knowledge that we are all created by God.
"God in His greatness has created us all differently on the outside, but has given each one of us the capacity to love and forgive," Mrs Moosa said.
"It is especially at times like this that we must reach out and build understanding, rather than retreat into our separate identities.
"Building understanding requires courage and hard work, and it's important that members of our different faith communities lead by example and embrace each other despite cowardly acts of violence and hatred."
Immediately following the Easter Sunday attacks, international senior faith leaders publicly called for all to pray for the victims, stand in solidarity with Sri Lankan people and to reject all that would seek to divide us.
In an Easter Sunday statement, the Archbishop of Canterbury Justin Welby made such a call to Anglicans.
"Those affected by the appalling and despicable attacks on churches and hotels in Sri Lanka will be in the prayers of millions marking Easter Sunday around the world," Archbishop Welby said.
"On this holy day, let us stand with the people of Sri Lanka in prayer, condolence and solidarity as we reject all violence, all hatred and all division."
A week after the Easter Sunday attacks in Sri Lanka, a lone gunman opened fire on worshippers on the last day of Passover at the Chabad of Poway Synagogue in California, killing one woman and injuring at least three others.
On 15 March, two mosques were attacked in Christchurch by an Australian gunman, leaving more than 50 people dead and dozens injured.
In response to these attacks on places of worship, faith communities locally and internationally have united in a spirit of solidarity and hope to pray with each other; also offering financial, practical and emotional support to victims and their families.
In 2016, the Dalai Lama spoke to the European Parliament in France, asserting that all religions share the values of love, peace and tolerance and that anyone who commits acts of terrorism or violence cannot claim to be a person of faith.
"Buddhist terrorist. Muslim terrorist. That wording is wrong," the Dalai Lama said.
"Any person who wants to indulge in violence is no longer a genuine Buddhist or genuine Muslim, because it is a Muslim teaching that once you are involved in bloodshed, actually you are no longer a genuine practitioner of Islam."
Bishop of the Southern Region, The Right Rev'd John Roundhill, has long demonstrated his commitment to multi-faith dialogue, including through his support of Bendigo and Brisbane mosque Imams and worshippers.
Following the Christchurch, Sri Lankan and Chabad of Poway Synagogue attacks, Bishop Roundhill echoed the call of international faith leaders for us to make friends across all religions.
"It is important that people of faith stand together, as it reflects our common humanity," Bishop Roundhill said.
"An attack on a mosque, temple, synagogue or church is really an attack on all people of faith.
"We can foster better relationships with people of other faiths by making new friends, and secondly by being more open in letting people know that we are Christian and that our faith calls us to support all who are in need, irrespective of race, creed or any other perceived difference."
Jump to next article